How to Transfer Apps with Related Data
When you upgrade to a new iDevice, you may want to transfer the saved games, personal setting, your high scores for games or other at the same time. However, many stored apps in iTunes only has the app info. That really seems a big trouble for iDevice users, especially for games addict.
Aiming to solve this trouble, AnyTrans came to get those games addict out. Not only is the app backed up, you can choose to sync app data, saved games, high scores, and personal setting as well. Simply get settings by tapping
logo.
AnyTrans allows you to transfer your apps with saved process, high scores and personal settings to iTunes and computer. It really brings a handy way for you to use apps on a new device without any worries, because all original data will be transferred.
How to Backup Apps to iTunes & Computer?
If you want to copy apps to iTunes library with 1-click, please visit Part 2.1 - One Step to Rebuild iTunes Library > , but if you prefer 1-click to transfer apps to iTunes, please refer to Part 2.3 - One-Stop to Transfer Media between Devices >. However, both methods will transfer all apps with related data. If you just want to transfer only several apps, please follow up the steps below:
Step 1: Log-in AnyTrans and connect your device to computer. Then, tap Apps icon to go further.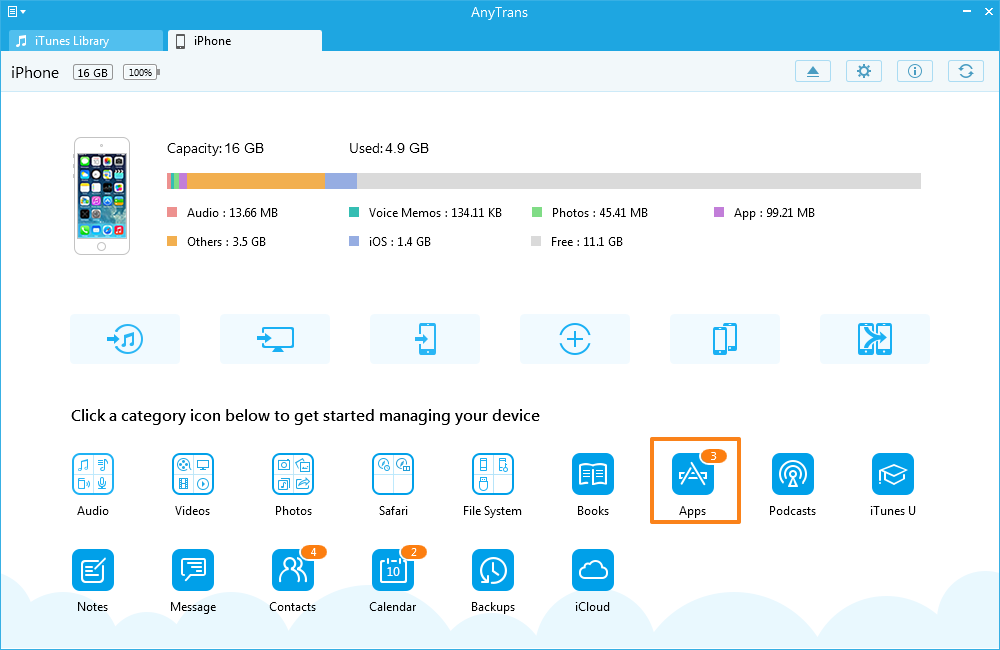 Step 2: Select one or more target apps to transfer to iTunes & computer. It also supports to add and delete much more apps.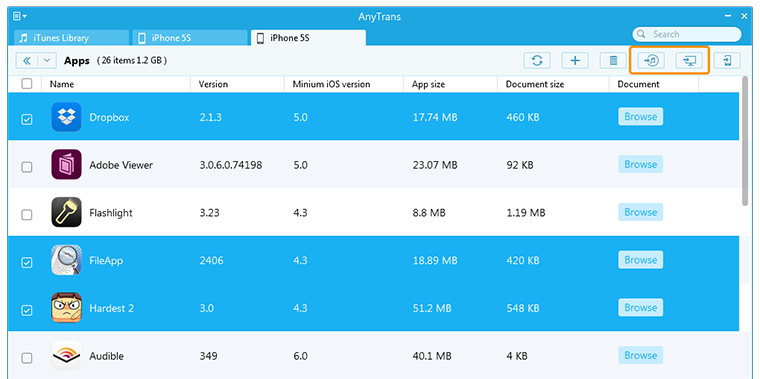 You can view the detailed information about the app via clicking Browse button on the right. It's also workable to selectively backup those info to computer.
How to Transfer Apps to a Upgraded or New Device?
To upgrade your device, all info on device should be backed up to another place, including apps. However, you may wonder whether the saved process, high scores, and personal settings for apps could be transferred or not. A great news for you that AnyTrans will keep all those info while transferring. To transfer the whole app info, please select App program and App data option on General setting.

Step 1: Plug in two apple devices once launching AnyTrans.
Step 2: Select one or more apps after loading the detailed app info. And then, choose the button

to start the transfer process.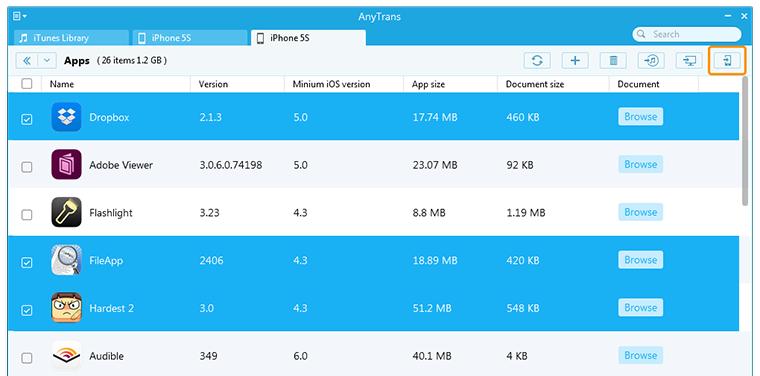 How to Install and Uninstall App on iPhone iPad?
To install an additional app to device, please follow up those steps: connect at least two devices > choose Apps > click + button to add the .ipa and .pxl files to the target iPhone or Pad.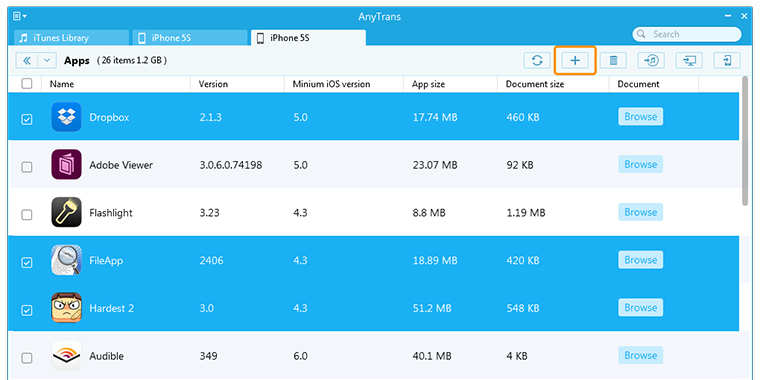 To uninstall one or more apps on current device, please go with those steps: connect your apple device > select Apps > pick one or more apps to click.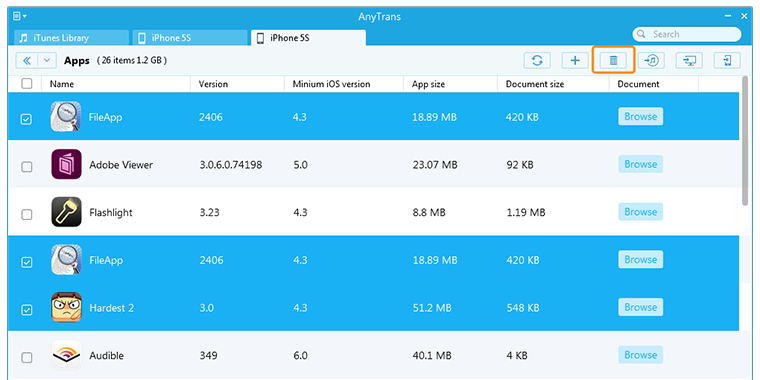 Still Have Questions Regarding This Guide or AnyTrans? Please Feel Free to Let Us Know.
Ask Your Question
Ask for Help or Contribute to This Guide