Which Recovery Mode does PhoneRescue Support?
PhoneRescue provides three recovery modes for iOS device users: Recover from iOS Device, Recover from iTunes Backup, and Recover from the iCloud. Those modes are so stunning to get your lost data back. Actually, there is another mode separated from iOS device recovery. That is DFU Mode. It is a technical mode to retrieve data thoroughly with splendid features, but it doesn't support iPhone 6(plus)/5s/5c/5/4s, iPad 2, the new iPad, iPad 4, iPad Mini, iPad Mini with Restina Display, iPad Air, iPod touch 1/2, and iPod touch 5. In other words, if you are an owner of those iOS devices, you only allow to recover data with another three methods.
Recover from iOS Device
If you expect to restore from iOS device, please connect your device to the computer with an USB cable. Once it was connected, PhoneRescue will recognize your iOS device, and display it as follow. Then, select Recover from iPhone, iPad or iPod touch (based on your device) button on the left side. To get detailed information for retrieving previous data with this mode , please refer to Part 2 How to Retrieve Data from iOS Device >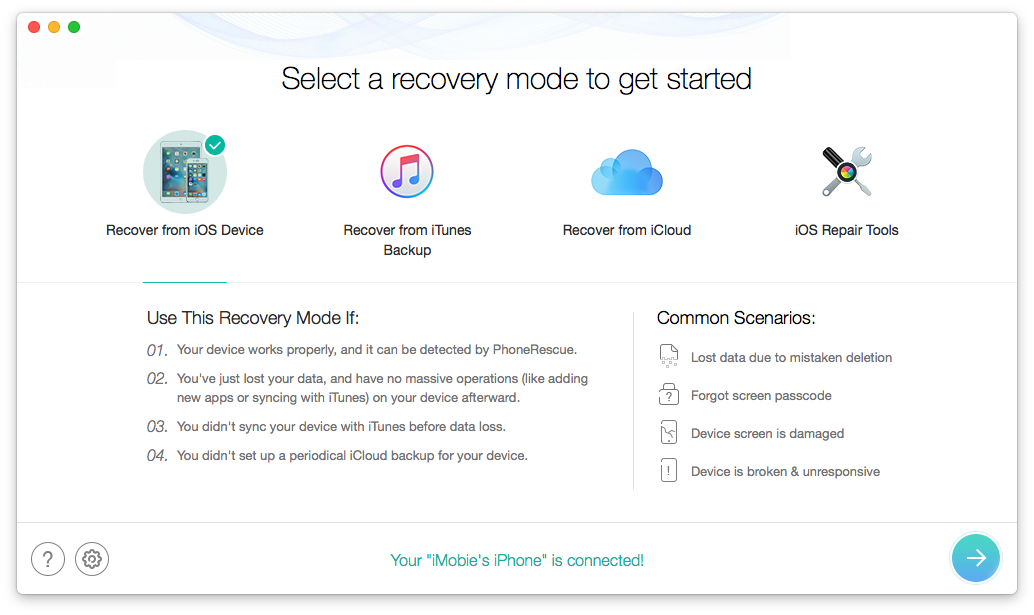 Make sure your iOS device has been connected successfully. If PhoneRescue cannot read your device, please refer to related part of FAQ page >
Recover from iTunes Backup
Since iTunes restoration doesn't support to scan selectively and preview, and all current device data will be erased, this data recovery tool provides a convenient solution for you to solve those problems. Through Recover from the iTunes Backup mode, you can just pick up the items you want to retrieve, and other data on your device won't be wiped. To use this mode, simply tap Select an iTunes Backup button on the main interface: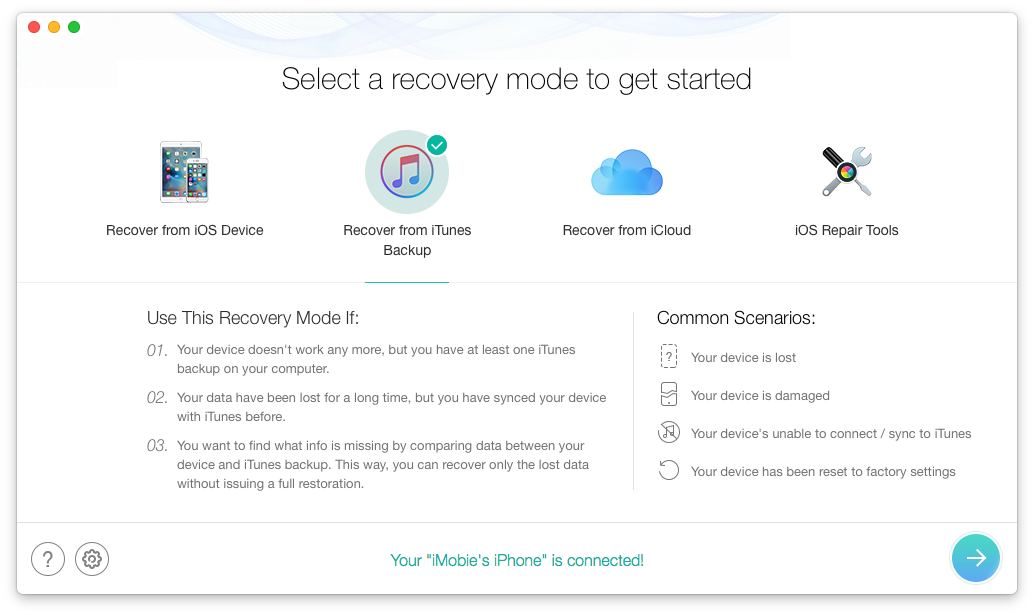 PhoneRescue will identify all backups with different time and date on your computer.
Recover from the iCloud
iCloud backup recovery is another convenient recovery mode for you, especially when your device is not at hand, or no backups on your local computer. To use this recovery mode, please make sure that your data has been backed up via iCloud. Compared with Recover from iTunes Backup, the only difference is that it will be download firstly while scanning. You can also download the whole copy as backup(s) on your local computer.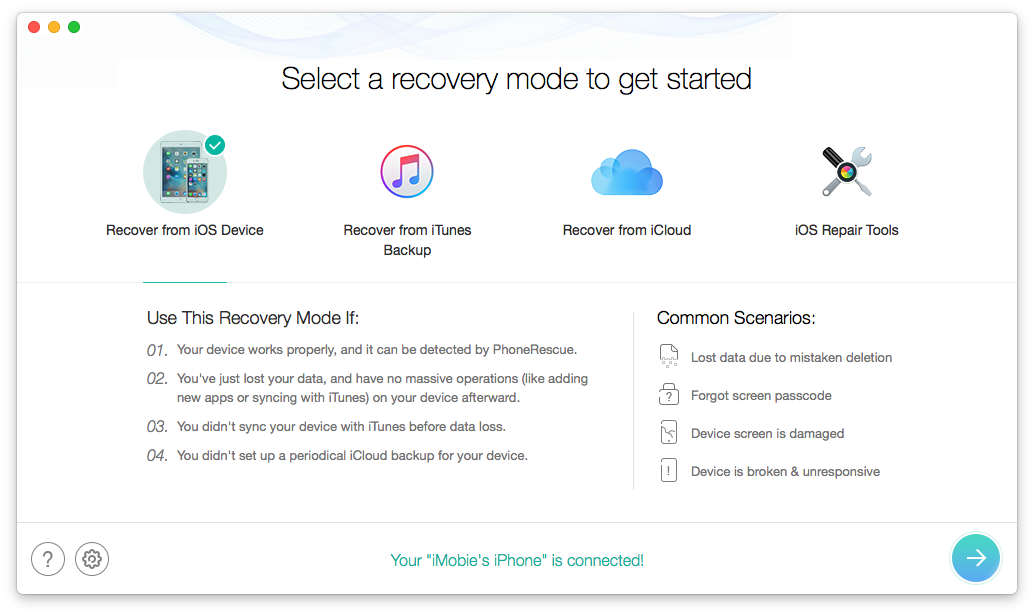 Please make sure the Internet connection and the correction of your Apple ID and password.
Recover with DFU Mode
If you are an user of iPhone 4/3G/3GS, iPad, iPod touch 3, or iPod touch 4, DFU Mode could retrieve your previous data completely if the data hasn't been overwritten. In addition, it occupies less hard disk storage space of your computer and saves too much time for scanning device. To start with this mode, please tap DFU Mode button on the right corner after choosing Recover from iOS Device.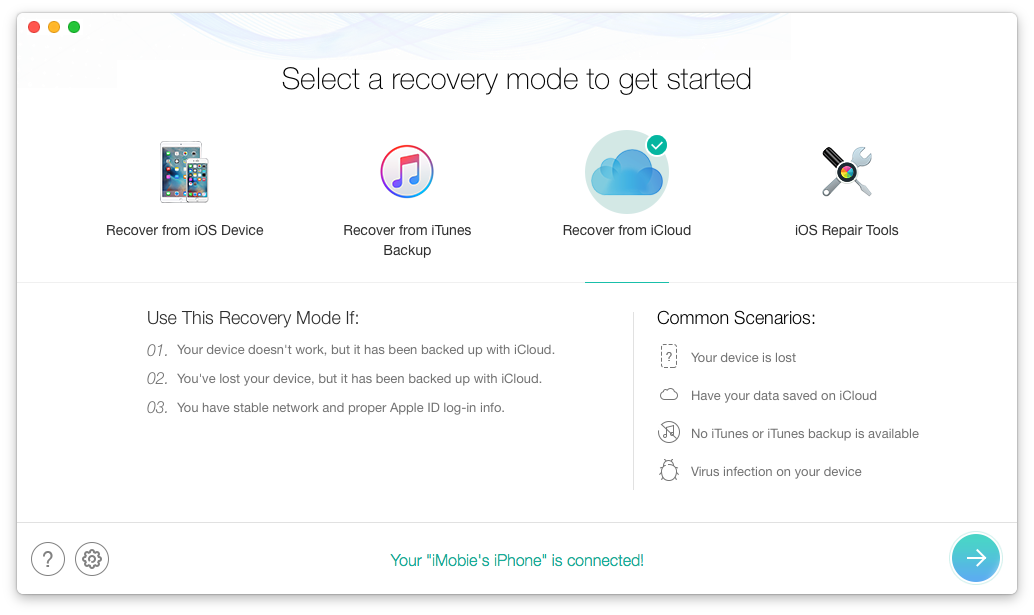 It will show you a visualized guide to quickly enter into this mode. Besides, it will reminds you to download a supporting file if you haven't installed.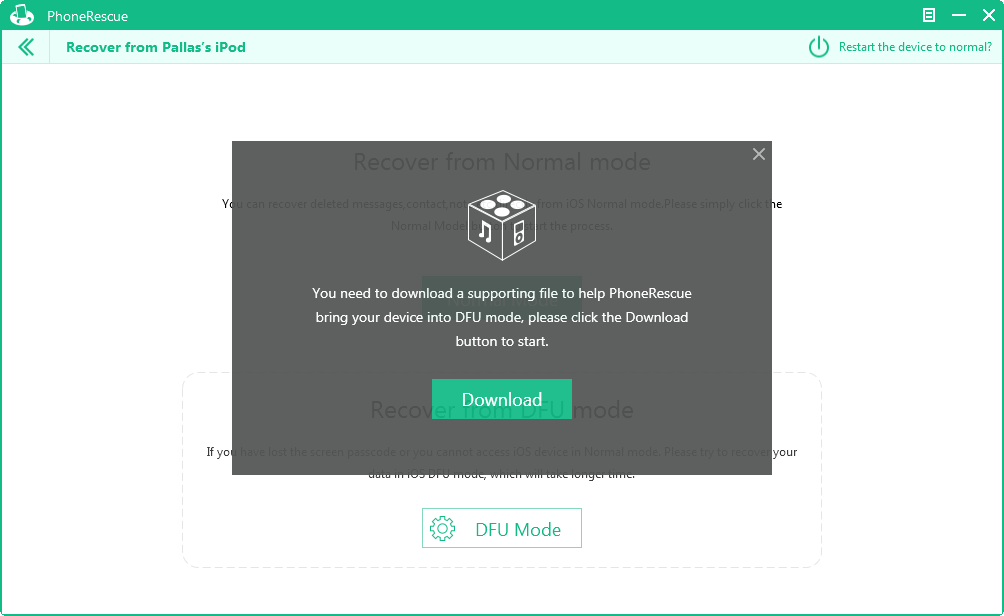 Still Have Questions Regarding This Guide? Please Feel Free to Let Us Know.
Ask Your Question
Ask for Help or Contribute to This Guide