Can I Add Audiobook from iPod to iPhone 5?
Summary
Learn how to Add Audiobook from iPod nano 6G to iPhone 5. Read on to find a simple and instant solution about Audiobook from iPod nano 6G to iPhone 5.
Free download this award-winning software so that you can make use of it after reading this Apple Support article.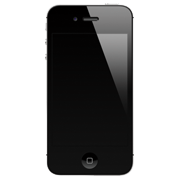 Letter from iMobie User:
I have an old iPod nano with 3000+ audiobooks on it, and a new iPhone 5 I want to sync it to. I keep seeing all these programs you need to buy, which I don't want, and only a small percent of the audiobook was purchased from the iTunes store, so that's not helpful either. Is there any complete way to add audiobook from iPod nano 6G to iPhone 5? It would be very helpful if you'd like to recommand me a tool.
Answer from iMobie Team:
It's not likely that you can add audiobook from iPod nano 6G to iPhone 5 with iTunes. You may wonder if iCloud is worth a try? Yes, but only when you got favorable network connection. Accordingly, it is recommanded to use a decent third party audiobook Transfer application. Take AnyTrans as an example. It can help you to put audiobook from iPod nano 6G to iPhone 5 with few clicks, and you even don't have to bring up slow and clunky iTunes.
Apple doesn't provide a simple and straightforword way to copy audiobook from iPod nano 6G to iPhone 5 directly. However, you can do it easy with a handy utility - AnyTrans. Somehow you may feel tired and sick of mazy iTunes settings, then probably you should use AnyTrans to manage iDevices because it will only transfer the wanted audiobooks in/out your devices.
Related iPod Article: How to Transfer iPod Music to Computer
How to Add Audiobook from iPod nano to iPhone 5 by AnyTrans?
The first thing you need to do is to download AnyTrans for free. Thanks to user-friendly and intuitive design, there is no secret in using this app. Below is the main screenshot of AnyTrans. You'll see it once you finish the installation.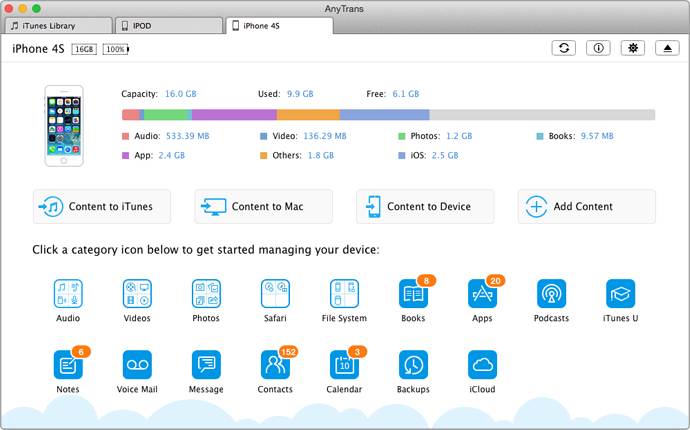 How to Use AnyTrans to Add Audiobook
Step 1:
Plug your iPod nano 6G and iPhone 5 on computer through USB cable. AnyTrans may take few seconds to load up all media info on your devices. The explicit Usage bar will show you how much free space is available on your device. Learn how to free up space on iPhone iPad iPod touch
Step 2:
AnyTrans will indicate your devices on the top side. Choose iPod nano 6G and click its Audiobook tab on the left side of the window and you'll review the relevant media contents.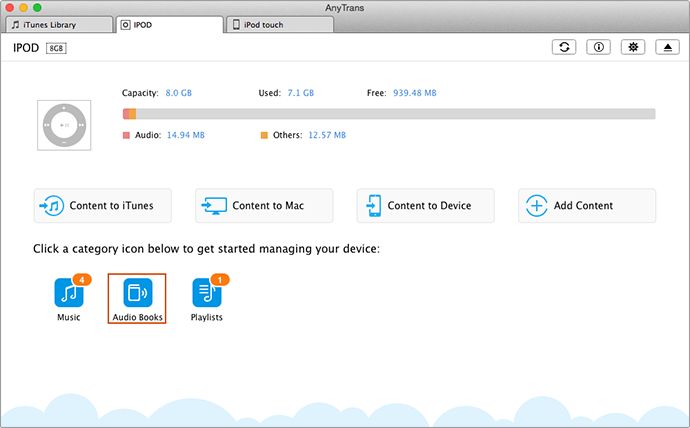 Step 3:
To pick up the audiobook files from its library, you can use AnyTrans Filter feature to pinpoint them. You can type in Artists, Albums, Genres, or Composers, and AnyTrans will display related audiobook based on your choice.
Step 4:
Keep target audiobook files highlidghted and click To Device (Or you can right click the mouse and select To Device). Then AnyTrans will help you instantly move audiobook from iPod nano 6G to iPhone 5.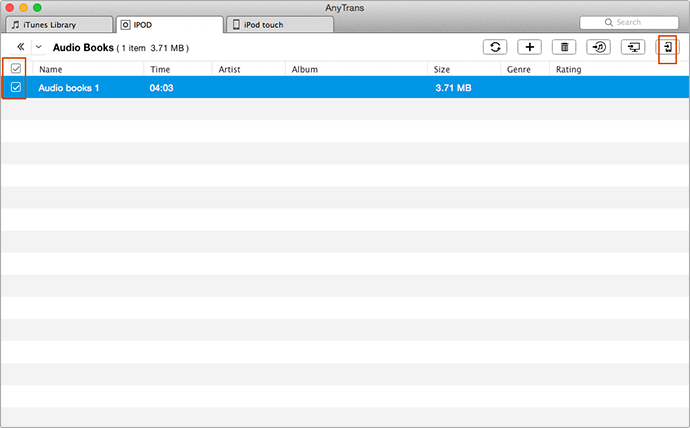 Also Read:
How to Transfer Music from iPod to iPhone >
More Related Articles You May Like
Related external source
iPhone 5 - The iPhone 5 is a touchscreen-based smartphone developed by Apple Inc, the sixth generation of the iPhone.
iPod shuffle 2G - Smaller clip design with anodized aluminum casing. 4 color options added later. Colors were later refreshed twice.