How to Download Movie from iPad to iTouch 5
Summary
This article will show you how to achieve the goal - download movie files from ipad onto itouch 5 - for sync and backup purposes.
Free download this award-winning software so that you can make use of it after reading this article.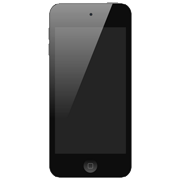 Letter from iMobie User:
I got a new computer because I broke my old one. I need to download movie from iPad to iTouch 5. But all of my movies are downloaded from YouTube, which have not been saved on my movie library. how can I download movie from iPad to iTouch 5 without having to redownload all my movies?
Related Article: How Do You Transfer Files from iPad to Computer
Answer from iMobie Team:
In most cases, iTunes is the native movie manager program for populating iTouch 5 multimedia content. It's pretty enjoyable to use iTunes to import movies onto iTouch 5. But if you want to download movie from iPad to iTouch 5, you have great chance to get mad with iTunes. So this iMobie Guide aims to tell about how to download movie from iPad to iTouch 5 with AnyTrans.
The tool you need is AnyTrans. This all-around and powerful app is made to manage your iPhone/iPad/iPod without any iTunes limits. If you'd like to add PDFs from a work PC to iPad or move movies from iPad to iTouch 5, or transfer music from iPod to computer for backing up, thanks to AnyTrans, there is no need to scruple about previous content being erased.
How Can I Download Movie from iPad to iTouch 5
Before starting, you can free download AnyTrans and get it installed on your computer. It is worry-free from virus or any other potential security hazards to your PC. After a few seconds setting up process, you can check it's main interface as below.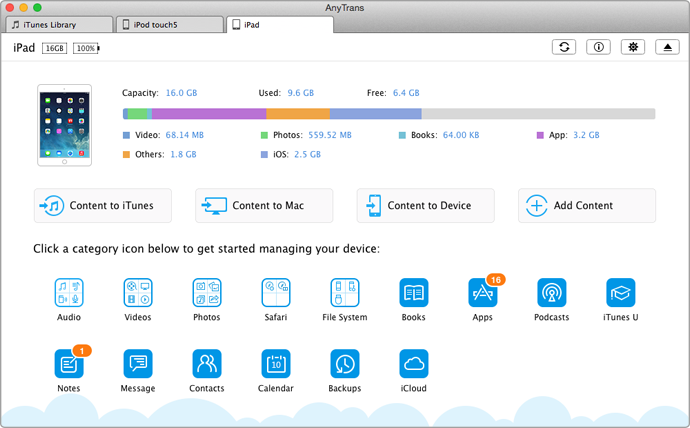 How to Use AnyTrans to Download Movie
Step 1:
Plug your iPad and iTouch 5 on computer through USB cables. AnyTrans may take few seconds to load up all media info on your devices. On the homepage it will show you how much free space is available on your device. Learn how to free up space on iPhone iPad iPod touch
Step 2:
Click on "Videos" > choose the "Movies" to enter the manage page.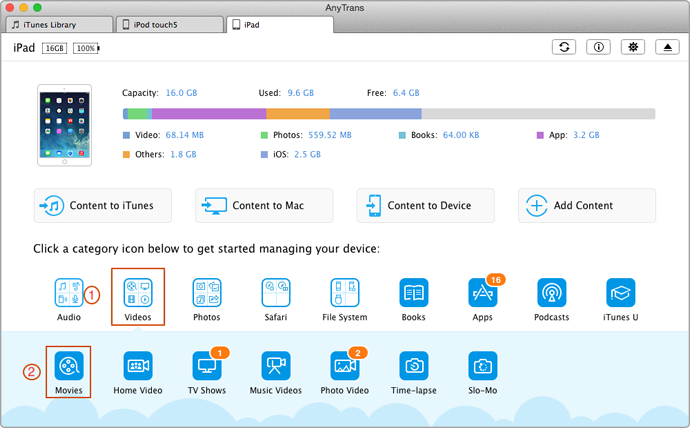 Step 3:
At last, you can highlight target movie files and click To Device option on the top of AnyTrans. To download movie from iPad to iTouch 5 will get done pretty soon (largely depends on the volume of files that you want to transfer).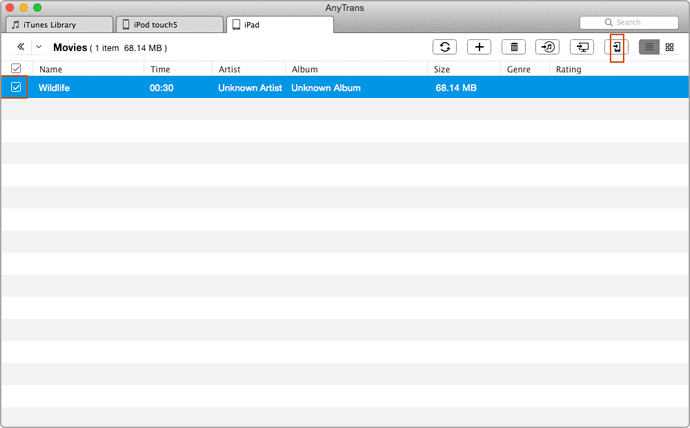 More Related Articles You May Like
Related external source
iTunes - iTunes is a media player computer program, used for playing, downloading, saving, and organizing digital music and video files on desktop or laptop computer.
iPad - The iPad is a line of tablet computers designed by Apple Inc., as a platform for audio-visual media including books, movies, music, games, apps and web content.