How Can I Immigrate Podcast from iPod classic 6G to iPhone
Summary
Looking for a solution about how to Immigrate Podcast from iPod classic 6G to iPhone? This page will give you a simple software that can help you Immigrate Podcast from iPod classic 6G to iPhone.
Download this award-winning software so that you can make use of it after reading this guide.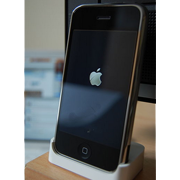 Letter from iMobie User:
I have an old iPod classic 6G with 2000+ podcasts on it, and a new iPhone I want to sync it to. I keep seeing all these programs you need to buy, which I don't want, and only a small percent of the podcast was purchased from the iTunes store, so that's not helpful either.
Related iPod Article: How to Delete Songs from iPod
Answer from iMobie Team:
If you want to immigrate podcast from iPod classic 6G to iPhone but keep everything intact on the iPhone, you can find a decent podcast Transfer program like AnyTrans. As you know, the content on your iPhone must be the same as from iTunes library. But with a third party app, you are able to freely immigrate podcast from iPod classic 6G to iPhone without compromising existing podcast on iPhone.
Apple doesn't provide a simple and straightforword way to copy podcast from iPod classic 6G to iPhone directly. However, you can do it easy with a handy utility - AnyTrans. Somehow you may feel tired and sick of mazy iTunes settings, then probably you should use AnyTrans to manage iDevices because it will only transfer the wanted podcasts in/out your devices.
How Can I Immigrate Podcast from iPod classic 6G to iPhone by Using AnyTrans?
Before starting, you can free download AnyTrans and get it installed on your computer. It is worry-free from virus or any other potential security hazards to your PC. After a few seconds setting up process, you can check it's main interface as below.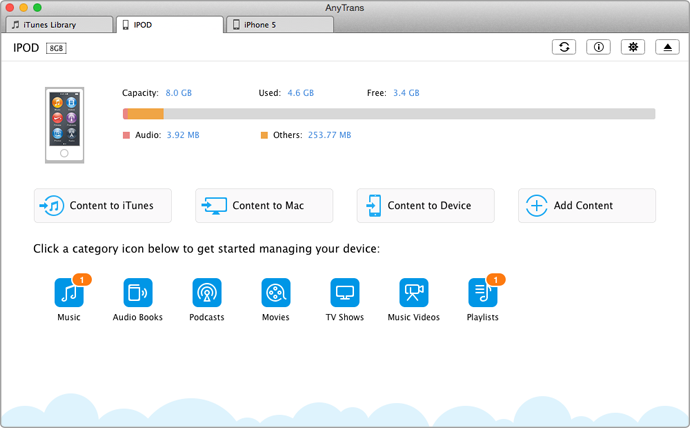 How to Use AnyTrans to Immigrate Podcast
Step 1:
Use two or more USB cables to Connect your iPod classic 6G and iPhone with computer. Wait a second and AnyTrans will automatically show up the basic info of your devices. You can also check how much free space remains through the Usage bar. Learn how to reclaim storage space on iPhone iPad iPod touch
Step 2:
Click on the "Podcasts" to enter the manage page.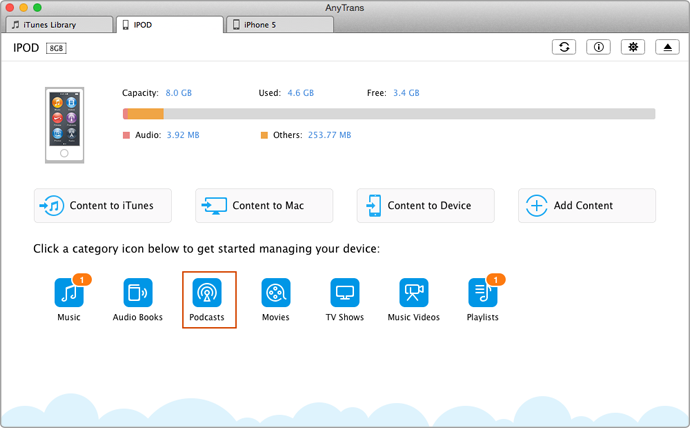 Step 3:
Keep target podcast files highlidghted and click To Device (Or you can right click the mouse and select To Device). Then AnyTrans will help you instantly move podcast from iPod classic 6G to iPhone.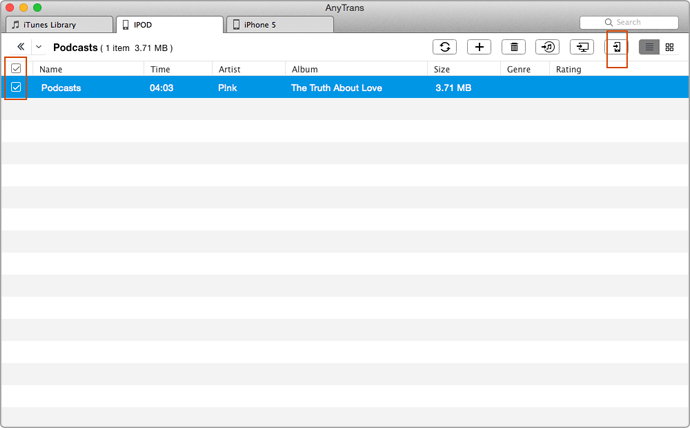 More Related Articles You May Like
Related external source
iPod touch 5G - New aluminum design with colored case options. Features improved cameras along with A5 processor, Siri, and longer 4" Retina display.
Apple Inc. - Apple official site.