How Can I Put Movie from iPod 4G to iPhone 5
Summary
This tutorial is about how to Put Movie from iPod touch 4G to iPhone 5. Read on to get an all new idea that can help you Put Movie from iPod touch 4G to iPhone 5.
Free download this award-winning software so that you can make use of it after reading this Apple Support article.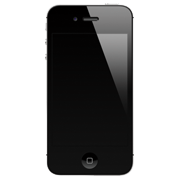 Letter from iMobie User:
Ok so my computer crashed that I used my iPod touch 4G on. Still have my iPod with songs on it. My sister has a computer with iTunes but it has her music on it. Is there a way i could put my iPod touch 4G movie to her iPhone 5 without erasing any of her or my movies? It can be better is there is no need of bringing up iTunes because I just afraid that it may 'ERASE' something by accident.
Answer from iMobie Team:
Want to put movie from iPod touch 4G to iPhone 5? One thing for sure is that iTunes cannot help you. The only option you have is to sync movies onto iPhone 5 through iTunes but everything originally put on iPhone 5 will be erased. This could be a disaster if there is no backup of iPhone 5 on your computer (Learn how to Backup iPod Music to iTunes).
AnyTrans is a professional iPod touch 4G to iPhone 5 transfer which can freely transfer videos, photos, ebooks music with fast speed. So if you are tired and sick of mazy iTunes settings, then probably you should use AnyTrans to manage iDevices because it will only transfer the wanted movie files. The entire syncing process will be greatly shortened.
Can I Put Movie from iPod touch 4G to iPhone 5 by Using AnyTrans
The first thing you need to do is to download AnyTrans for free. Thanks to user-friendly and intuitive design, there is no secret in using this app. Below is the main screenshot of AnyTrans. You'll see it once you finish the installation.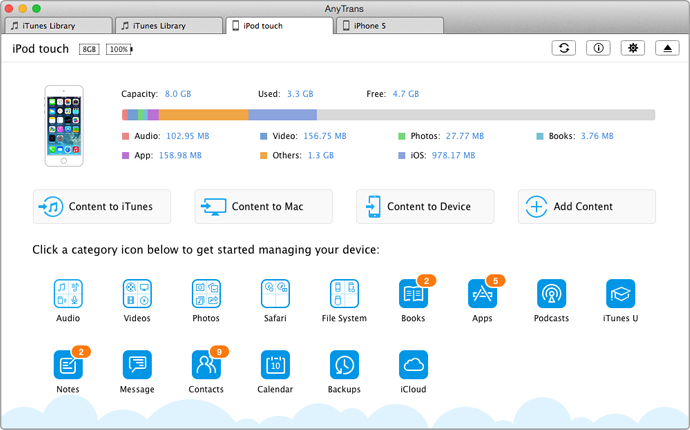 How to Use AnyTrans to Put Movie
Step 1:
Use two or more USB cables to Connect your iPod touch 4G and iPhone 5 with computer. Wait a second and AnyTrans will automatically show up the basic info of your devices. You can also check how much free space remains on the homepage of AnyTrans. Learn how to reclaim storage space on iPhone iPad iPod touch
Step 2:
Click on "Videos" button and select "Movies" icon to enter the manage page on the homepage of AnyTrans.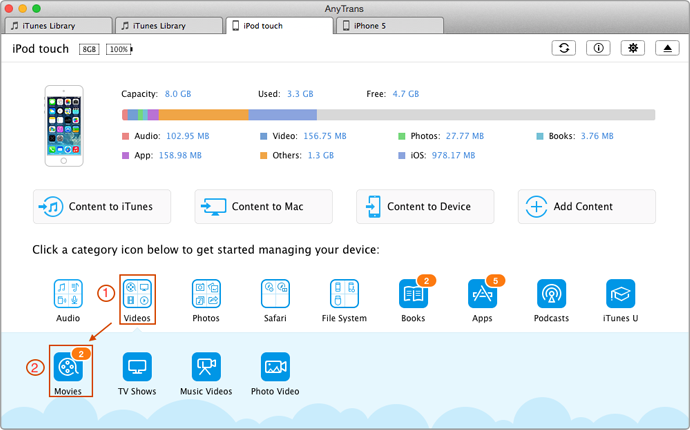 Step 3:
At last, you can highlight target movie files and click To Device option on the top of AnyTrans. To put movie from iPod touch 4G to iPhone 5 will get done pretty soon (largely depends on the volume of files that you want to transfer).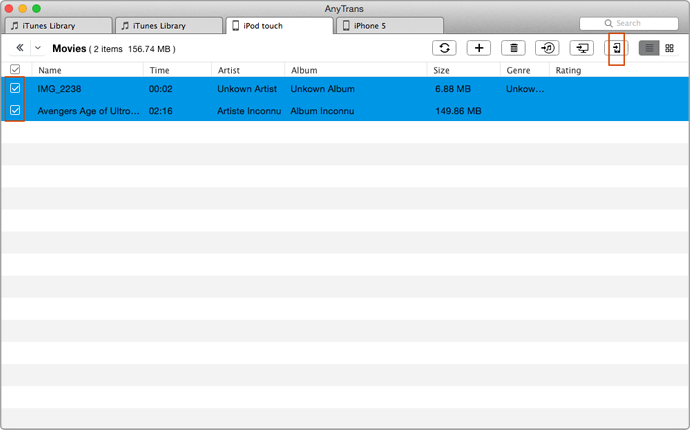 More Related Articles You May Like
Related external source
iPhone 5 - The iPhone 5 is a touchscreen-based smartphone developed by Apple Inc, the sixth generation of the iPhone.
iPod touch 3G - Updated to include the upgraded internals from the iPhone 3GS; includes Voice Control support and bundled remote earphones.