How about Transfer App from iTouch to iPhone
Summary
iMobie Support team share their tips on how to transfer App from iTouch to iPhone 5. Read on to find a simple and instant solution about App from iTouch to iPhone 5.
Free download this award-winning software so that you can make use of it after reading this article.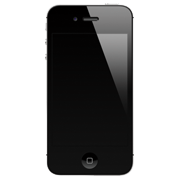 Letter from iMobie User:
I has many Apps on my old iPod touch but I'm wondering if I can transfer App from iTouch to iPhone 5 along with my current Apps. Or can I transfer App from iTouch 1 onto my current iTunes?
Answer from iMobie Team:
By transferring Apps among multiple devices, you will keep the iPhone 5 containing the most desirable App perfectly. This iMobie Guide page will show you an easy way to transfer App from iTouch to iPhone 5.
AnyTrans can always work through annoying iTunes limits, to transfer App from iTouch to iPhone 5 is just one example. AnyTrans is the ideal App Transfer application for both naive and experienced users. Below are 1-2-3 steps that show you how to transfer files over multiple Apple devices.
How to Transfer App from iTouch to iPhone 5?
The first thing you need to do is to download AnyTrans for free. Thanks to user-friendly and intuitive design, there is no secret in using this app. Below is the main screenshot of AnyTrans. You'll see it once you finish the installation.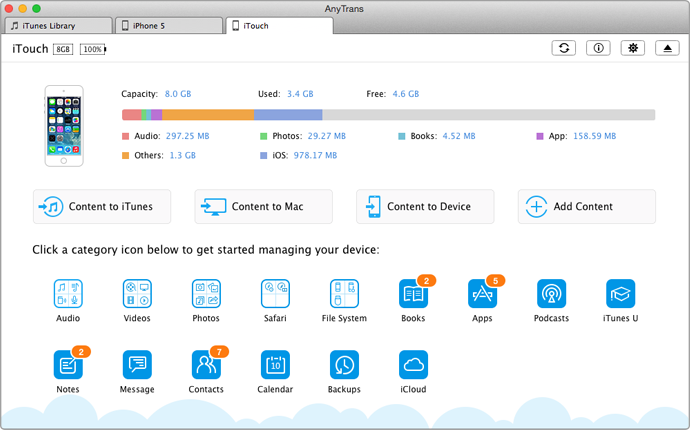 How to Use AnyTrans to Transfer App
Step 1:
Connect your iTouch 1 and iPhone 5 with computer via USB cables. AnyTrans will automatically load all media content on your devices and also iTunes library. You can also give it a check on how many free space remains. Learn how to get more space on iPhone iPad iPod touch
Step 2:
Click on "Apps" to enter the manage page.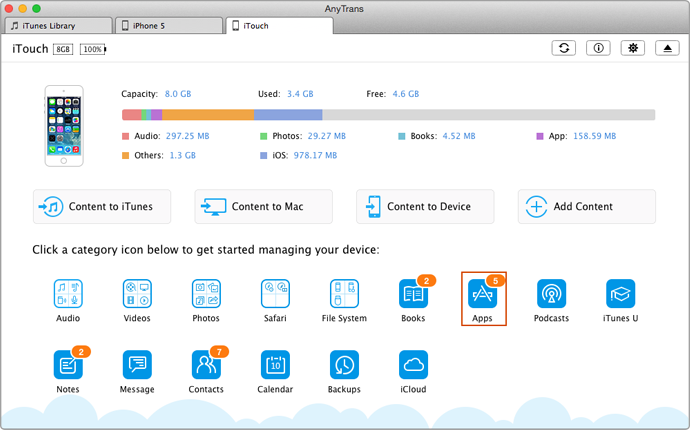 Step 3:
Highlight the App files you choosed and click To Device option (Shortcut: Right click the mouse and select To Device). Then you can leave it alone and AnyTrans will auto transfer App from iTouch 1 to iPhone 5.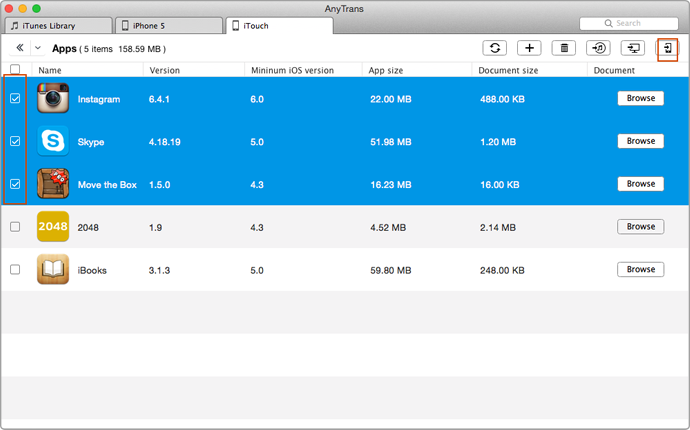 More Related Articles You May Like
Related external source