How to Transfer Movie from iPad to iPod 5G?
Summary
Want to transfer movie from ipad to ipod touch 5g? You can get a step-by-step guide here with the help of a professional tool - AnyTrans.
Why not start downloading this versatile software? So that you can make use of it after reading this Apple Support article.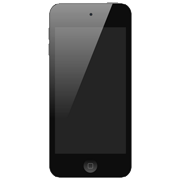 Letter from iMobie User:
I had many movies on my old computer but it broke so I got a SONY laptop. I downloaded many movies on this new computer but I'm wondering if I can transfer movie from iPad to iPod touch 5G along with my current movies. Or can I transfer movie from iPad onto my current iTunes? I also didn't buy these movies, I got them from free n legal sites.
Hot iPod Article: How to Transfer Music from iPod to Computer
Answer from iMobie Team:
It's pretty enjoyable to use iTunes import movies onto iPod touch 5G. But if you want to transfer movie from iPad to iPod touch 5G, you have great chance to get mad with iTunes. So this iMobie Guide aims to tell about how to transfer movie from iPad to iPod touch 5G with AnyTrans.
AnyTrans is made for managing iPhone/iPod/iPad content without iTunes limits. If you want to populate iPhone, iPad, iPod with music, movies, TV shows, music videos, Podcasts, iTunes U, iBooks, Audiobook, voice memo or ringtones, which require syncing through iTunes, you know how slow and tedious it can be. That's we brought about this all-in-one iPad to iPod touch 5G Transfer program.
How Can I Transfer Movie from iPad to iPod touch 5G by Using AnyTrans?
We provide free download for AnyTrans so that you can try it without any charge. By the way, to use this app is pretty easy no matter you are an experienced user or not. After few seconds installation, you'll see below main interface of AnyTrans.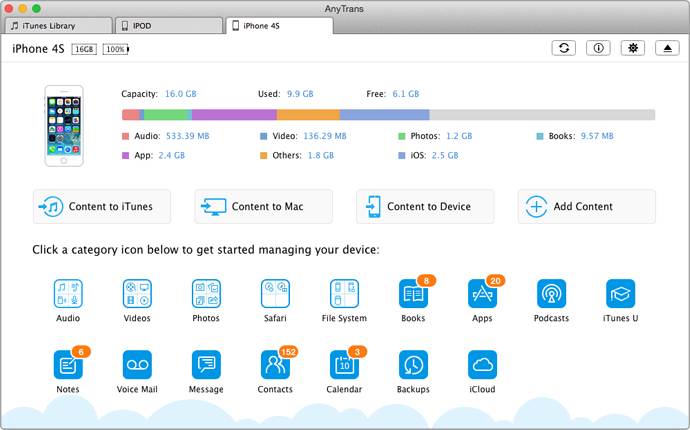 How to Use AnyTrans to Transfer Movie
Step 1:
Plug your iPad and iPod touch 5G on computer through USB cable. AnyTrans may take few seconds to load up all media info on your devices. The explicit Usage bar will show you how much free space is available on your device. Learn how to free up space on iPhone iPad iPod touch
Step 2:
Now you can find your devices on the top side. Choose iPad and click its Movie tab on the left side of the window and you'll review the related media files.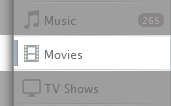 Step 3:
Now you can pick up movie files from iPad. And AnyTrans just gives you shortcut to select files according to the standards you typed in, such as Artist, Album, Genre, Composer, etc.
Step 4:
Highlight the movie files you choosed and click To Device option (Shortcut: Right click the mouse and select To Device). Then you can leave it alone and AnyTrans will auto transfer movie from iPad to iPod touch 5G.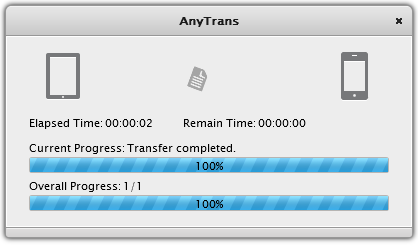 More Related Articles You May Like
Related external source
iPod touch 4G - New thinner design including two cameras for FaceTime and HD video recording, Retina display similar to iPhone 4, Apple A4 chip.
iPad - The iPad is a line of tablet computers designed and marketed by Apple Inc., periodicals, movies, music, games, apps and web content.