How about Transfer Movie from iPhone 4S to iPad mini
Summary
Looking for a solution about how to Transfer Movie from iPhone 4S to iPad mini? Here is an easy solution for you.
Free download this award-winning software so that you can make use of it after reading this article.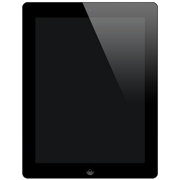 Letter from iMobie User:
I can transfer my iPhone 4S movies on my iPad mini but when I do a lot of the movies have their names changed into four random letters but it doesn't happen to all of them. Is there a way to transfer the movie without having the names change? Please just show me an workable App which is capable of transferring movies from iPhone 4S to iPad mini so that I can download it and get this done immediately.
Related iPad Article: How to Transfer Files from iPad to PC
Answer from iMobie Team:
To transfer movie from iPhone 4S to iPad mini you need a movie transfer program because Apple did not offer such an option. So far you can rarely find an ideal iPhone 4S to iPad mini transfer solution which supports transferring between multiple Apple devices on the fly. At this moment, you can just try this versatile iPhone, iPod, iPad Manager program - AnyTrans.
The tool you need is AnyTrans. This all-around and powerful app is made to manage your iPhone/iPad/iPod without any iTunes limits. If you'd like to add PDFs from a work PC to iPad or move movies from iPhone 4S to iPad mini, or transfer music from iPod to computer for backing up, thanks to AnyTrans, there is no need to scruple about previous content being erased.
How Can I Transfer Movie from iPhone 4S to iPad mini by Using AnyTrans
The first thing you need to do is to download AnyTrans for free. Thanks to user-friendly and intuitive design, there is no secret in using this app. Below is the main screenshot of AnyTrans. You'll see it once you finish the installation.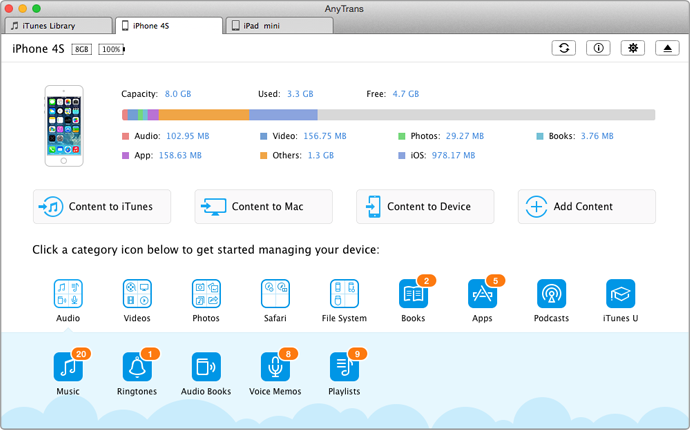 How to Use AnyTrans to Transfer Movie
Step 1:
Use two or more USB cables to Connect your iPhone 4S and iPad mini with computer. Wait a second and AnyTrans will automatically show up the basic info of your devices. You can also check how much free space remains through the Usage bar. Learn how to reclaim storage space on iPhone iPad iPod touch
Step 2:
Click on "Videos" > choose the "Movies" to enter the manage page.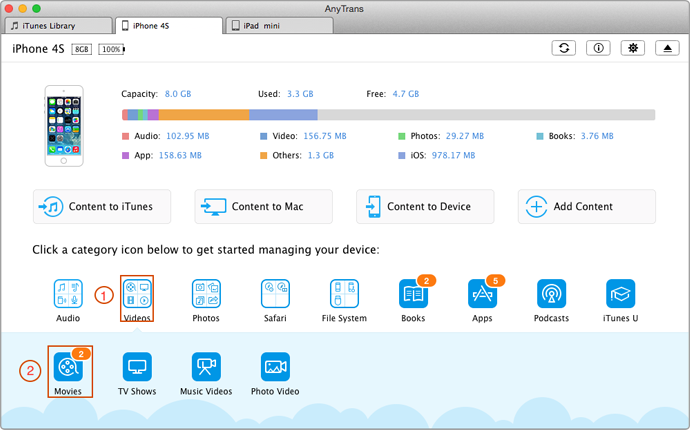 Step 3:
Keep target movie files highlidghted and click To Device (Or you can right click the mouse and select To Device). Then AnyTrans will help you instantly move movie from iPhone 4S to iPad mini.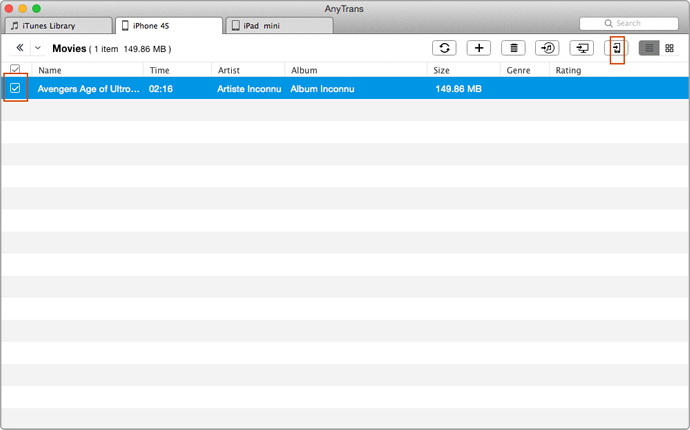 Also Read: How to Transfer Files from PC to iPad >
More Related Articles You May Like
Related external source
iTunes - iTunes is a media player computer program, used for playing, downloading, saving, and organizing digital music and video files on desktop or laptop computer.
iPhone 4S - The iPhone 4S is a touchscreen-based smartphone developed by Apple Inc. It is the fifth generation of the iPhone and retains the exterior design of its predecessor.