PhoneTrans Pro Ready for iOS 6.0.1 with Better Wi-Fi Transfer Performance
Summary
iMobie Inc. today announced its PhoneTrans Pro is ready for iOS 6.0.1. Now it got better Wi-Fi performance on transferring music between iPhone, iPad and iTunes wirelessly.

iMobie Inc., a dedicated iPhone, iPad, iPod software developing company, today announced that one of its flagship products - PhoneTrans Pro is ready for iOS 6.0.1 and gets better Wi-Fi transfer performance. According to the company, now PhoneTrans Pro could transfer music, movies to/from iPhone 5 & iPad mini with 2X faster speed over Wi-Fi connection.
"Currently PhoneTrans Pro is one of the very few iPhone utilities that follow the iOS and iTunes updates so close. And we are keen on testing iMobie software compatibilities with the latest Apple updates at the first time." said by Frank Kong, the CEO of iMobie Inc. "Besides, as iPhone 5 got a sharp hike in wireless transfer performance, we also largely enhanced our PhoneTrans Pro and resulted in a 2X iPhone Music Wi-Fi transfer speed."
A senior software reviewer said, "This has made a lot of people very nervous using iTunes, especially those who don't necessarily purchase their tracks through Apple's iStore and instead prefer to rip tracks from their favorite CD's. But PhoneTrans Pro have developed an extremely useful piece of software that can not only perform all the functions of iTunes, but can also prevent your extensive collection of music from being wiped from your device should your computer need to be replaced or restored."
Learn How to Transfer Music from iPhone to iTunes
A Complete PhoneTrans Pro Feature List:
Compatible with all iPhone, iPad and iPod; Constantly updates to support upcoming iDevices
Migrate iPhone music to iPad, and vice versa; Transfer music from old iPhone to a new iPhone
Backup and restore iTunes library from iPhone in case you get a sudden breakdown on iTunes
Create, add, remove and transfer playlist; Keep ratings, artworks, tags, play counts and all media info
Import music and App without lose existing ones; No need of jailbreaking or a full iTunes sync
PhoneTrans Pro Screenshot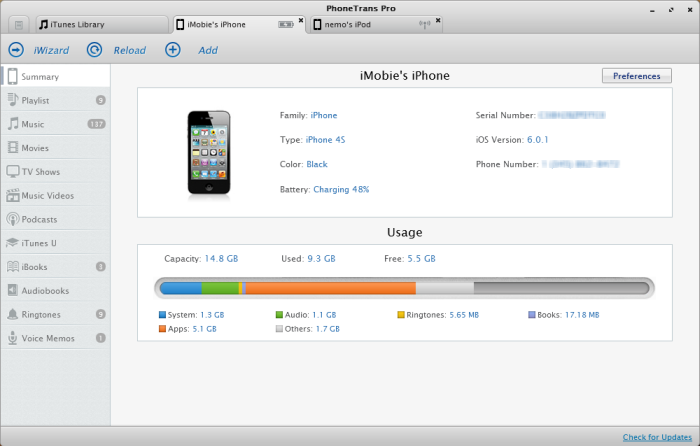 PhoneTrans Pro with iOS 6 Support
Price and Availability:
PhoneTrans Pro Time-limited Offer: https://www.imobie.com/phonetrans-pro/buy.htm
About iMobie, Inc.
iMobie Inc. was established at the end of 2011, and located in Tianfu Software Park (China), a place gathered great many talented software engineers. The brand name iMobie is from I'M Optimistic, Brainy, Independent & Efficient, which represents the main characters of their teammates. On the early stage of iMobie, they focus on developing iPhone, iPod, iPad Transfer and Explorer tools for backing up, sharing, and enriching iDevice users' media collection.
You May Like: How to Upgrade to iOS 8 on iPhone/iPad >
Related external source
Apple - Apple Inc. designs and sells consumer electronics, computer software, and personal computers. The company's best-known products are the Macintosh line of computers, the iPod, the iPhone and the iPad.
CNet - CNET (stylized as c|net) is a tech media website that publishes news articles, blogs, and podcasts on technology and consumer electronics.