iMobie Updates AnyTrans - Allows to Transfer iDevices Contacts to Mac Contacts App
Summary
iMobie updates its flagship product AnyTrans which adds the function of transferring contacts from iPhone/iPad/iPod touch to Mac Contacts app.
iMobie Inc., an innovative iOS-related software developer, today announced an update to its flagship product AnyTrans, which adds the new function of transferring contacts from iDevices to the default contacts app on Mac. The new AnyTrans is now the world's first all-in-one iOS Content Manager that supports directly transferring contacts from an iDevice to the Contacts app on Mac which breakthrough the limitation of using the same iCloud accounts.
"We have successfully made AnyTrans an all-around iOS Content Manger, and exporting contacts from iDevices to the Mac Contacts app is just a small part of it." Said by Frank, the CEO of iMobie Inc. "AnyTrans takes care of every piece of your iOS content, from a contact number to the whole music track, from a voice message to the thousands of photos, from a simple note to the entire iCloud backup, AnyTrans manages to combine data-transfer, content-edit and iCloud-management all in one software." Frank continued.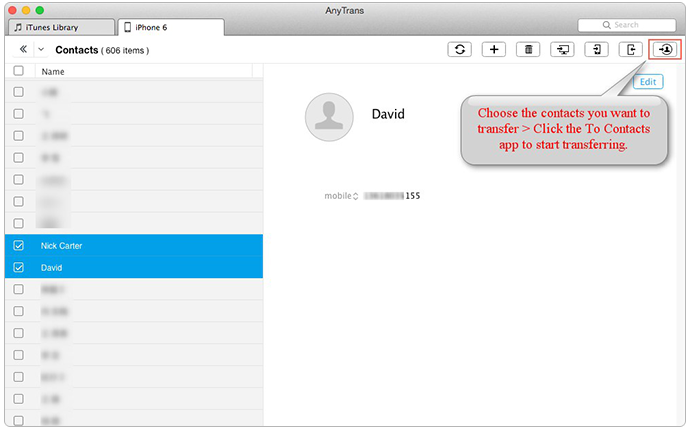 Transfer Contacts from iPhone to Contacts on Mac Using AnyTrans
Far beyond an ordinary iOS transfer tool, AnyTrans is a comprehensive iOS content management utility, now check the designed features of AnyTrans:
1. All-around content control: AnyTrans supports transferring all kinds of iPhone/iPad/iPod content, including contacts, messages, notes, photos, music, videos, apps, books, and other types of personal info and multimedia data.
2. Full-way transferring modes: AnyTrans is fully capable of transferring iOS content to anywhere as users want - to iTunes, to computer, and to another iDevice, which allows those who need to transfer all contacts from an old iPhone to the new one in just few clicks.
3. Powerful iCloud backup management: AnyTrans manages to manage all the iOS files including the iCloud backup, which gives users the access to iCloud backup and even download individual items to the computer, like Contacts, Messages, Voice Mail, Notes, Calendar etc.
Price and Availability
AnyTrans is available for Windows and Mac users. The personal license code is priced at $39.99 and the family license code is priced at $59.99. Refer to iMobie online store (https://www.imobie.com/store/) for the detail price. https://www.imobie.com/anytrans/buy.htm
About iMobie Inc.
iMobie Inc. was established at the end of 2011, and located in Tianfu Software Park (China), a place gathered great many talented software engineers. The brand name iMobie is from I'M Optimistic, Brave, Independent & Efficient, which represents the main characters of their teammates.
Related external source
Apple - Apple Inc. designs and sells consumer electronics, computer software, and personal computers. The company's best-known products are the Macintosh line of computers, the iPod, the iPhone and the iPad.
CNet - CNET (stylized as c|net) is a tech media website that publishes news articles, blogs, and podcasts on technology and consumer electronics.