You're almost there! Choose your PhoneRescue license, and save up to
$40

NOW!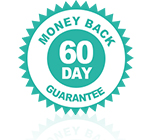 The Longest Money Back Guarantee
We firmly believe this risk-free purchase guarantees the best value for you. If, in any case, you are not satisfied with PhoneRescue within 60 days, you'll get 100% full refund based on iMobie Refund Policy.

"PhoneRescue allows you to sift through your files and select only the ones you need, resulting in less time and storage space wasted in the recovery process." - TopTenReviews Team

"PhoneRescue could be a very useful tool for any iOS device user... if you're looking for a data recovery tool for your device, this may be worth a look." - Jonny Evans

Instant Delivery
You'll receive your activation code instantly by email after purchase.

24/7 Customer Service
Our 24/7/365 customer service is there for you at all times.

Have a Question?
Have any problem on purchasing? Please feel free to contact us.
Worry Free Guarantee