Things You Should Do before Upgrading to iOS 13
The all conquering latest version of iOS has got many iPhone enthusiasts excited. Whether you've been testing the beta version before or you're just waiting to get your hands on the official version for the first time, checking compatibility and backing up all your iPhone data is an essential step. Now, read on to see the details.
Part 1: Check for Your Device's Compatibility
iPhone XS
iPhone XS Max
iPhone XR
iPhone X
iPhone 8
iPhone 8 Plus
iPhone 7
iPhone 7 Plus
iPhone 6s
iPhone 6s Plus
iPhone SE
iPod touch (7th generation)
Part 2: Back Up Your iPhone/iPad Before Upgrading
Data loss happens easily when upgrading to a new iOS version, so it's important and necessary to make a full backup of your iOS device before upgrading to iOS 13. This ensures you will be able to get back your data whenever encountering unexpected data loss. Check below for three simple ways to back up your iPhone/iPad.

Back up with iTunes
Step 1. Open iTunes on your PC or Mac.
Step 2. Connect your iPhone/iPad to computer.
Step 3. Click File > Devices > Backup, click "Back Up Now" button from Summary page.

Step 1. Connect iPhone/iPad to PC or Mac.
Step 2. Click Device Manager & Backup Manager option.
Step 3. 1-Click to make a full backup of your iOS device, or only backup up selected data types.
Free Download

Back up with iCloud
Step 1. Connect your iPhone/iPad to a Wi-Fi network.
Step 2. Go to Settings > [your name] > iCloud.
Step 3. Click "Back Up Now".
( AnyTrans Backup VS iTunes Backup VS iCloud Backup )
| Backup Features | AnyTrans Backup | iTunes Backup | iCloud Backup |
| --- | --- | --- | --- |
| Full Backup | | | |
| Back Up Selected Data Only | | | |
| Auto-Backup | | | |
| Preview Backup | | | |
| Extract Backup | | | |
| Backup Restore | | | |
| Incremental Backup | | | |
| Store Backup for Free | | | |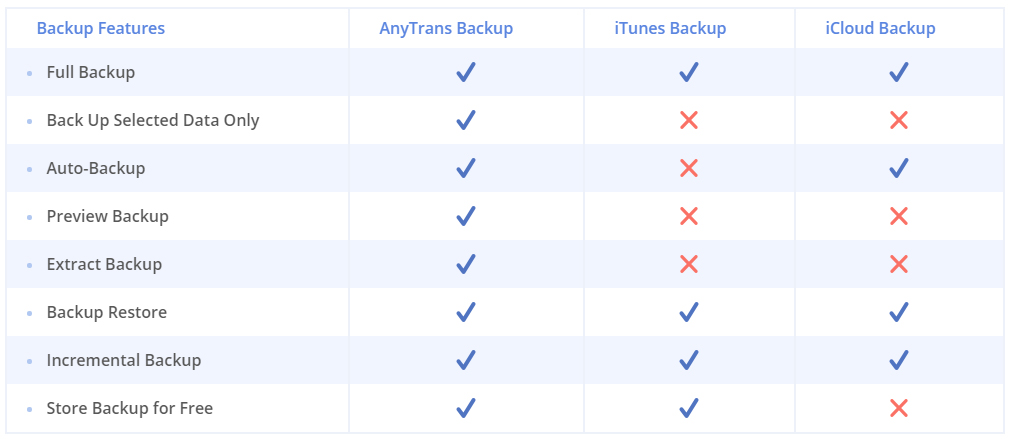 Upgrade Your iPhone to iOS 13
You can update your iPhone, iPad, or iPod touch to the latest version of iOS wirelessly. If you can't see the update note on your device, you can update manually using iTunes on a computer that you trust.

Update Your Device Wirelessly
1.

Plug your device into power and connect to the Internet with Wi-Fi.

2.

Tap Settings > General > Software Update.

3.

Tap Download and Install.

4.

Tap Install or tap Later and choose Install Tonight or Remind Me Later.

5.

Enter your passcode if asked.

Update Your Device Using iTunes
1.

Install the latest version of iTunes on your computer.

2.

Connect your device to your computer.

3.

Open iTunes and select your device.

4.

Click Summary, then click Check for Update.

5.

Click Download and Update.

6.

Enter your passcode if asked.
Fix the most Common iOS 13 Problems
We hope you'll have a nice experience with this newest iOS operating system. If you are unluckily to be the one encountered various problems like data loss, software update failed, ect., here are the solutions especially for you.
Most Common Problems
1. iPhone iPad Data Loss
2. iOS Update Failure
3. Stuck on Verifying Update
4. Stuck on White Apple Logo
5. Can't Check for Update
6. Stuck on Recovery Mode

1. Recover iPhone/iPad Data within 3 Steps
2. Fix White Apple Logo and Restarting Loop
3. Restore iOS System from Recovery Mode
4. Fix iOS Crash and iPhone Frozen
5. No Tech Knowledge Required
Free Download
Downgrade iOS 13 to iOS 12.4
iOS 13 public version will be launched in September. Some users are longing for these fantastic features, however, some are laden with the concerns. What if these features are not fit your iPhone using habit after the upgrade? Is it possible to get back to where you started? No matter what reason makes you decide to remove iOS 13 and re-download iOS 12.4 or earlier version, you'll get the solution here.
Go to ipsw.me to download the IPSW file for your device.
Turn off Find My iPhone on your device.
Connect the iPhone to the computer and open iTunes. (Most importantly, put your device into Recovery Mode.)
Click on the Okay button to restore your device and Select Restore and Update option on the next popup.
Your device will be restored successfully to iOS 12.4 when you see the white welcome screen.
Note: If you still confused with this way, you can read the tip about how to downgrade from iOS 13 to iOS 12 step by step.
Discover New Features in iOS 13
This newest version iOS operation system is a huge overhaul to the previous one. With a long list of new features, Apple will make your iPhone faster, smarter, and more secure. Let's see what new features in iOS 13.

Dark mode
A new system-wide Dark Mode changes iOS and apps from light to dark. You can turn on it manually, or have this mode come on a custom schedule.

Photos App
It lets you easier browse your entire photos library and relives your significant memories. And you're able to use the picture editing tools on videos.

Camera App
You can adjust the Portrait Lighting by moving the light closer or further or create monochromatic subjects with the new High-Key Mono.

App Location
You can choose to grant apps to access your location in anytime you want. API is used for ensuring better Wi-Fi and Bluetooth protections.

Login
Using the Apple ID to sign in to the apps and websites is quicker and easier. You can hide the real email address or create a random address when use app.

New Map
Roads, beaches, building, etc. are more realistic on this new map. Expanded Favorites support, and a built-in option to share your ETA with others.

New Siri
The new Siri sounds smoother and more natural, and what makes it more intelligent is it can offer personalized suggestions in Apple Podcasts, Safari, and Maps.

Memoji
Automatically share your name and photo with people. Memoji changes to sticker packs into the iOS keyboard when use Messages, Mail, etc.

Reminders
All-new designed Reminders app features smart lists, a better layout and organization options, plus people tagging which syncs with Messages for collaboration.

More
See the full lists of new features that available with iOS 13...