How to Add Bookmarks to Home Screen on iPhone
This post tells you how to create a website shortcut on your iPhone home screen to help you quickly access your favorite website.

Joy Taylor
Last Updated: Apr. 10, 2020
iPhone Default App Issues
Safari & Calendar Issues
Location Related Issues
You may have found that you repeatedly do the same thing on your iPhone to visit some of your favorite Safari bookmarks by running Safari, finding the bookmark and tapping it. So why not create some shortcuts on the home screen of your iPhone to quickly visit your favorite sites by 1 tap? In this article, we will tell you how to add bookmarks to your iPhone home screen.
Also Read: How to Transfer Data from iPhone to iPhone >
How to Add Websites to Home Screen on iPhone
Since iOS 10, Apple enables users to add websites to home screen on iPhone for quick visits. And the websites added to home screen look like apps. Follow the steps below to know how to add your favorite sites to home screen step by step.
Step 1. Run Safari on your iPhone, and visit your favorite site.
Step 2. Click Share icon and tap add to Home Screen. (Besides adding a web page to Home Screen, by using the share icon on Safari app, you can add web pages to bookmark or reading list.)
Add Websites to Home Screen on iPhone – Step 2
Step 3. Name added website and tap "Add" to put them on home screen.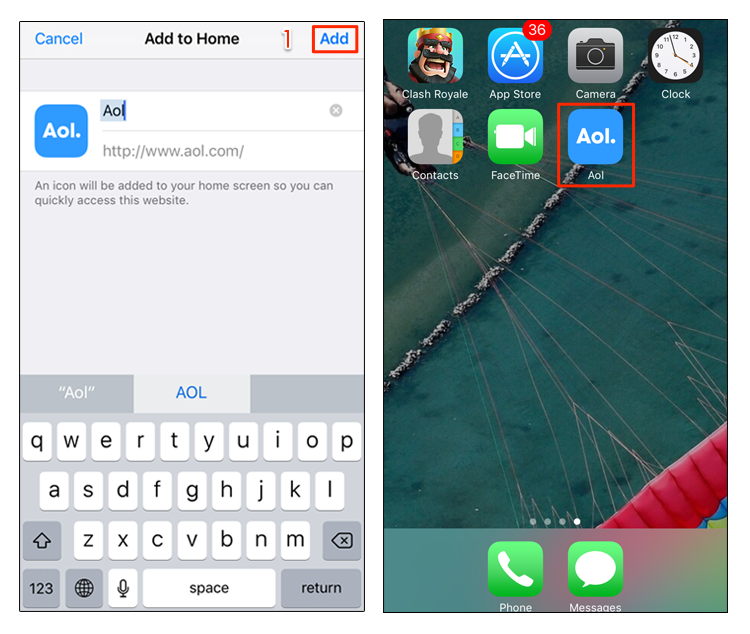 Add Websites to Home Screen on iPhone – Step 3
Bonus Tip: Manage iPhone Bookmarks with AnyTrans
As an all-in-one iOS management tool, AnyTrans offers users great experience to manage their iOS devices, iTunes and iCloud. Here we'd like to show you how to manage iPhone bookmarks with AnyTrans:
Step 1. Download and launch AnyTrans on your computer, connect your iPhone to the computer. Click "More" on the main interface.
Step 2. Click Bookmarks under Safari, check your bookmarks and choose the bookmarks you want to manage. You can transfer these bookmarks to another iPhone/iPad, or send them to your computer.
The Bottom Line
That's all about how to add bookmarks to iPhone home screen. If you have any other ideas, please tell us in the comment area.
More iPhone Related Articles You May Like: