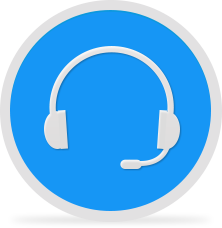 Apple Customer Service Problems and How to Contact Apple Customer Service to Fix
As one of the greatest companies, without doubt that Apple does bring us many fantastic products, like iPod, iPhone, iPad, iMac, Apple Watch, etc, and these products do make us play better and work more efficiently. However, when Apple is getting closer to the leading multinational technology enterprise, some different voices started flowing to Apple's iOS devices, like, poor customer service, iOS upgrade always bring bugs, iTunes is stupid and complicated to use, iCloud is terrible, slow, and not safe, etc.
However, according to some customer complaints sites like Customer Services Core Board, Pissed Consumer and Complaints Board, and the survey sponsored by iMobie – What's Your Biggest Headache When Using iPhone iPad, many iDevice users think customer service problem is the biggest gripe about iPhone iPad, and they were stuck on many kinds of customer service problems. Therefore, in this article we will summarize some most common customer service problems and related reviews, and also offer a full list of how to contact Apple Customer Service.
Apple Customer Service Problems and User Reviews
Although iDevice users may encounter many kinds of customer service problems during using iPhone iPad, normally, these problems can be classified to 4 categories: warranty problem, reparation and maintenance problem, rigid policy problem and service staff problem.
For example, here we extract some Apple customer service reviews from Customer Affairs as blow:
They took my iPhone and came after 30 min and told me that it's a Water Damage case and they asked me 24,000 Rupees for a replacement of the phone. I Informed that water damage can't be possible at all as the iPhone was the in the box after my daughter placed it after doing some work. I also told them that I am a very loyal customer who always uses Apple products, but they were not ready to help me at all, and I was insisting on paying amount of 24,000 Rupees for the replacement.
By SAURABH of Gurgaon, on July 30, 2015
When I contacted the Apple customer service they demanded to produce the buying receipt for resolving activation issue. But I do not have the buying receipt as this phone is gifted by my daughter who is in the US. They said they perfectly understood the problem, but the company's policies have made them helpless. I told the customer service people that they had all the records in their server regarding me owning this phone so why do you need a buying receipt.
By SEBASTIAN of Cochin, on July 15, 2015
I just received an email telling me I won't be refunded because my phone was subjected to accidental damage or misuse. I only used it for maybe 1 hour in total and did nothing to damage it. My service provider checked it and told me there wasn't any water damage and weren't sure why it stopped working/charging. Also in the email I was told that I am eligible for out of warranty service so they charged me another $329 for this service fee. So now I have paid $1176 in total for two phones but only own one.
By Lynda of Regina, on June 27, 2015
Just like many people complained in forum or community, Apple's customer service is not as good as its products. However, unlike iOS upgrade problems or iTunes problems, we can offer you the solutions to fix your problems in a direct way. For customer service problems, we can't. After all, we are not Apple or affiliated with Apple Inc. The only thing we can do is providing you the full list of how to contact Apple customer service so that you can get more ways to contact them for fix your problem.
How to Contact Apple Customer Service for Fix Your Problems
Although most of iDevice users can use their iPhone iPad without encountering any fault, some unlucky guys may be stuck on some problem mentioned above. At this moment, an idea way is to contact Apple Customer Service. Now check the full list of Apple Customer Service Team contacts as below:
1. Call Apple for Support and Service:
If you are in the US, you can call Apple Customer Service with this Phone Number: 800-275-2273, which covers Customer Problems, Support, Customer Care, Issues, Questions, Billing, Sales and Customer Service. Note: This system will ask you for serial number before getting you right to some who can help.
If you are outside of US, you can visit this Contact Apple page and check the phone numbers located in your country.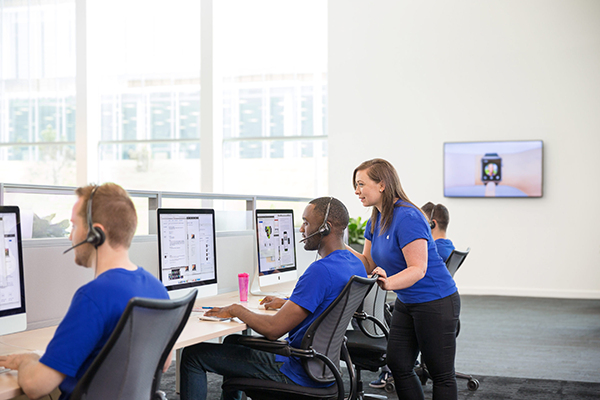 Image Credit: Apple.com
2. Contact Mobile Carrier:
Visit this Contact Mobile Carriers page, and then choose your region to learn about the wireless carriers in your country.
3. Find an Apple Retail Store:
Choose your country and region on this page, and then select the nearest store to check the details, including address, store hours and store services. Then you can visit the store when it is convenient for you, and ask help from Genius Bar.
4. Contact an Apple Authorized Service Providers:
Go to this page > Select Service > Input your location and select a product and a carrier > Click Go > Select the nearest store > Check the Address and Contact info of the store > Contact or visit it as you like.
5. Get Help By Phone or Chat:
Visit Get Support page > Select the product that needs help > Input a serial number, IMEI or MEID of your iDevice to check its coverage > Select the topic that covers your problem (like Battery, Power & Charging, Mail, Using iPhone with iTunes, etc) > Select the sub-topic > Select Chat/Schedule/Call Apple Support Latter.
Chat – Chat with Apple Support Team online and ask for help.
Schedule a Call - Make an appointment, and Apple Support will contact you when it is convenient for you.
Call Apple Support Latter – Leave your contact info and problem, Apple support will spend less time helping you out when you are calling.
6. Submit Your Problem to Apple Support Community:
When it is not convenient for you to call or chat with Apple Support and ask for help, you can choose to submit your question or problem to Apple Support Community. Once your problem are submitted to Apple Support Community, you can get answers or solutions in hours or days, and normally, you can get answers from Apple Support Team, and other users who also have the same problem, or some non-apple specialists. Absolutely, if you are enough lucky, you can find the same problem with solutions, you can follow those answers or solutions to fix your iDevice without submitting again.
7. Contact iTunes Store Support:
If you have some problem when using iTunes, you can go to this page > Click contact iTunes Store Support > Select the topic and sub-topic to proceed > Contact Apple Support by phone.
Note: Apple hasn't established grievance mechanism about customer service, so be patient and contact Apple for solutions with the contacts listed above.
Except Apple customer service problems, if you also meet other problems, like iOS upgrade problems, common iDevice using problems, 9.or have a problem when using iTunes/iCloud, you can find solutions on this page. Anyway, hope you can enjoy more with the brand new iOS 9, and far away from all kinds of iDevice problems.
More iPhone iPad Problems Related Articles
Join the Discussion on Apple Customer Service Problems