How to Backup Text Messages on iPhone 6/6s/7/8/X
Summary
Want to save messages from iPhone 6/6s/7 or new iPhone 8/X? The post shows a simple method to backup text messages on iPhone 6/6s/7/8/X.
Download AnyTrans on your computer to backup iOS content with ease. Then follow this guide to learn how to quickly backup text messages on iPhone 6/6s/7/8/X.
Q:"Hi, I would like to get hold of my old iPhone 6 text messages. I know that one can backup iPhone SMS when syncing with iTunes as iTunes would backup all sorts of iPhone data. However, the caveat in that is that I cannot use the iTunes backups in order to view my iPhone data. What I am interested is to have access to my iPhone SMS text messages and be able to read them on my PC – is this possible at all. Maybe syncing with iCloud can allow me to do that when logging in to iCloud on my computer?"
— OapAl From Apple Support Communities
It's true that iTunes and iCloud enables you to create backups to save text messages on iPhone 6/6s/7/8/X. But unfortunately, both the iTunes and iCloud backup won't give you access to view the content inside. To backup text messages on iPhone 6/6s/7/8/X in viewable and accessible way, AnyTrans for iOS is a perfect choice.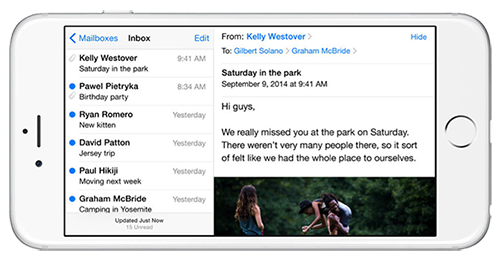 Image Credit:iphonejd.com
Can't Miss: How to Retrieve Deleted Text Messages from iPhone 6/6s (Plus) >
Note:
New iPhone 8 and iPhone X are available now, ready to get a new iPhone to replace the current old one? Don't forget to check out How to Transfer Data to New iPhone 8/X. And if you want to try iOS 11/11.1/11.2 on your iPhone 6/6s, you ought to read the most common iOS 11/11.1/11.2 update problems and fixes.
Top Features of AnyTrans for iOS
AnyTrans can be regarded as the best iTunes alternative that helps back up almost all iOS data on your iPhone, iPad and iPod.
Instead of a full backup created by iTunes, AnyTrans allows you to selectively backup text messages on iPhone 6/6s/7/8/X to computer in viewable formats (like pdf, html, or txt).
If you prefer a full backup, AnyTrans can also help you make an extra complete backup of your iPhone 6/6s/7/8/X including text messages in a faster speed than iTunes.
As long as your iPhone 6/6s/7/8/X and computer are connected under the same Wi-Fi, all the important data on phone will be automatically, wirelessly and securely backed up to Mac/PC, containing your messages.
Besides the common data like messages, photos, music, contacts or notes, AnyTrans also supports backing up the imported images, videos and audio files on iPhone, which will not be backed up by iTunes/iCloud.
How to Backup & Save Text Messages on iPhone 6/6s/7/8/X
Step 1. Open up AnyTrans, and connect your iPhone to computer. On the homescreen, slide down to the category page and click "Messages".
Step 2. Preview the messages, and click the To Mac/PC button to transfer text messages from iPhone to computer as backup.
Note: AnyTrans also allows you to access and view the iPhone 6/6s/7/8/X text messages on iCloud, and even download them to your computer. For more details, please refer to this guide: How to Check Text Messages on iCloud >
The Bottom Line
In addition to backup iPhone iPad iPod data, AnyTrans also enables you to access your iTunes and iCloud backup, view backup content, and extract them to Mac or PC computer. Why not have a try now? Any question on this guide or AnyTrans is welcomed. At the same time, don't forget to share this guide with your friends.
Share Your Thoughts With Us