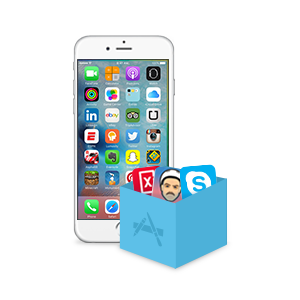 10 Top & Best Apps for iPhone 6/6s (Plus)
[Last Updated on Sept. 10, 2015]
With the coming of the iPhone 6s/6s (Plus), Apple fans may already prepare to buy one for the replacement of the old iPhone. iPhone 6s/6s Plus, as the latest device Apple will release, you may consider if there is any necessary to change your old iPhone to it. You can click to assist you make a final decision of whether to upgrade your iPhone to it or not.
But no matter you prepare to buy it or keep the original one, useful apps always play the big role in your iPhone. Best apps to your iPhone are just what best furniture to your house. Practical and beautiful furniture always makes house shine. So how can you find fun and practical one during over million apps? So here, we browsed App store to list top 10 apps for you embellishing your iPhone 6/6s (Plus).
Weather Line – Tell You Weather details
$3.99
A wonderful new weather app, designed specifically for your iPhone. It includes 12, 24, 48 hour weather details and up to 10 days. Also, the simple interface provides a clear feeling for you to pick up the most important weather information. To experience all the function of Weather Line, you can download Weather Line and install it on your iPhone 6/6s (Plus).
Snapseed – Best Photo Editing App
Free
Snapseed allows you to edit your photo with endless possibilities. With the professional photo editing function, it provides you a perfect editing experience in your iPhone. Such a professional operation could only be allowed in computer before. But now you just need to move your finger in iPhone, using tools and adding filters, then the wonderful image will appear. It will bring you so much unexpected pleasure during photos' postproduction.
1Password – Throw Away Numerous Passwords
Free
Using 256-bite AES encryption, 1Password will protect your data perfectly. Also, it helps you store Logins, Identities, Secure Notes, Software License, Wallet, Accounts, Credit Cards, and more to free you in such extremely tedious matters. And all these data will be protected by a major password, which only be mastered by you. Once installing 1Password, all the different & complex passwords you set can be threw away from then on. This comprehensive password manager will surely make your daily life more secure and convenient.
Monument Valley – Wonderful Gaming Experience
$3.99
Monument Valley opens an extremely fantasy world to let you immerse in. To help the princess Ida fulfill her wondrous mission, you need to let her through maze of optical illusions by lifting and rotating buildings. It's worth mentioning that different sound effects will be appeared when operating the world, so you will gain a fascinating experience with headphones. So why don't download Monument Valley for relaxing in your leisure time.
AnyTrans – Best iTunes Alternative
$39.99
AnyTrans is a PC/Mac based app made for iPhone/iPad/iPod to manage & transfer data on iDevices. You can transfer any data and files like photos, music, voicemails, contacts and more as you wish. Although this one should be operated on computer, it supports multiple transporting directions such as from iPhone to computer, from iPhone to iTunes, or from computer to any iDevices. Also, AnyTrans allows you to view and extract data from iCloud and iTunes Backup. Thus, AnyTrans will be your good helper when you try to transfer and manage your iPhone content on computer. Take a Tour with AnyTrans >
Related Reading:
How to Transfer Music from iPhone to iPhone >
How to Transfer Music from Computer to iPhone >
How to Transfer Video from iPhone to Computer >
Pandora – Music Stream App
Free
Pandora is a streaming music app for iPhone, which can allows you to type in an artist as you wish. Pandora will plays the music of a certain genres based on your selection. Also you can give feedback on the music it pushed, and then it may take a consideration for the next time songs selection. That's why I keep Pandora in my iPhone for a long time.
Google Chrome – Web Browser App
Free
Why we don't use Safari for browsing on Internet? Surely, Safari is good, but maybe it is not adoptable for everyone. You can keep the bookmarks, historys, and passwords in harmony with the Browser – If you already used Google Chrome on your desktop computer. Also, to embellish the interface of Chrome, you can install or buy themes you like. Google Chrome will be the best replacement of the Safari in your iPhone 6/6s (Plus).
PhoneRescue – All-sided Rescuing Tool
$69.99
This is also a PC/Mac based app made for iPhone, iPad and iPod touch to retrieve lost data with no barrier. We all encounter with such kind of situation – lost or delete the important data like messages, contacts and more by accidentally. How can we recover them for necessary use? Actually, without the help by third part software, we cannot recover the data easily. PhoneRescue is an iPhone data-rescuing tool that helps extract & recover data directly from iPhone, iTunes backup and iCloud backup. Keep in mind that PhoneRescue is a desktop-based tool that works on PC/Mac. You just need to connect your iPhone with computer, and then your lost data will be recovered with few simple clicks. Besides, the simple and generous interface always gives you a clear feeling when you use it. Take a Tour with PhoneRescue >
Related Reading:
How to Retrieve Deleted Text Messages on iPhone >
How to Recover Deleted Notes on iPhone >
How to Download iCloud Backup >
Picjoy – Best Photo Organizer
Free
Numerous photos in your iPhone's camera roll will drive you crazy when you try to find the photo you took half year ago. You may find lots of photos in the time span, but it is hard for you to pick up the one you want. To help you find and sort your photos, Picjoy allows you to tag images so as to help you find them quicker. Talking about tags, you can add any contents you regard as meaningful, and all signed photos with same tags will be appeared for you when searching in future. If you forget to add the tags, it doesn't matter. Picjoy will automatically generate more than one tag like location, weather condition, specific time span and more for your photo. Besides, it also supports sync data by iCloud.
PCalc – Top Caculate App
$9.99
Such a feature rich calculator is very suitable for scientists, engineers, students, programmers, or anyone looking for systematic calculating. As a powerful caculater, PCalc includes a choice of button layouts, multiple undo and redo, ample themes, and binary, hexadecimal calculations. Also, you can paste simple calculations into PCalc. Besides supports iPhone, it is also compatible with iPad and iPod touch. So you can download it and install it on your iDevices.
The listed 10 best apps will customize your iPhone 6/6s (Plus) better. Before you download and install these apps, we suggest you to free up more space in your iPhone first. Hope this article can be of help to you.
Besides, if you decide to buy the latest iPhone, what should you do with the old one? Pass to your parents for reuse? Or sell it for extra money? If you decide to sell it, what should you do before the selling? This article will give some suggestions on what you should do before selling an iPhone.
Join the Disscussion on iPhone 6/6s (Plus)