Top Best Duplicate File Finders for Mac
Summary
What is the best duplicate file finder for Mac in this world? This post collected some tool you may be interested in.
Download MacClean to remove duplicate songs, photos, and videos from your Mac computer. Compatible with Mac OS X 10.7 – 10.10.
Duplicate files waste limited space on your Mac hard drive, especially some large duplicates, such as videos and songs. Having lots of duplicate files on your Mac may slow down your Mac unconsciously. So, you'd better remove these duplicates to free up space on your Mac.
But it could be a huge task to manually find duplicates from all files on your Mac hard drive. Therefore, you may need help with some Mac duplicate file finders. Nowadays, there are many duplicate finders for Mac, here in this post, we will introduce you some best duplicate file finders for Mac to help you automatically find duplicate files and easily remove duplicates in a few clicks.
MacClean - $19.99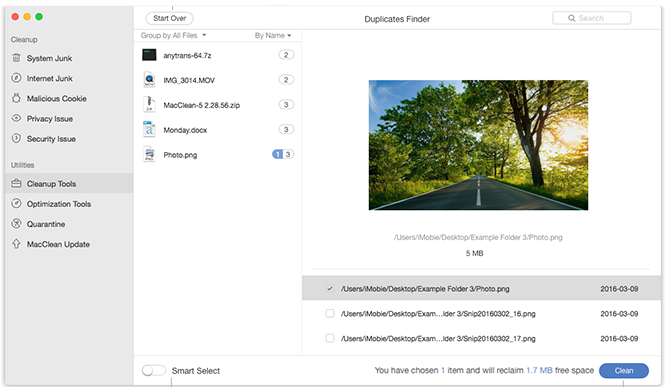 Best Duplicate Files Finders for Mac - MacClean
MacClean is one of professional tools to help your free up storage and speed up your OS X on your Mac. It provides all Mac users with one smart feature to quickly find duplicate files and it helps you automatically locate and remove the duplicate photos, songs, apps and other files to free up space on your Mac. Below are some features you may like:
You can drag and drop folders to scan duplicates.
You can preview or locate the duplicate files.
Smart Select" helps you automatically select duplicates by 1-click.
Group by" feature lets you preview only your wanted files like songs.
Supports Mac OS X from 10.7 to 10.10+.
Supports 5 Languages, including English, German, Spanish, French and Japanese.
Click here to free download MacClean >>

MacClean also can be regard as one best duplicate photo finder for Mac, so, if you just want to find and remove duplicate photos on your Mac, you can refer to this guide: How to Find and Remove Duplicate Photos on Mac >
Gemini - $19.95
Gemini is one easy to use duplicate file finders for your Mac. It uses fast scanning algorithm to get useless duplicates on your Mac computer. It lets you preview files before you remove them just like MacClean and support 10 languages. But the new updated Gemini 2 requires Mac OS X 10.10+ and cost you 19.95 US dollars.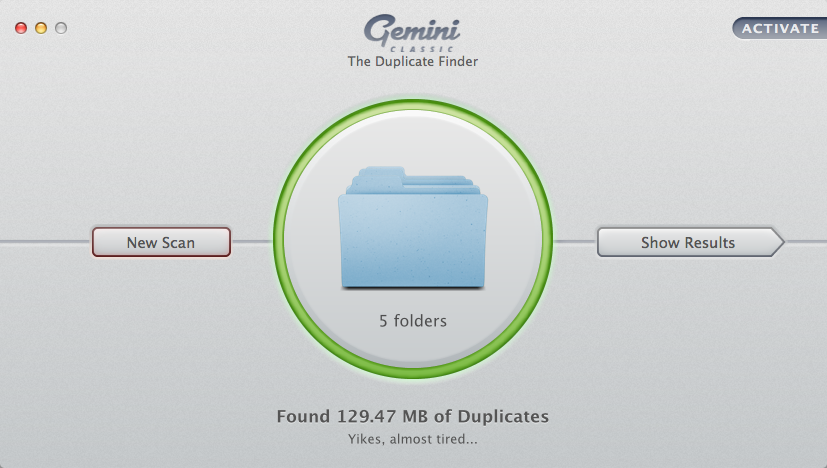 Best Duplicate Files Finders for Mac - Gemini
Don't Miss: How to Check and Free up Disk Space on Mac >
DupeGuru for Mac – Free
DupeGuru is one of smart Mac duplicates removers that you can use to delete duplicates in Mac OS X and Windows. DupeGuru for Mac works well to scan your hard disk and accurately identifying duplicates to help you keep files organized well without duplicate files. The interface isn't better than MacClean and Gemini, but it also does a good job.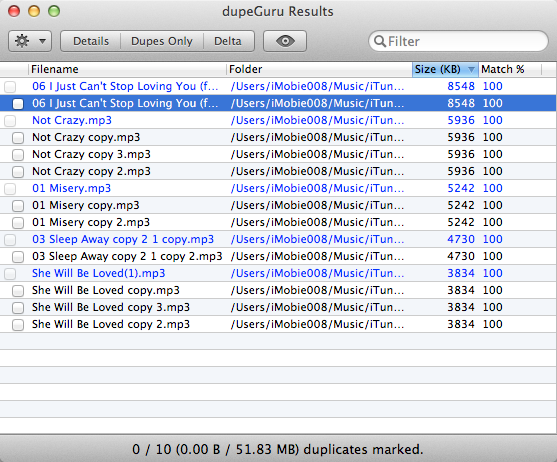 Best Duplicate Files Finders for Mac – DupeGuru for Mac
The Bottom Line
That's all for the introduction of some best duplicate file finders for Mac, of course, what we really want to do is removing duplicates to free up more space for our Mac OS X, these Mac duplicate file finders can help you make it without effort. If you prefer MacClean, you can download it to have a try.
Top Posts on Cleanup and Speed Up Mac Computer
More Related Articles You May Like