Best iPhone iPad iPod Transfer Software Review
Summary
We carefully chosen a list of the best iPod music transfer software and made a complete review on each of them. And some of them are also available to iPad iPhone Transferring.
Download this awarded application so that you can easily transfer songs, pictures, videos and more between your iOS devices and computer/iTunes.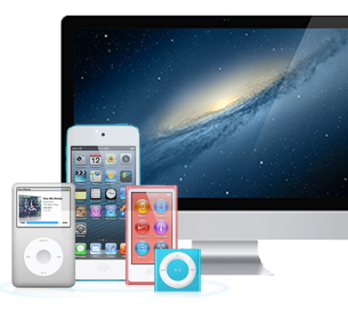 Top Best iPhone iPod Transfer Software Review
The reason you'll need iPod transfer software is that with the original manager program - iTunes, you have just many limits. For instance, one iPod can sync to only one iTunes library; it's impossible to transfer music from iPod back to computer; adding a single song requires to perform a full sync, just to name a few.
So we collected some best iPod transfer software here and made a complete review on each of them. Before getting started, we dropped a line to define the standards of a best iPod transfer tool below.
Best iPod Transfer Software Criterions
Features: as the end iPod transfer software user, you should be able to transfer songs, media files between iPod and computer with the tool.
Usability:  to run for the best iPod Transfer program, the nominees must be intuitive and easy-to-use. The less clicks to complete the task, the higher rank it will get.
Compatibility: Of course it should be compatible with any iPod, including iPod Classic, Nano, Shuffle, touch etc. But there are some tools that stop updating to support iTunes 12 or iOS 9/9.1 for iPod touch 6.
The other scoring criterions include the iPod transfer software stability, UI designs (based on our own aesthetic preference), uniqueness, etc.
Find Out Your Best iPod Transfer Software Here

AnyTrans - As the name suggested, you can transfer any media content, like music, movies, podcasts, iTunes U, photos and even Apps to and from all iPod, iPhone and iPad ever made. Unique features include iPod converter, Wi-Fi Transfer, One-click clone music from iPhone to iPhone, etc. Read More >
---

Senuti - Senuti (iTunes spelled backwards) is an iPod music transfer app for Mac OS X. It is well-known as iPod, iPhone music backup tool which can save your music collection from suddenly breakdown. Although Senuti default settings are less than ideal, it is still good for transferring music from iPod to computer. Read More >
---

Winamp - Winamp is an old-school media player for Windows and Android devices. If you're one of Winamp fans, who never have a plan to switch the media player from Winamp to iTunes, then you can follow this guide to get your music from computer to iPod. For sure you can do this without using iTunes. Read More >
---

YamiPod - This freeware app can efficiently manage your iPod under Mac OS X, Windows and Linux. As one of the very few cross-platform iPod transfer software, YamiPod can be run directly from your iPod and needs no installation. It features playlist support, allowing you to import and export, Last.fm support, and RSS and podcast support. Read More >
---

CopyToy - Want to upgrade your computer and have a plan to set up a new music library? CopyToy can help you to copy iPod songs back to PC so as to rebuild a new music collection. Although has a large amount of downloads, CopyToy still is... Read More >
---

iPod 2 iPod - iPod 2 iPod allows you to transfer music between many iPods. It gives you the power to take control of your music collection. Similar with Pod to PC, iPod 2 iPod can sort songs by Artist, Genre, Album, or even group similar songs together, then move them onto another iPod. Read More >
---
More Related Articles You May Like
Share Your Thoughts With Us