Summary
When you planning to buy a new smartphone, you must always have such a question that is should I buy an iPhone or Android phone? If you find it's difficult to make a decision, then after reading this article, you'll get your answer.

AnyTrans - Best Android to iOS Data Transfer Tool
If you choose to buy an iPhone, you can download this Android to iOS data transfer tool to transfer everything from Android phone to iPhone without effort.

Free Download
When you planning to buy a new smartphone, you may always consider to buy an iPhone or Android phone, right? So, to make a choice is what you must to do at first. You may always ask yourself this question "Should I get an iPhone or Android phone?" To buy an Android or iPhone, that is really a question.
A Question: Should I Get an iPhone or Android
Believe that you must have make a compare of these two types of smartphones, such as the similarities of iPhone & Android, the differences between iPhone & Android, what iPhone can do but Android cannot, and what Android can do but iPhone cannot, etc. These are some basic info you should know about the two types of mobile phones because these info can help you judge which is better, an Android or iPhone? After you have a judgment in your mind, then consider which to buy.
When it comes to buying a new smartphone, there are 5 points need to be considered. This guide will show you one by one, and after reading, you'll get your answer of question "What should I buy iPhone or Android?"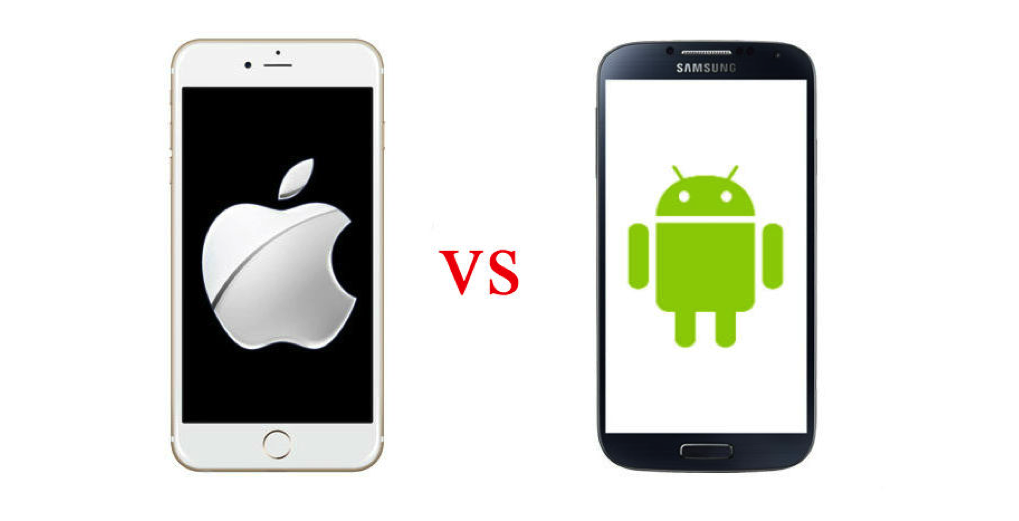 Five Points to Decide What You Should Buy iPhone or Android
1. Price
Most people think iPhone is more expensive and Android phone is cheaper, this can be mostly but not absolutely. Because there are variety Android phones, thus there are different prices, from a lower price to a higher price. Thanks to lots of Android phones are cheaper than iPhone, which misleading public that iPhone is more expensive. Actually, there are also many Android phones are more expensive than iPhone.
Undoubtedly, Android gives you plenty of cheaper options. You can see OnePlus 5 is $479, Xiaomi Mi 5 is $305, HTC U11 is $649, Motorola Moto G5 Plus is $229.99, Huawei Mate 9 is $579.99, etc. And iPhone SE is $399, iPhone 6s is $ 549, iPhone 6s Plus and iPhone 7 is $649, iPhone 7 Plus is $769!
There is a truth that higher Phone prices are usually worth it because the handsets that are cheap are not beautifully made, and the handsets that are beautifully made are not cheap. That's why the price of Android phones is variety different. On the contrary, iPhone's handsets are beautifully made and price is reasonable.
2. Battery Life and Charging Speed
To buy a smartphone, the battery life and charging speed is one of the points you have to consider. In terms of battery life and charging speed, it's hard to say which is better. On one hand, the battery situation is more complex with Android, due to the large variety of models that run it. Therefore, different Android phones have different situations. But, we have to admit that some high-end Android phones have long battery life and super fast charging speed.
On the other hand, the batteries on early iPhone models required a charge nearly every day, but in recent models, iPhone can go days without charging. In addition, the charging speed of iPhone is not slow, and you can find ways to charge iPhone faster like using an iPad power adapter or turning on Airplane mode.
Besides, the battery life also depends on how you use your phone.
3. Lifecycle
Lifecycle of a smartphone is another important point you need to consider when you're going to buy a new mobile phone. With the evolution of technology, the average lifespan of a smartphone has increased significantly. Owing to the rapid replacement, almost every year there will be an update of iPhone and Android phones. If you not pursuit the latest version, then the lifecycle of your smartphone can be several years. But, the general trend is that the lifecycle of an iPhone is longer than an Android phone. It may due to many reasons, but the most obviously reason is that the different operating system. Many Android users will find that their Android phone runs slower and clumsy after one or two years, however, the condition of iPhone users are much better. That is why you can see some old iPhone users like iPhone 4s and iPhone 4, but rarely to see old Android users like Samsung 9100, Xiaomi Mi 3, let alone Mi 2 or Mi 1.
4. Maintain Value
Nobody like what he just bought with lots of money but drastic price cuts in a short time. Buying a new phone is also the same. Everybody hope that the phone he bought will maintain the value for a long time. In terms of this point, iPhone is doing better than Android with no doubt. You must have noticed that Android phones always cut price after a period of time or at some festivals, but iPhone doesn't, even past one or two years, you still can't buying an iPhone with pretty lower price.
5. Support
Just as we mentioned above, Android has variety different manufactures, so, when you have a problem with your Android phone, you have to looking for help from the one your phone belonging to. But, to be honest, it's not an easy job because except try online forums or calling the carrier, you have nothing to do. However, iPhone gives you more convenience. When you have any problem with you iPhone, you can tap into a vast database of useful help articles on Apple's website, get help via live chat, visit an Apple authorized service provider, or you can meet a genius at any Apple Store. Direct communicating with users is the unique way of Apple. With Apple, you're not alone; with Android, you're on your own.
Don't Miss: How to Transfer Files from Android to iPhone Quickly & Freely >
The Bottom Line
Now, do you have your answer of question "Should I buy an iPhone or Android"? In fact, there isn't a simple and direct answer for you, because both iPhone and Android have their advantages and disadvantages. Meanwhile, everybody's needs are also different. So, it really depends on your budget and what matters most to you. For me, the answer is iPhone, because as a former Android user, I'm really fed up with that slow system.
If you need a phone that costs less money, then Android is your prefer choice. If you don't care about money and pursue a better experience, then iPhone is your better choice. If you switch from Android to iPhone, then it is necessary for you to read this post: Should I Update to 10th Anniversary iPhone >
More Android vs iPhone Related Articles:
Join the Discussion on Android vs iPhone