How to Fix Voicemail Not Playing on iPhone in iOS 12/11/10
Many iPhone users can't listen to voicemail on iPhone after iOS upgrade. If you have the same problem, read this article to learn how to fix iPhone voicemail won't play in iOS 12/11/10.
By
iMobie
|
Posted on: Sep. 17, 2018,
Last Updated: Sep. 28, 2018
Q: "I used to be able to listen to the voicemails on my iPhone 8. But after upgrading to iOS 12, the voicemail on my iPhone has gone nuts. Half the time when tapping a voicemail message to listen to it, nothing happens. Is there any way to fix this problem? Any help is appreciated."
There are different problems you may meet after updating your iPhone to new iOS version and one of the most common issues in iOS 12/11/10 is voicemail not working on iPhone. As your voicemails keep important voice messages from others when you are not available, it may put you to great inconvenience if you can't listen to voicemails with your iPhone.
Why Can't I Listen to My Voicemail
Actually, there are many reasons why can't you listen to your voicemail and getting through all the reasons is the first step to fix iPhone voicemail not playing.
1. Voicemail Not Loading on iPhone
The voicemail you play in the Phone app on iPhone 6/7/8/X is also called Visual Voicemail, which is downloaded from the carrier in the form of little audio files, just like Music files in the Music app. If voicemail not loading on iPhone because of bad Internet connection, it is for sure that you can't listen to voicemail.
2. Phone App Not Working Properly
Sometimes the software of your iPhone would crash in the background, this may lead Phone app to malfunction, causing voicemail not working issues.
3. Security Precaution
Some carriers require you to reset the voicemail password as a security precaution. If you don't change the password as required, it is possible that your voicemail won't play.
4. Incorrect Voicemail Settings
It may sound easy to set voicemails and get it to work, but many people just didn't set it up right. Mistaken settings would surely cause iPhone voicemail not working.
How to Fix Voicemail Won't Play in iOS 12/11/10
Below are solutions for how to fix iPhone voicemail won't play, we recommend you try them one by one.
1. Restart Your iPhone
Nearly all small bugs and software problems can be fixed by a simple restarting, and this would definitely work for issues of iPhone voicemail not playing due to malfunction of Phone app.
To restart your app, please hold the Home button and Power button or Home button and Volume Down button simultaneously for more than 10 seconds, don't release the two button until you see the Apple logo.
Fix iPhone X/8/7/6 Voicemail Not Playing in iOS 12/11/10 by Resetting iPhone
2. Check for Carrier Settings Updates
Your carrier usually updates the carrier network and related settings to improve cellular network connectivity and performance or add support for features. If you dismissed the pop-up message of carrier settings updates or didn't complete the carrier settings update process, it is for sure you may fail to play voicemails in iOS 12/11/10. However, you can manually install carrier settings updates. Below are detailed steps to check for settings updates.
Step 1. Connect your iPhone to a Wi-Fi or cellular network.
Step 2. Tap Settings > General > About. If an update is available, you'll see an option to update your carrier settings.
3. Ensure Your Voice Mailbox is Set up Properly
As mentioned above, can dial your phone number from your iPhone and then follow the prompt to verify if your voice mailbox is set up properly.
4. Make Sure You Have A Good Cellular Network Connection
iPhone voicemail not working issue may happen when you are in bad or non-existent network situations. You can make an outgoing call to have a check whether your cellular network connection is all right.
5. Reset Your Network Settings
To reset your network settings, go to Settings > General > Reset > Reset Network Settings. Please bear in mind that all the saved Wi-Fi passwords will be deleted after network settings reset and you will have to re-add them.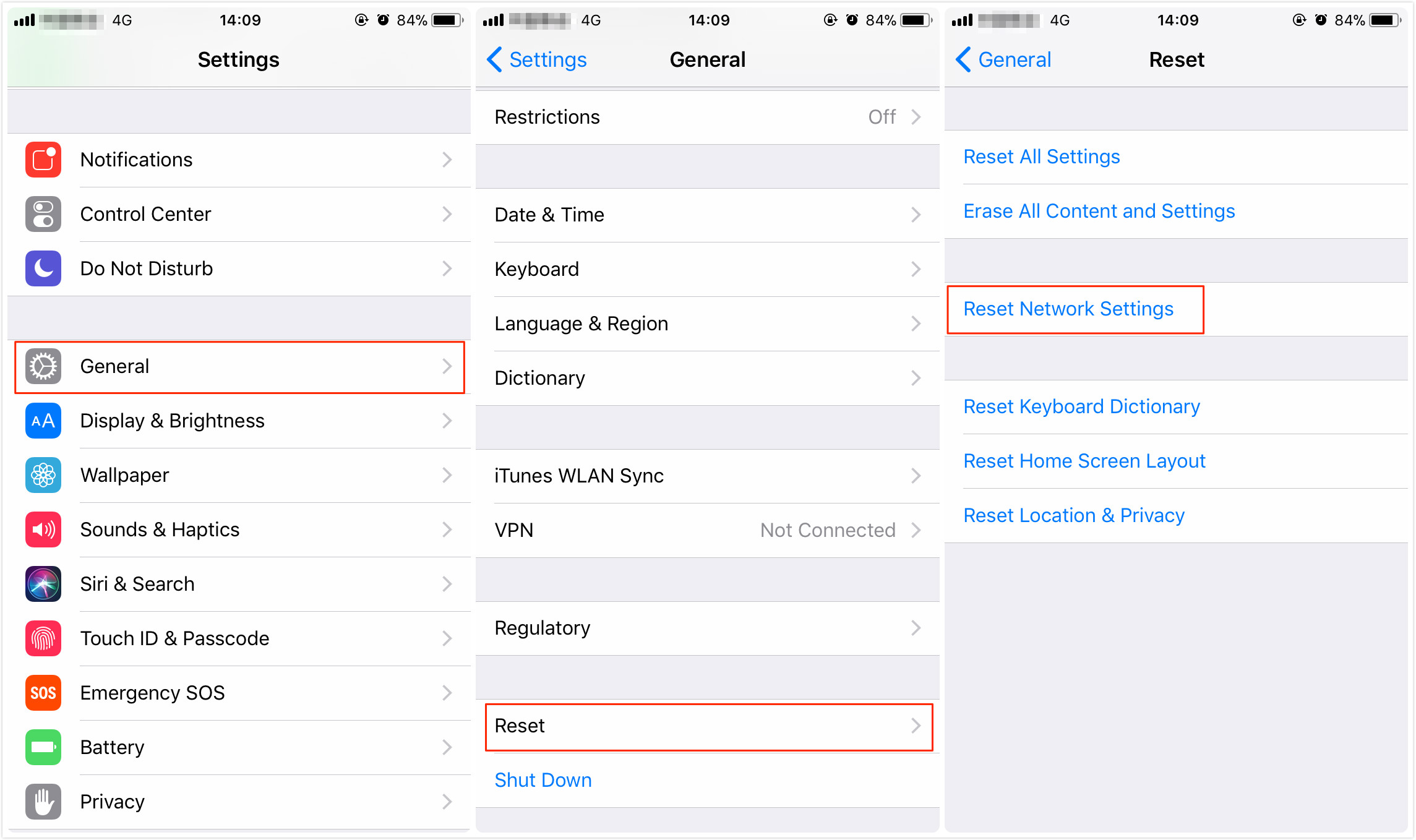 How to Fix iPhone X/8/7/6 Voicemail Won't Play in iOS 12/11/10
6. Reset Your Voicemail Password
By default, you don't need to enter your password when checking your voicemail from your device. But sometimes, you may be asked for your voicemail password for the security of your account. If you can't listen to voicemail on your iPhone because you forget your voicemail password, contact your wireless carrier to reset your password.
7. Contact Your Carrier
If none of the above solutions works, you should contact your carrier to ensure your iPhone is properly configured with the voicemail feature on your plan.
8. Extract Your Voicemail from iPhone & Play Them on Computer
After trying the methods above, if you still fail to fix iPhone voicemail not playing issue, you can try the last way – extract voicemails from your iPhone and play them on your computer. About how to extract voicemails from iPhone, you can download AnyTrans on your computer, and then follow this guide: How to Transfer Voicemails from iPhone to Computer >
The Bottom Line
Several reasons may cause iPhone voicemail not working in iOS 12/11/10, including Voicemail not loading, incorrect voicemail settings. Hope you can fix this can't listen to voicemails problem with the possible solutions above. Except extracting iPhone voicemails to the computer, AnyTrans also can help you transfer other contents to the computer for backup, like photos, videos, music, ringtones, messages, contacts, etc. Download AnyTrans and Explore More >