How to Clear Safari Cache on Mac OS X
Summary
How to remove only safari cache on Mac? This tutorial tells you 2 ways to easily make it to free up your Mac Safari app.
Free download this Mac Cleaning tool to clear safari cache files on MacBook, iMac and Mac mini/Pro. Compatible with OS X from 10.7 to 10.11.
If you used Chrome on Mac, you may know that it's easy to delete cached images and files from Chrome app. But after switching to Safari, you may find there is no similar item to do that job. So, is it real that there is no this cache cleaning function on safari?
Actually, Safari for Mac does have a hidden feature that allows you to delete only safari cache files in Mac OS X. However, you should enable this function before you use it.
How to Enable Cache-Clean on Mac Safari
To enable this function, you should go to Safari menu > Safari > Preferences… > Advanced, and check the box for "Show Develop menu in menu bar". After, you'll find a new menu named "Develop" on the Safari menu bar. By clicking "Empty Cache" in the menu "Develop", you can 1-click clear all cache files on Safari.
Clear All Cache on Mac Safari
How to Selectively Remove Safari Cache on Mac with MacClean
The cached images and files help us quickly visit the websites we visited. Sometimes we needn't delete all cache files but only the large ones to free up space, so how can we find out the large cached images and files? That's why we offer you this method.
MacClean is one smart Mac Cleaning tool that you can use to selectively remove browser cache files in Mac OS X. You can preview the cache files with size and know how much space you will get after deleting your selected cached files. Now follow the steps below to remove safari cache on your Mac.
Step 1. Download MacClean to your Mac.
Step 2. Run MacClean and use it to scan "Internet Junk".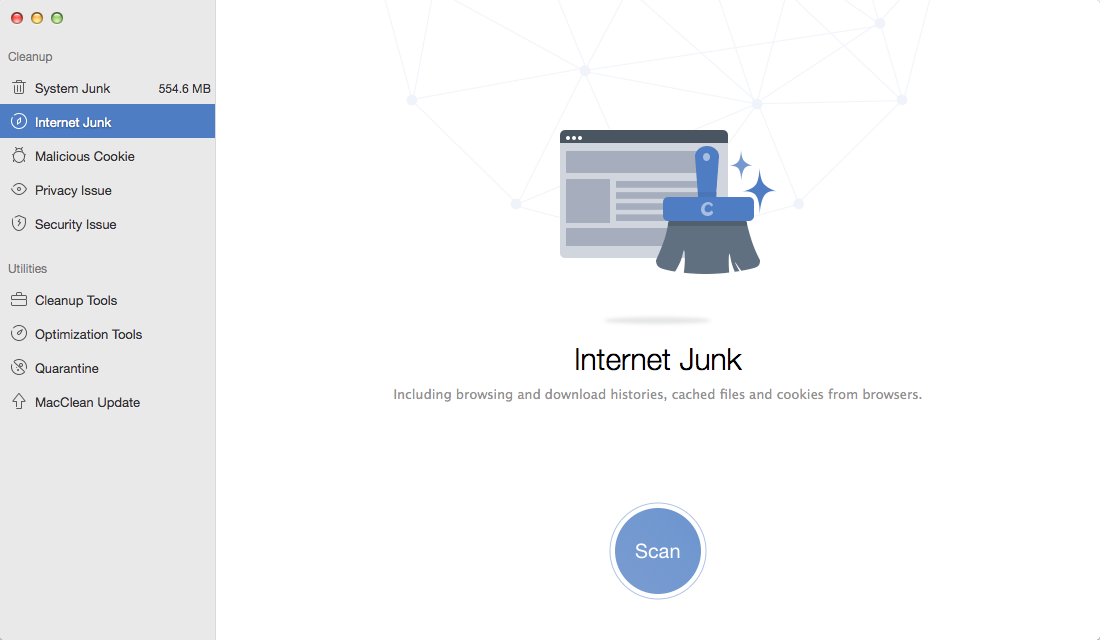 Clear Safari Cache on Mac – Step 2
Step 3. Click "Review Detail" under Safari category.
Clear Safari Cache on Mac – Step 3
Step 4. Click "Cache" and preview all cached images and files. You can locate the cache file by hovering your mouse over the item and clicking the appeared magnifier icon.
Clear Safari Cache on Mac – Step 4
Step 5. After select, go back to the previous page to clean all selected cache files.
Top Posts on Cleanup and Speed Up Mac Computer
More Related Articles You May Like
Share Your Thoughts With Us