How to Connect to Invisible Wi-Fi Network with No Broadcast SSID on iPhone
Summary
Want to know how to find and connect to invisible Wi-Fi network with no broadcast SSID on iPhone? This guide will show you how to make it with a step-by-step tutorial. Applied to iOS 11/10/9.
Go download this software to manage your data on iDevices without limits after reading this guide about how to connect to invisible Wi-Fi network with no broadcast SSID from iOS.
In order to secure wireless connections, network administrators may like to hide the Wi-Fi network with no broadcast SSID. It is not easy for users to find a hidden network, but joining an invisible Wi-Fi network is not so difficult. In this guide, we will show you how to join a hidden Wi-Fi network on iPhone X/8/6s/6/5s in iOS 11/10.
How to Find and Connect the Hidden Wi-Fi Network from iOS Device
Before starting this tutorial, you need to know the Wi-Fi router exact name, the network security type, and password.
Step 1. Go to Settings and find WLAN.
Step 2. Choose "Other" option under "CHOOSE A NETWORK".
Step 3. Next to "Name", fill in the exact Wi-Fi network name of the hidden router.
Step 4. Tap on "Security", and then select the type of network encryption used.
Step 5. Tap on "Other Network", and then enter the password.
Step 6. Click on "Join".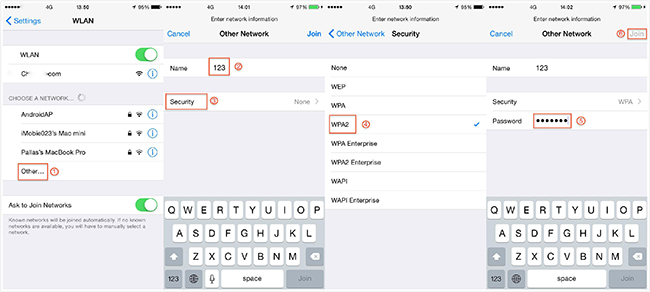 How to Find Hidden Wi-Fi Networks on iPhone 7/6s/5s
If you find your iPhone iPad is stuck on some other Wi-Fi problems, like, can't connect to Wi-Fi, Wi-Fi gray out,  or Wi-Fi button can't turn on, etc., you can try to fix it by following this guide: Most Common iPhone iPad Wi-Fi Problems and Solutions >
The Bottom Line
If you want to transfer data from your iPhone/iPod/iPad to computer, to iTunes, to another device or vice versa, you can use AnyTrans to help you. If you still have any question about this guide, you can contact our support team via Email. If you like this guide, don't forget to share it with your friends.
More Related Articles You May Like
Share Your Thoughts With Us