CopyTrans

Review -

Easily Recover iTunes Library from iPod

Rating: 3.5 -- A perfect iPod backup tool for music lovers.
Download this CopyTrans Alternative iPod Transfer so that you can make use of it after reading this CopyTrans Review.
Have you ever been troubled by iTunes, which absolutely lacks the freedom with regard to organizing the music on your iPod? CopyTrans gets around by allowing you to freely drag-and-drop individual music from iPod back to iTunes. Since we love to use CopyTrans, and hope below review may help you get better understanding about this great iPod music transfer.
The Great
A perfect iPod backup tool for music lovers. Allowing a set of options to transfer music between iPod and iTunes while still keeping ratings, play counts, cover arts and other meta information. A seemingly intelligent Smart Backup gives you one-click method to create a backup for the whole iPod library.
Besides, the intuitive drag-and-drop interface, which is could never be a possible for iTunes, outranks many competitors.
The Good
The main interface is basic and self-explained. Through three filter boxes, you can pick up the songs you want to transfer quickly. The transfer status markings is not that lovely but do make the transfer progress clearly. Copying music from iPhone iPod to iTunes library is really powerful with CopyTrans, even though you have to close iTunes whenever you launched CopyTrans.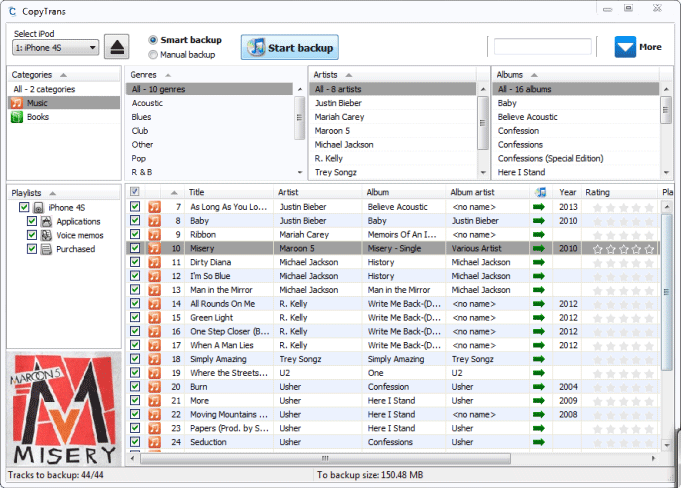 CopyTrans Overview
The Features We Expected
Cannot find a way to transfer music from computer to iPod - the reason we need this is that importing songs to iPod from iTunes is unbearably annoying. Every sync consuming a large amount of time and you have to compromise to losing existing songs. Get A Solution >
Be more convenient to support clone music library between devices, for instance, allow users to transfer music from iPod to new bought iPhone 5, iPad mini, etc.
Support Transfer Apps and Photos.
Support Transfer iPhone iPad Music over Wi-fi network.
Using our standard test of 1490 songs, a 7.41 GB selection, CopyTrans completed the transfer in 19 minutes. This was about twice as long as AnyTrans.
More Related Articles You May Like
Share Your Thoughts With Us