How to Create Checklists in iOS 9 Notes App
Summary
iOS 9 will bring new improvements to Notes app. Do you know how to create checklists in iOS 9 Notes app? Read this tutorial to get the answer.
Download AnyTrans to manage data on your iOS 9 devices in an organized way after reading this tutorial on how to create checklists in iOS 9 Notes App easily and quickly.
The iOS 11 is coming with many new features, if you're fond of the new version of iOS, you can move to this guide: How to Install iOS 11 on iPhone iPad >
It's September now, and the release of iOS 9 is approaching. The new OS of Apple adds a wealth of improvements to the Notes app as Apple showed off at WWDC 2015. The Notes app on Apple devices play a very essential role in Apple users' life, and now it's more powerful and useful than ever before - creating checklist is just one of the new features that makes your task easier. Follow this guide to learn how to create checklists on iPhone iPad running iOS 9.
Also Read: The Possible iOS 9 Updating Problems and Fixes >
How to Create Checklists in iOS 9 Notes App
Step 1. Go to Notes app on your iPhone/iPad/iPod touch running iOS 9.
Step 2. You will see two default folders (iCloud or On My Phone), and you can go to one of them or create a new one if you like.
Step 3. Create a new note in the folder you choose before, and tap the floating "+" button at the bottom right. You will see a tool bar appear: Checkbox button, Text button, Camera button, Squiggly Line button, and a Close button.

Create Checklists in iOS 9 Notes App
Step 4. Choose the Checkbox button, and type in with whatever you want and hit the return button.
How to Create Checklists in iOS 9 Notes App
You can also create a mix of bulleted items, checklists, and simple text, just using the text tools from the same tool bar and switch to the Body type.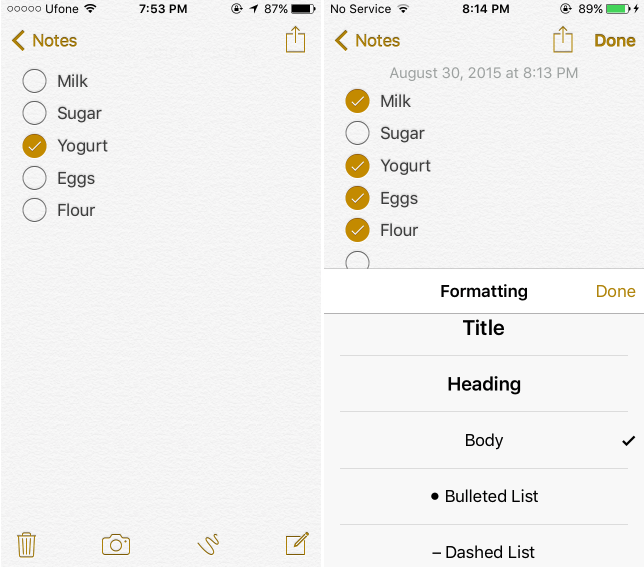 How to Create Checklists in Notes App in iOS 9
You May Like: Top 10 iOS 11 New & 5 Hidden Features You Worth Having >
The Bottom Line
As the public iOS 9 release is just around corner, are you ready to download the new OS on your iDevices? For more iOS 9 related tips you can refer to Complete iOS 9 Update Guide.
More Related Articles You May Like
Share Your Thoughts With Us