How to Create Contact Groups on iPhone
Summary
If you are wondering how to make contact group on iPhone, you've come to the right place. Read this guide to know a quick way to achieve that.
Download AnyTrans to enjoy its powerful iOS management features after reading this guide on how to make a group of contacts on iPhone.
Making contact groups is a good way to organize the large numbers of contacts and helps to quickly locate specific contacts on iPhone. However, there is no doubt that not being able to make a group of contacts directly on iPhone is a limitation of iOS.
Absolutely, you can use some third-party app to make contact groups, but most of these tools are not free. Here we will show you how to create contact groups for free – with the help of iCloud. Firstly, make sure iCloud is enabled to sync with the iPhone: go to Settings > iCloud > Contacts.
To begin, you need to navigate to icloud.com and sign in the same Apple ID and password that is connected to your iPhone. Then follow the steps below to make a group of contacts on your iPhone.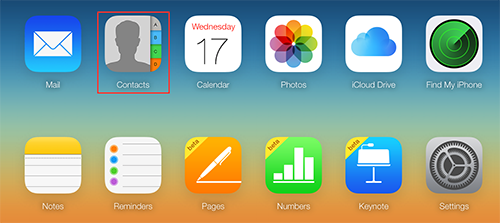 Create Contact Groups on iPhone via iCloud
You May Like: How to Export iPhone Contacts to CSV >
How to Create Contact Groups on iPhone
Step 1. Open iCloud Contacts, click the Add button (+) in the bottom left side bar.
Step 2. Click New Group.

How to Create Contact Groups on iPhone
Step 3. Type in the name for the new group, and the default name is Untitled Group 1.
How to Create Contact Groups on iPhone
Step 4. Select the All Contacts group, then drag and drop one or more contacts from the list on the right to the list. Contacts can also be added to more than one group.
Step 5. Once the new group is created, they will sync to the iPhone linked to your iCloud account.
Step 6. Go to the Contacts app on your iPhone > Groups > ICLOUD > Select the group name > Tap Done and only the contacts in the selected group will be shown.
If you want to transfer contacts from iPhone to iPhone or to computer, you can use AnyTrans to make it in just three clicks. Besides contacts, it also supports managing iPhone notes, messages, photos, music, videos, etc.
You May Like: How to Recover Deleted Contacts on iPhone 6 >
The Bottom Line
To better manage your iPhone contacts, you can downlaod AnyTrans to have a try. If you have any questions on this guide or AnyTrans, you can leave a comment in the below section. If this post is helpful, please share it with your friends.
More Related Articles You May Like
Share Your Thoughts With Us