Summary
Eager to experience the iOS 11 new feature - dark mode? Follow this guide step by step and get how to enable iOS 11 dark mode.

AnyTrans - Best iPhone Files Manager
AnyTrans is the most effective tool to transfer everything from iPhone to iPhone, from iPhone to computer (PC/Mac), and from PC/Mac to iPhone without tedious restore. Download the free trial to have a try.

Free Download
This season of Apple iOS - iOS 11 brings a lot of new features to the iDevices, such as sending live photos as GIFs on iPhone/iPad, picture-in-picture mode on iPad, translation capability added to Siri, etc. However, there also an amazing feature, with being little mentioned in words. It is the iOS 11 dark mode.
The iOS 11 Dark mode offers you breathing space for your eyes in low light environments, like restaurants, pubs, and even museums - places where you might find yourself hard to read. Consequently, dark mode reduces eyestrain and benefits people with aging eyesight.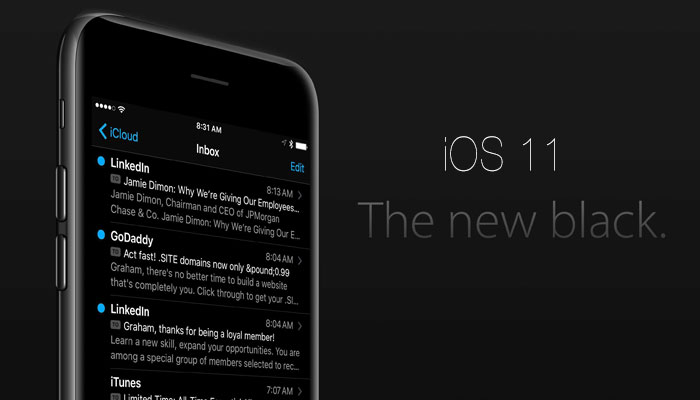 iOS 11 Dark Mode
But many of us still have no idea of how to enable the dark mode on iOS 11. No need to worry, we will show you how in the following step by step.
How to Get Dark Mode on iOS 11
Step 1. Open Settings app on your iOS device > Tap on General.
Step 2. Tap on Accessibility.
Step 3. Next, you need go to Display Accommodations.
Step 4. Then, tap on Invert Colors. There will be two options for you:
Smart Invert: When you select it App Video previews will play automatically on both Wi-Fi and Cellular.
media, images. If it's activated, it is capable of reverse the colors of the display except for media, images, and some apps with dark color style.
Classic Invert: It also works with the apps that support dark color styles.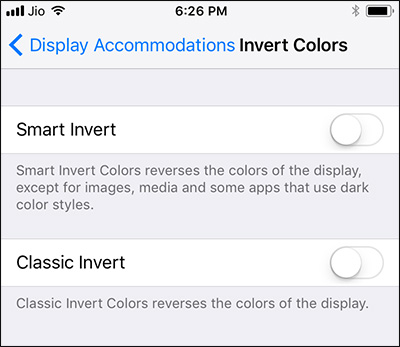 How to Enable iOS 11 Dark Mode - Step 4
Step 5.Toggle on Smart Invert, and you successfully enabled dark mode on your iOS device. You can watch videos, browse the internet and do all sort of activities to check if it is.
The Bottom Line
With these five steps, you can totally get the new iOS 11 feature on your iPhone iPad. Go try it now! Besides, just in case, when having fun with iOS 11, if you run into some unpleasant problems and issues, or lose some important data on your iPhone iPad, you can refer to these two guides for solutions:
30 Most Common iOS 11 Problems and Solutions >
How to Fix "iPhone iPad Data Lost/Disappeared" After iOS 11 Update >
How to Get Dark Mode on iOS 11