How to Delete Bookmarks on iPod touch Easily
Summary
Bookmarks on iPod touch help us visit the webpages as easily as possible. However, we need to delete those useless bookmarks to make everything in order. So in this guide will show you several ways to delete bookmarks from iPod touch.
Go to download AnyTrans to manage your content on iPhone/iPad/iPod after reading this guide about how to delete bookmarks on iPod touch.
Just like saving bookmarks on your computer, you can also save many useful bookmarks on your iPod touch, and these saved bookmarks will help you access to your favorite websites or webpages in soon, just like what you do on computer.
However, with time some bookmarks become not useful any more. Although we can leave these bookmarks alone, it is not easy for us to find the one we need when we have too many useless bookmarks on our iPod touch. Thus, in this guide we offer you two methods to delete bookmarks from iPod touch with ease.
Method 1: Delete Bookmarks from iPod touch Directly
Launch Safari on your iPod touch and t tap on bookmarks icon at the bottom, and then go to remove useless bookmarks from iPod touch by following steps below:
Tap on Edit > Tap on the red minus to remove the singe bookmark/folder you don't need > Tap on Delete to confirm it.
Note: This method is only suitable for those who want to delete a single bookmark or a single folder with bookmarks. If you want to remove multiple or all the bookmarks from iPod touch, you can move the Method 2.
Also Read: How to Remove Bookmarks from iPhone >
Method 2: How to Delete Multiple or All Bookmarks from iPod touch At Once
Without outside help, you know, you can't remove multiple or all bookmarks from iPod touch at once. Therefore, before starting our Method 2, we need to introduce you a third-party software – iMobie AnyTrans, which aims to keep all your iOS contents organized and manage your files and data better. With it, you can manage your bookmarks as you like on your iPod touch, like, transfer bookmarks between computer and iPod touch, even between two iDevices directly, remove the useless bookmarks from iDevice as easily as abc. Now Free Download AnyTrans and Get It Started >
Step 1: Run AnyTrans on your computer and then connect your iPod touch to computer.
Step 2: On Homepage of AnyTrans, select Safari and then click Bookmarks.
How to Delete Bookmarks on iPod – Step 2
Step 3. Preview and choose the bookmarks you want to remove, click the trash icon.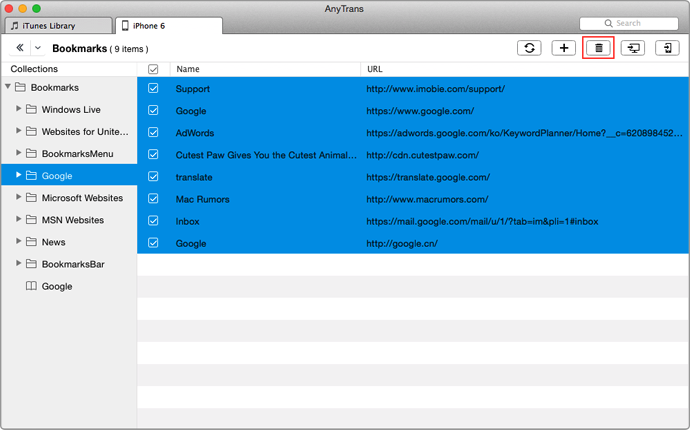 How to Delete Bookmarks on iPod – Step 2
Note:
You May Like: How to Retrieve Deleted Safari Bookmarks on iPhone iPad iPod touch >
The Bottom Line
As you can see, it is enough easy to delete bookmarks from iPod touch with the help of AnyTrans. No matter you want to remove a single bookmark or all the bookmarks from iDevice, AnyTrans can help you make it with a few clicks. Absolutely, it is also supports many other iOS contents, like music, photos, videos, contacts, messages, voice memos, etc. Anyway, AnyTrans aims to help you keep all your iOS files and data organized. Download AnyTrans and Explore More Now >
More Related Articles You May Like
Share Your Thoughts With Us