How to Delete Music Albums from iPhone
Summary
This post tells you 3 methods to remove music albums on iOS 9/9.3 Music app to free up space on your iPhone.
Download AnyTrans to copy and backup your iPhone songs to computer before deleting them on your iPhone. Supports iPhone 6/6s/5/5s/4s/se.
Audio files always take so much room on an iPhone. So after a period of music listening, you'd better take a little time to organize your Music library. In this tutorial, we take about how to remove music albums from iPhone in iOS 9 to free up your iPhone space, and offer 3 ways here.
Don't Miss: 1-Click Delete All Songs from iPhone
Method 1. Directly Remove Albums on Music App
Step 1. Run "Music" app on your iPhone and tap "My Music".
Step 2. Tap the category on the middle of your iPhone screen. The category could be any one of Artists, Albums, Songs and Genres. And select "Albums".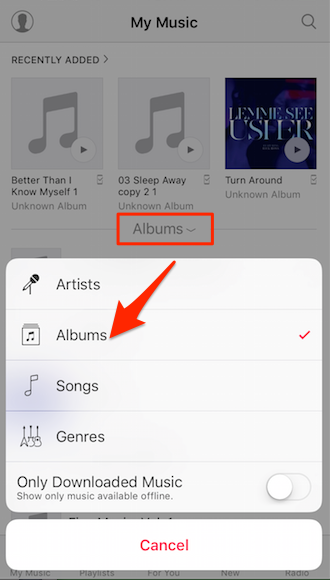 How to Delete Music Album on iPhone – Music App
Step 3. Tap "…" on the right of the album you plan to delete, and click "Delete…" to remove the album.
Method 2. Delete Music Albums on Settings App
Step 1. Go to Settings > General > Storage & iCloud Usage, and then manage your iPhone storage.
Step 2. Tap "Music" and select one artist. It will show you all albums of this artist. After holding on one album and sliding it to the left, you can see the "Delete" button. Just tap the button to get rid of the Music Album on your iPhone.

How to Delete Music Album on iPhone – Settings App
Method 3. Delete Music Albums from iPhone with iTunes
If you keep iPhone music synced with iTunes on your computer, you can use iTunes to manage your iPhone music albums and then sync music to your iPhone. But in this method, the music albums will be deleted from both of your iPhone and computer.
Step 1. Run iTunes on your computer, and go to Music > My Music.
Step 2. Click the Songs at the top-right corner and select Albums.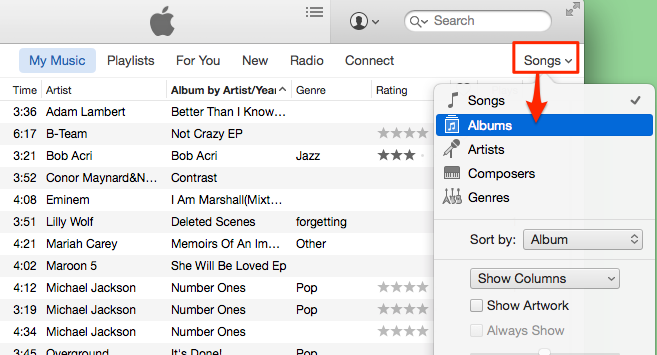 How to Delete Music Album on iPhone with iTunes
Step 3. Select one album or hold on "Shift" button to select multiple albums. Right-click selected albums and click "Delete" on the pop-up window to remove the selected albums
More Related Articles You May Like
Share Your Thoughts With Us