Delete Only Several Recent Items on Mac
Summary
This post tells you how to delete only a part of recent items, QuickTime movie history, Preview viewing history on your MacBook iMac or Mac Mini.
Download MacClean to remove your recent using history on your MacBook, Mac Mini and iMac, and to protect your privacy in a simple and quick way.
Mac OS(X)and its apps always records your opening or viewing history and activities. These recorded recent items sometimes are useful for you to look back and search what you have used or viewed before. However, sometimes we don't want it to record our history and cache. Because this kind of privacy info might leak if our device lost.
Mac enables us to clear these recent items. After going to Apple icon on the menu bar, just click recent items. You can remove all history of recent used applications, documents and servers to free up more disk space. However, we have no choice but to clean all of them. So what if we want to delete only a small part?
Also Read: What Is Other in Mac Storage >
How to Remove Only Several Recent Items on Mac
With a professional mac-cleaning tool – MacClean, you can easily select and delete only a part of recent items on Mac.
After downloading MacClean, let's follow the simple steps below to quickly make it.
Step 1. Run MacClean and select "Privacy Issue" on the left side bar. Click "Scan" button to get all recent items and some recent app documents using history on your Mac.
How to Delete Recent Item on Mac with MacClean – Step 1
Step 2. Click "Review Details" to preview recent items on your Mac.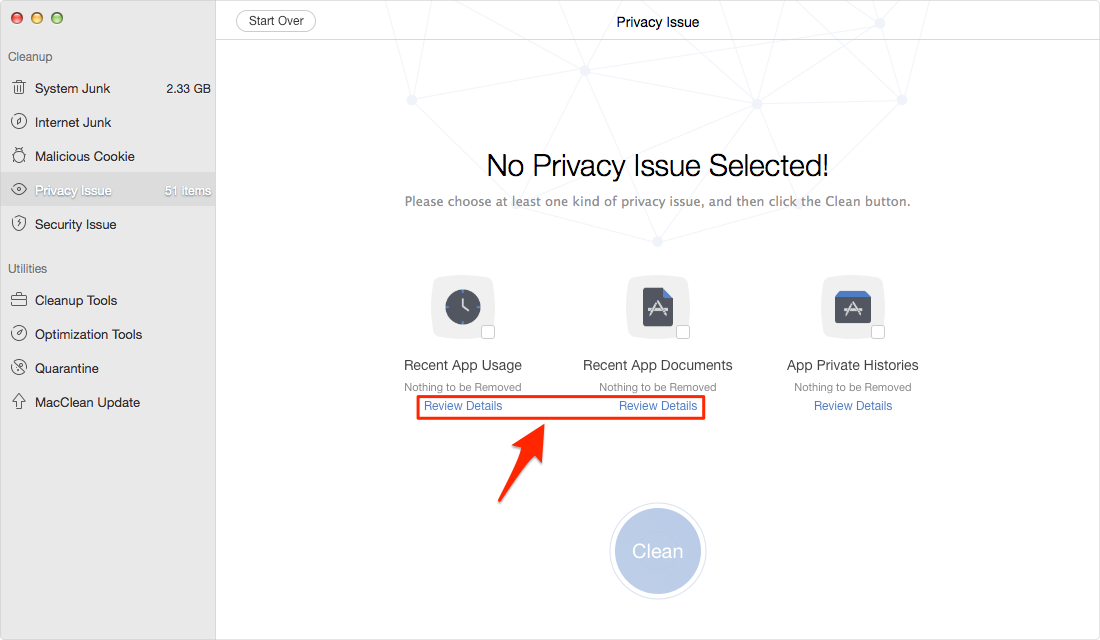 How to Delete Recent Item on Mac with MacClean – Step 2
Step 3. Select the items you want to delete and go back to clean all selected items.
How to Delete Recent Item on Mac with MacClean – Step 3

You can also use MacClean to clean startup disk on your Mac, and it is also a best duplicate file finder, which can help you find and delete duplicate files easily.
The Bottom Line
MacClean enables you to delete only the recent items you plan to get rid of from your Mac, which is more flexible than the default method apple provides on Mac. So, why not download MacClean and have a try? If you meet some problems when using MacClean, be free to contact our support.
Top Posts on Cleanup and Speed Up Mac Computer
More Related Articles You May Like
Share Your Thoughts With Us