How to Delete Temp Files in iPhone iPad Safely
The temp files in your iPhone or iPad can slow down your device, so it is important to remove these temp files from your iPhone iPad. Read this post to know how to make it.

Joy Taylor
Posted on: Nov. 22, 2019,
Last Updated: Nov. 22, 2019
iPhone Data Deleting Tips
Delete Media Files
Fix iPhone Data Deleting Problems
Have you ever noticed that your iPhone or iPad is running out of free space? The longer you use your iOS device, the more temporary files will be created over time, which could eat a large amount of valuable space and even slow down your iPhone, iPad dramatically. Moreover, the newest iOS 9 is coming this fall, it is very essential to delete those memory-consuming temporary files on your iPhone or iPad to both speed up your device and free up some space. Your iPhone or iPad will not delete the temp files automatically, so in this post, we will offer you a safe & quick way to delete the temp files to make your device run faster.
Also Read: How to Delete Text Messages from iPhone >
The Tool You Need
To delete temporary files on iPhone, iPad or iPod touch, you need to choose an all-in-one iOS cleanup tool that helps you get more storage space on device by deleting App temp files and download temp files. iMobie PhoneClean is the way to go. Why?
As the first and unique iOS cleanup tool, PhoneClean offers an all-around and risk-free iOS cleaning and optimization service to all Apple iOS devices. No matter what device you are working with, iPhone, iPad, or iPod touch, PhoneClean works well on it.
Through a comprehensive scan of every part of your device, PhoneClean gives a complete cleanup for all the unwanted items you'd like to remove, such as Download Temp Files, App Temp Files, App Caches, Photo Caches and so forth. As a result, PhoneClean frees up a lot of memory space on iPhone, iPad by deleting redundant temporary files, which speed up your device significantly.
Free Download PhoneClean and Install It on Your Computer >
How to Delete Temp Files on iPhone/iPad/iPod touch with PhoneClean
Launch PhoneClean on your computer and then connect your iPhone, iPad or iPod touch to computer with USB cable, then follow us with steps below:
Step 1. Get Started with Quick Clean
After launching PhoneClean, it will automatically detect the device you connected to the computer. And drive you to a Quick Clean interface.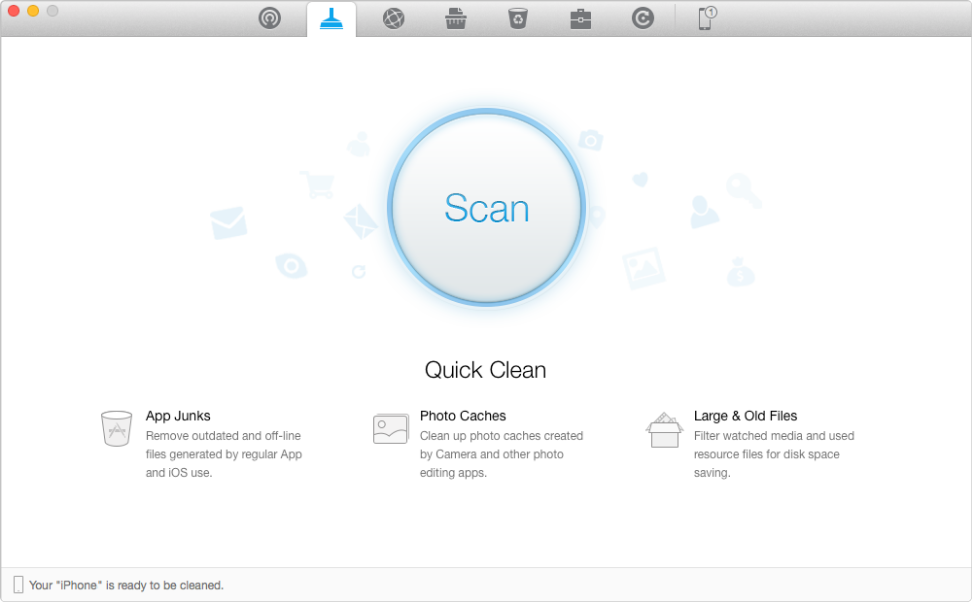 How to Delete Temp Files on iPhone/iPad/iPod touch – Step 1
Step 2. Scan Temporary Junk Files
Click Scan, PhoneClean will automatically scan App Junks, User Caches, Photo Caches and Large & Old Files on your iPhone. Click Review Details of App Junks, you could find App Temp Files. Click Review Details of User Caches, you could find Download Temp Files.
How to Delete Temporary Files on iPhone/iPad/iPod touch – Step 2
3. Select Temp Files and Delete Them
After clicking Review Details, just select the temporary files you want to delete, and go back to delete them by simply clicking "Clean" button.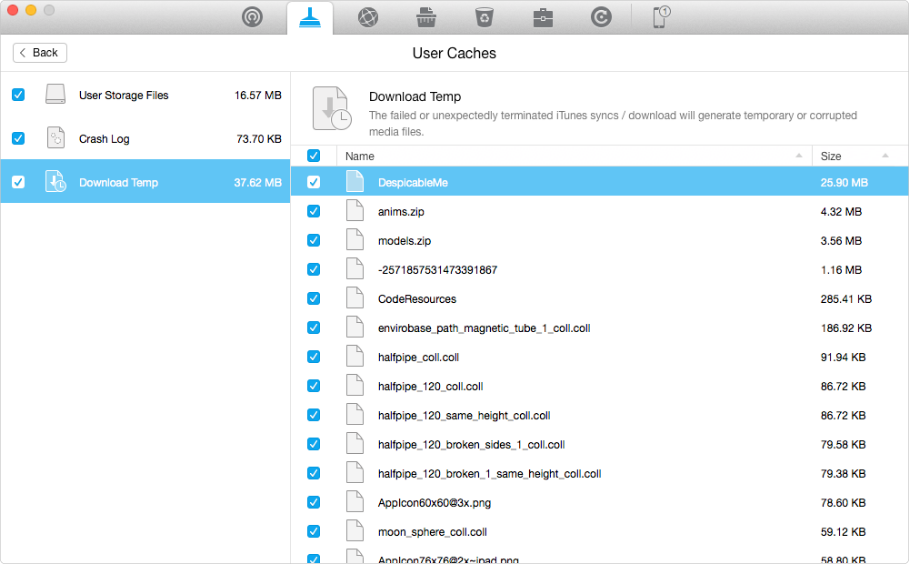 How to Clear Temp Files on iPhone/iPad/iPod touch – Step 3
Import Note: PhoneClean supports both of Windows and Mac computer. Additionally, now you can use Silent Clean, one of the new features of PhoneClean to clean your iPhone caches and junks in a silent and smart way without connecting via USB cable. But for users who using device in iOS 8.3 or higher, PhoneClean still doesn't support to delete App Junks.
The Bottom Line
After a few simple clicks, PhoneClean has successfully deleted those useless temporary files on your iPhone. Want to know what changes happened on your iPhone? Try your device again. You'll surprisingly find that your iPhone has now run much faster after the deletion of temporary files with PhoneClean. That is because PhoneClean has greatly speed up your device by clearing the temporary files. Why Not Download And Give It a Try now? Let PhoneClean show you how to delete temporary files on iPhone, iPad or iPod touch with simple steps. If you appreciate it a little bit, please share it with more friends.