Quick Answer: Does Instagram Notify When You Screenshot A Story
Summary
Many people wonder whether they can see if someone screenshots their Instagram picture, or story. In this post we will bring you the answer to "Does Instagram notify when you screenshot a story".
AnyTrans enables you to download easily and quickly download Instagram videos, which you like, to PC, Mac, iPhone, and iPad. Besides, not only from Instagram, you can also get videos from YouTube, Dailymotion, Vine, etc.
Early this year, Instagram's just launched its biggest and most game-changing update yet. You're now able to broadcast live videos. We would say it is the new Facebook, which enable people to live a funnier social life.
However, recently we have also noticed there is a rumor spreading among Instagram users. That is Instagram would notify people if you screenshot their posts, or pictures. Many of our users also emailed us asking if it it true. So does Instagram notify when you screenshot a post on earth?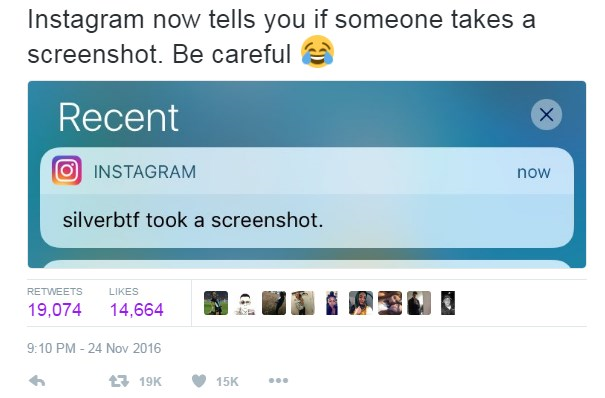 Does Instagram Notify When You Screenshot A Story
The answer is NO.
We indeed received some pictures, which contains the message about Instagram notification after screenshot a picture. But this is kind of misleading. According to the official words, the photography platform will indeed tell users when someone has taken a screenshot, but only when the photo or video is part of a temporary direct message sent through Instagram Direct.
But normally we screenshot others' posts, they will not get the notification from Instagram.
Simply saying, if you're fond of someone's grid and screenshot a photo of them taking a shot of turkey fat, they won't know, which is promised. If, however, you screenshot a temporary photo your friend sent you directly, then yes, they will know, which is also promised.
At last, considering that some users still have no idea about how to screenshot Instagram posts, we also share it in the following.
Screenshotting an Instagram Story is very easy. All iPhone and Android users have to do is go to the Snapchat story they want to take a picture of, and press and hold the power and home button - just like they would for any taking other screen on their phone. It really is that simple, right?
The Bottom Line
So now there is no need to worry about getting notified when screenshotting someone's post at all. And for more problems about Instagram, you can leave your messages in the comments. We will answer you as soon as possible.
More Related Articles You May Like
Share Your Thoughts With Us