How to Download and Install iOS 6.1.2 for iPhone, iPad and iPod touch
Summary
Apple releases iOS 6.1.2 to address Exchange and Battery bugs. Here is a short tutorial about how to download and install iOS 6.1.2.
Download and take a tour of AnyTrans, so that you can make use of it after reading this Download and Install iOS 6.1.2 guide.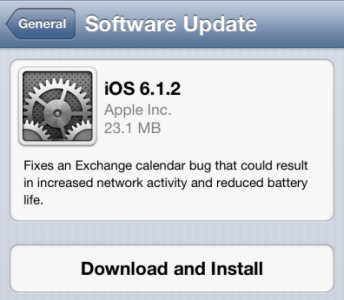 Apple released a new update for iPhone, iPad and iPod touch: iOS 6.1.2. Products affected included iPhone 3GS and later, iPad 2 and later, iPod touch 4G and later, as well as the iPhone 5. According to website, Apple address some bugs as below:
"Fixes an Exchange calendar bug that could result in increased network activity and reduced battery life."
Don't Miss: How to Get More Space on iPhone
How to Download & Install iOS 6.1.2
Open Settings > General > Software Update > Download and Install.
Tips: 1. You can both download iOS 6.1.2 from device or iTunes, and it is recommended to have 70% or higher battery or keep the USB cable connected.
2. The file size of iOS 6.1.2 is 23.1MB, so please make sure you have left that space for update.
Essential iPhone, iPad, iPod Software for iOS 6.1.2
AnyTrans is the first in its kind that gives you such an all-in-one and best-value iPhone, iPad, iPod utility. Now you are about to put music, movies, Apps and everything entertaining right onto iPhone 5, iPad mini, iPod touch 5 and all iDevices ever made. Start Free Trial Now >
PhoneClean is uniquely designed to reclaim more free space on iPhone, iPad, iPod touch and make all iOS devices running faster. Working on both PC and Mac, this free-yet-magic tool will safely remove all kinds of useless files in order to clean up and speed up your iDevices. Start Free Trial Now >
More Related Articles You May Like
Share Your Thoughts With Us