How to Download iTunes Purchases to Computer
Summary
How to download the iTunes Store purchased content to your computer and then to your Apple devices? Read on this tutorial to find an answer.
Download this iTunes Alternative so that you can make use of it after reading this How to Download iTunes Store Purchases to the Computer guide.
Have purchased some music tracks, video clips, podcasts or other content from iTunes Store but now you need to change your computer? Yes, you can download many types of content previously purchased from the iTunes Store to your computer. By doing so, you can transfer your music from computer to the iPods, iPhones as well as your iPads.
Your purchases may be unavailable if they are no longer on the iTunes Store.
How to download iTunes Store purchases to Computer
1. Open iTunes, click iTunes Store: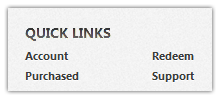 2. Click the Purchased link in the top-right of the Store home page (below Quick Links).
3. In the page that appears, select a category. iTunes shows you which of your purchases are available for download. You can view all of your past purchases, or just the ones not currently in your iTunes library. Items already in your library aren't available for download.
4. To search for an item, type its name or a keyword in the search field, and then press the Return key to view your search results. To download an item, click the Download button to the right of the item. To download all available items, click Download All. Guess you're also interested in - How to Transfer Purchases from iPhone to iTunes >
More Related Articles You May Like
Share Your Thoughts With Us