How to Enable or Disable Wi-Fi Assist on iPhone in iOS 9/iOS 10
Summary
On iOS 9, there is a feature called Wi-Fi Assist. Now in iOS 10, this feature is called WLAN Assist. Please read this guide to know how to enable or turn it off on iPhone.
Download this amazing iOS 9 content manager to transfer and organize data on your iPhone iPad after reading this guide on how to enable/disable Wi-Fi assistant in iOS 9.
In iOS 9 released two years ago, a new feature called Wi-Fi Assist was added. In iOS 10 and the latest iOS 11, the feature is called WLAN Assist.
Almost all of us have been bothered by poor Wi-Fi connectivity at some point and that is why Wi-Fi Assist function was added. By enabling Wi-Fi Assist on iOS device, you can make a switch over from Wi-Fi to cellular data automatically. If you want to know how to enable Wi-Fi Assist, here in this post, we will show you detailed steps of how to enable Wi-Fi Assist. Some of you might worry about overusing cell phone traffic, so we will also show you how to disable this function.
How to Enanle/Disable Wi-Fi Assist on iPhone
Step 1. Launch the Settings app from your iPhone, scroll down and tap on Cellular.
Step 2. Go to the bottom, and you should see Wi-Fi Assistant option. Here you can toggle it to ON or OFF position.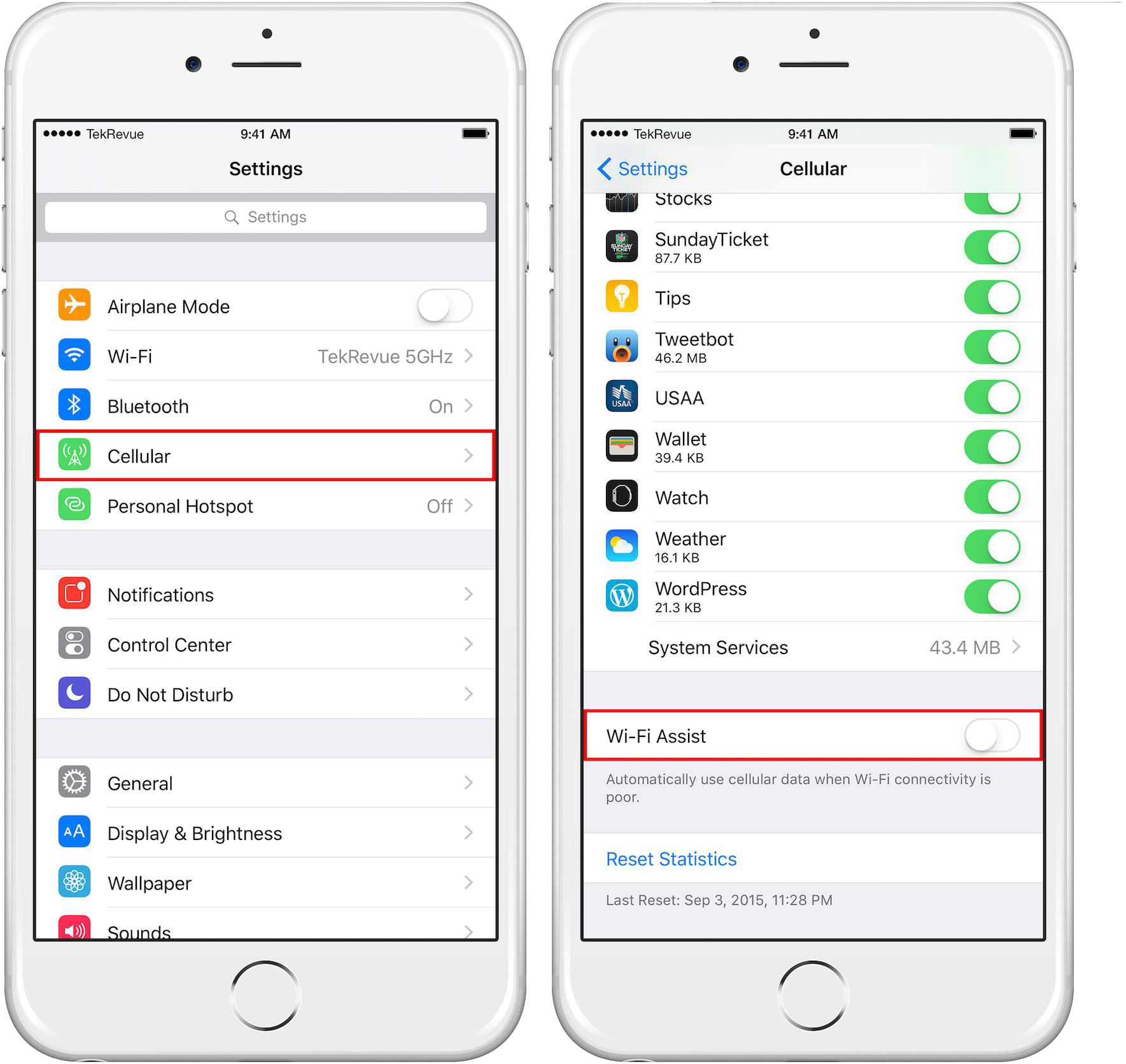 How to Turn on/off Wi-Fi Assistant in iOS 9
You May Like: How to Fix Cellular Data Issues after iOS Update >
Note: If you are stuck on some Wi-Fi problem, like iPhone iPad can't connect to Wi-Fi, Wi-Fi can't turn on, Wi-Fi grey out, etc. please check this guide – How to Fix: iPhone iPad Wi-Fi Problems and Solutions, and fix it in minutes.
The Bottom Line
That's all for how to enable and disable Wi-Fi Assist in iOS 9/10. As you know, iOS 11 is coming soon, why not download and install iOS 11 and enjoy more new features? By the way, after updating to iOS 11, it is time to get an iOS manager like AnyTrans to help you transfer, backup and manage files on your iOS device, please give it a try.
More Related Articles You May Like
Share Your Thoughts With Us