AnyTrans – #1 iOS Data Transfer Tool
Download this well-rounded iOS data transfer tool – AnyTrans to manage and transfer all kinds of iPhone/iPad/iPod data in a smart way.

Free Download
FaceTime App
FaceTime is an amazing video and audio calling service provided by Apple, and it compatible with Macs, iPhone, iPad and iPod touch. It makes it easy for users to communicate with friends & family over a Wi-Fi or cellular data connection. However, there are times that FaceTime is not working properly on your iPhone or iPad. Well, why it happens? How to fix it? Let's read on.
Why FaceTime Not Working
The reasons for FaceTime not working on iPhone or iPad may variety different, it could be from your iPhone, iPad or FaceTime itself. Checking following common reasons to see if you have any of them:
FaceTime even isn't turned on
Doesn't connect it to a cellular or Wi-Fi connection
Signed in with an wrong Apple ID
Your iOS device doesn't running the latest version
Wrong phone number or email address
Also Read: How to Use FaceTime >
How to Fix FaceTime Not Working on iPhone & iPad
Here are some solutions for you to fix FaceTime not working:
Make sure FaceTime is turning on, you can check it by tapping on Settings > FaceTime > Enable FaceTime.
Connect your iOS device to a stable network connection.
Ensure that you are using the right Apple ID, check it by tapping on Settings > FaceTime, you will see the Apple ID. If it not the right Apple ID you use, sign out and log in with the right Apple ID.
Sometimes, you can resolve this issue by updating all your iOS devices to the latest version.
Ensure that the contact details listed and the one being used to contact you are the same.
Hope one of the above mentioned methods can help you fix FaceTime not working issue, next, we will introduce you a practical iOS data transfer tool.
Bonus Tip: Helps You Transfer iOS Data in an Easy & Smart Way
Besides using iTunes to sync iPhone, iPad and iPod data, there is an outstanding data transfer tool called AnyTrans, this is a well-deserved best iTunes alternative that can enable you to transfer all the types of iOS data including music, contacts, photos, videos, movies, ringtones, iBooks, calendars, notes and more. More importantly, it supports transferring data in multi-direction, such as between computer and device, between any two iOS devices, between iTunes library and device, between computer and iCloud, from device to iCloud, and from iCloud to iCloud, etc.
As an award winning data transfer tool, AnyTrans is easy-to-use and works well on both PC and Mac computer, moreover, it compatible with all the models of iPhone, iPad and iPod.
Here is a screenshot of AnyTrans on Mac.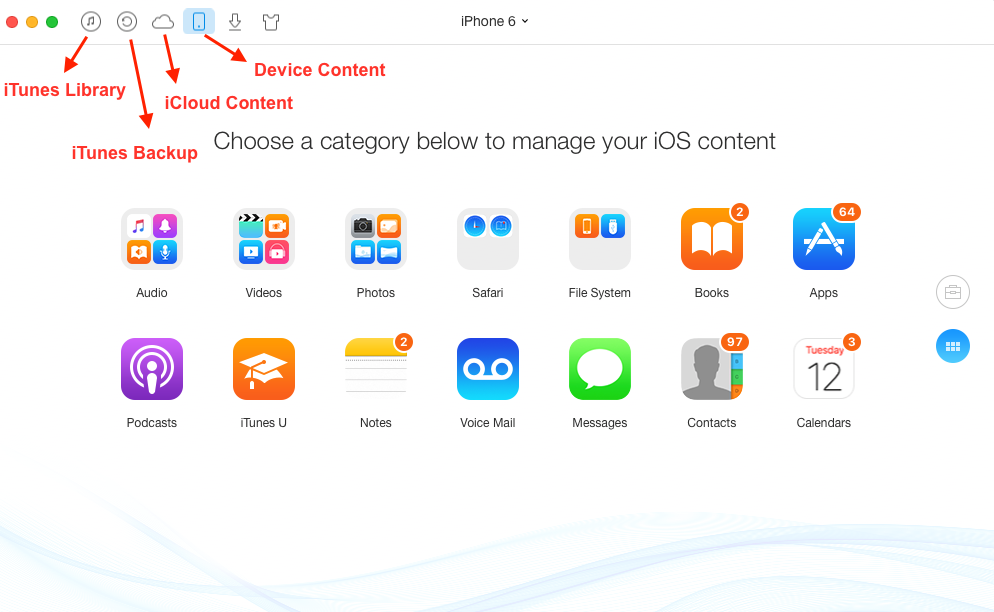 AnyTrans Overview
Now Download AnyTrans to Transfer Your Data in an Easier Way >
The Bottom Line
Solutions for fixing iTunes error 50 are summed up above in this guide, hope one of them can works for you. At last, if you want to transfer your iOS data in an easier way, you can give a try on AnyTrans.