How to Find Hard Drive Space on Mac
Summary
How to find hard drive space on my Mac? If you want to know how much space you have on your Mac, you can get the answer here.
MacClean is a free and powerful Mac cleaning software made to remove junk files from your Mac. Free download and install it on your Mac after reading this guide on how to find hard drive space on Mac.
It is suggested that a small amount of free drive space is required to keep your system running efficiently. It is very easy to fill the Mac hard drive space, even everyday tasks like downloading movies and TV shows from iTunes or importing photos and videos from your iPhone or cameras can eat up your limited space.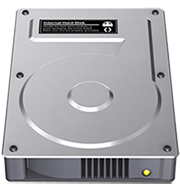 View Hard Drive on Mac
Without checking how much space you have available on your hard drive, you may quickly fill up your Mac, especially if it is relatively small one like the 64 GB drives that came with MacBook Air system. Once there is only 10 GB-20 GB of space left on your Mac, the system will not be able to manage its virtual memory footprint, resulting in sluggish and slower performance. Here we will show you how to find hard drive space on Mac, and how to get more space in an easy way.
You May Like: How to Clean Up Your MacBook >
Part 1. How to Find Hard Drive Space on Mac
Step 1. On your Mac desktop, find your hard drive icon.
Step 2. Click the hard drive icon to select it and then go to file menu and select "Get Info" (Or right click it and choose "Get Info" option).
Step 3. You will see "Capacity" of drive, "Available" and "Used" space.
Note: Although Mac OS X has fairly good memory management but there is the possibility that your Mac is eaten up space by the apps, files, and kinds of junks. Experts also recommend to do some cleaning job for your Mac regularly thus to optimize system memory and prevent your Mac from sluggish behavior. So in the second part, we will help you get more hard drive space on your old Mac with a professional Mac cleaner – iMobie MacClean.
Also Read: How to Remove Cookies on Mac >
A Brief Introduction to MacClean
- It is a free Mac Cleaning Software made to detect and remove junk files from all Mac, like MacBook Air, MacBook Pro, iMac, Mac mini, etc.
- It supports cleaning Internet junk, user junk, system junk, and application junk thus to free up and speed up your Mac.
- It lets you decide whether you want to remove the junks to trash or permanently remove from Mac.
Part 2. How to Get More Hard Drive Space by Removing Junk Files
Step 1. Free download and install MacClean on your Mac.
Step 2. Select any Junk item at the left-side Menu of MacClean. For example, you can click into System Junk to have a scan to get some useless junk files and app leftover to free up your hard drive space.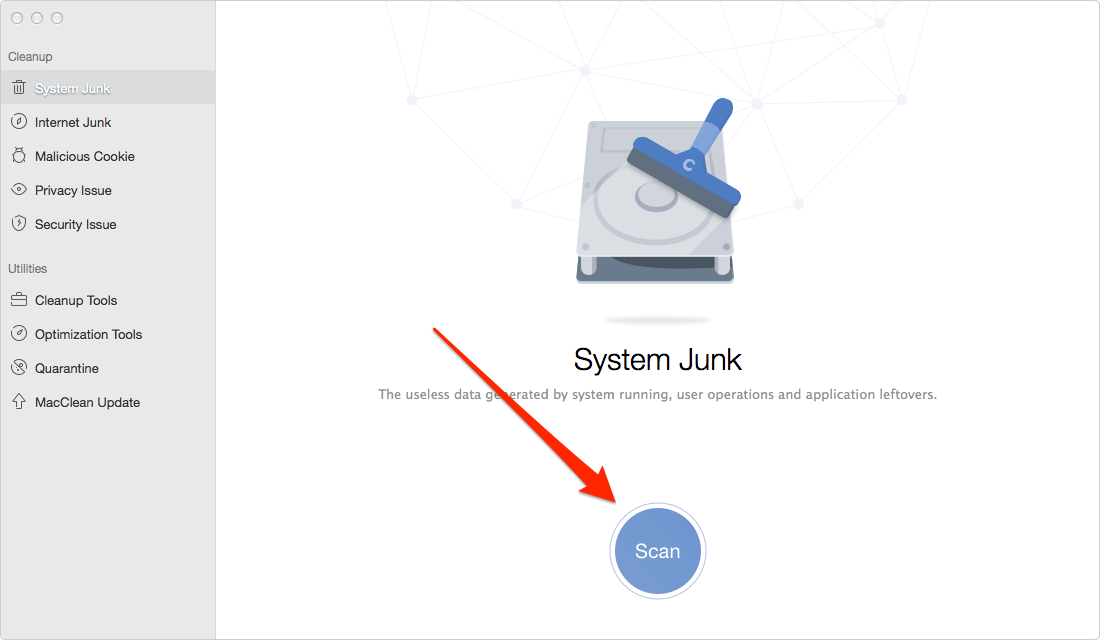 Get More Hard Drive Space with MacClean – Step 2
Step 3. After the scan finished, MacClean will present you the amount of junks found on your Mac. You can preview what these files are by clicking Review Details. In addition, you can select only those you don't want to clean.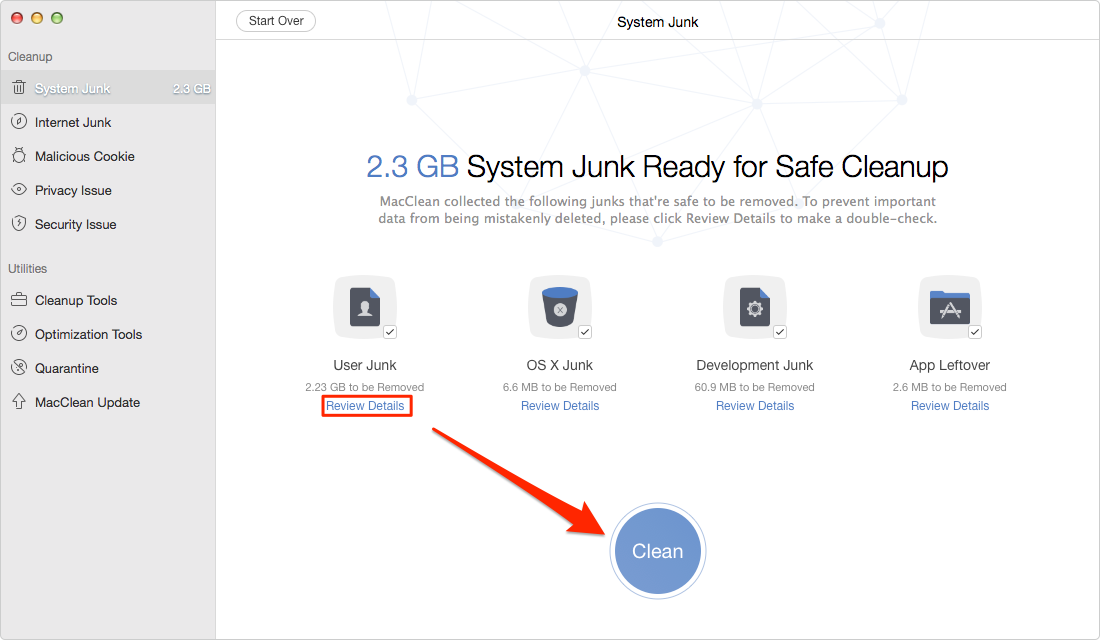 Get More Hard Drive Space with MacClean – Step 3
The Bottom Line
You might want to free up some hard drive space after checking hard drive space on Mac, and MacClean is the best way to go. If you have any question on this guide or MacClean, please feel free to let us know in the comment section. What not take a tour with MacClean now?
Top Posts on Cleanup and Speed Up Mac Computer
More Related Articles You May Like
Share Your Thoughts With Us