It is quite common to hear that people lost their Android phone/tablet in our daily life. And a survey shows "How to find and track my lost or stolen Android phone/tablet" is one of the frequent questions that Android users keep in their mind.
Most of all, when this happens to us in real life, what should we do to quickly track & find our lost phone/tablet? Don't worry. Here in this guide we will show two efficient ways to find & track the lost Android phone/tablet without tracking app.
Don't Miss: How to Recover Deleted WhatsApp Messages from Android >
How to Find & Track Your Lost Android Phone/Tablet
Before we start the tracking process, you must make sure that:
Your lost Android phone/tablet should be connected to a Wi-Fi or an available network.
You have a Google account signed into your Android phone/tablet.
You have enabled location services on your Android phone/tablet.
Part 1. Find & Track Lost Android Phone/Tablet with Android Device Manager
Google's Android Devices Manager offers the easiest way to find your lost Android phone/tablet by signing in to its official website (even if you don't have the app installed). This service will automatically track your phone/tablet's location. Now, let's check the steps.
Step 1. Get a computer, phone or tablet connected to Wi-Fi/network and launch a website browser (chrome should be the best) > Enter "find my Android, find my phone Android or find my phone" in the Google search bar.
Step 2. Tap Android Device Manager > Enter your Google account > Click the lost phone/tablet and you will see the location. You can choose to ring, lock or erase your phone/tablet when it is located.
Part 2. Find & Track Lost Android Phone/Tablet with Google Maps
If your Android phone/tablet is switched off, you have another option to check your location history, and Google maps is the way. With Google maps, you can track your phone/tablet and find the last reported location.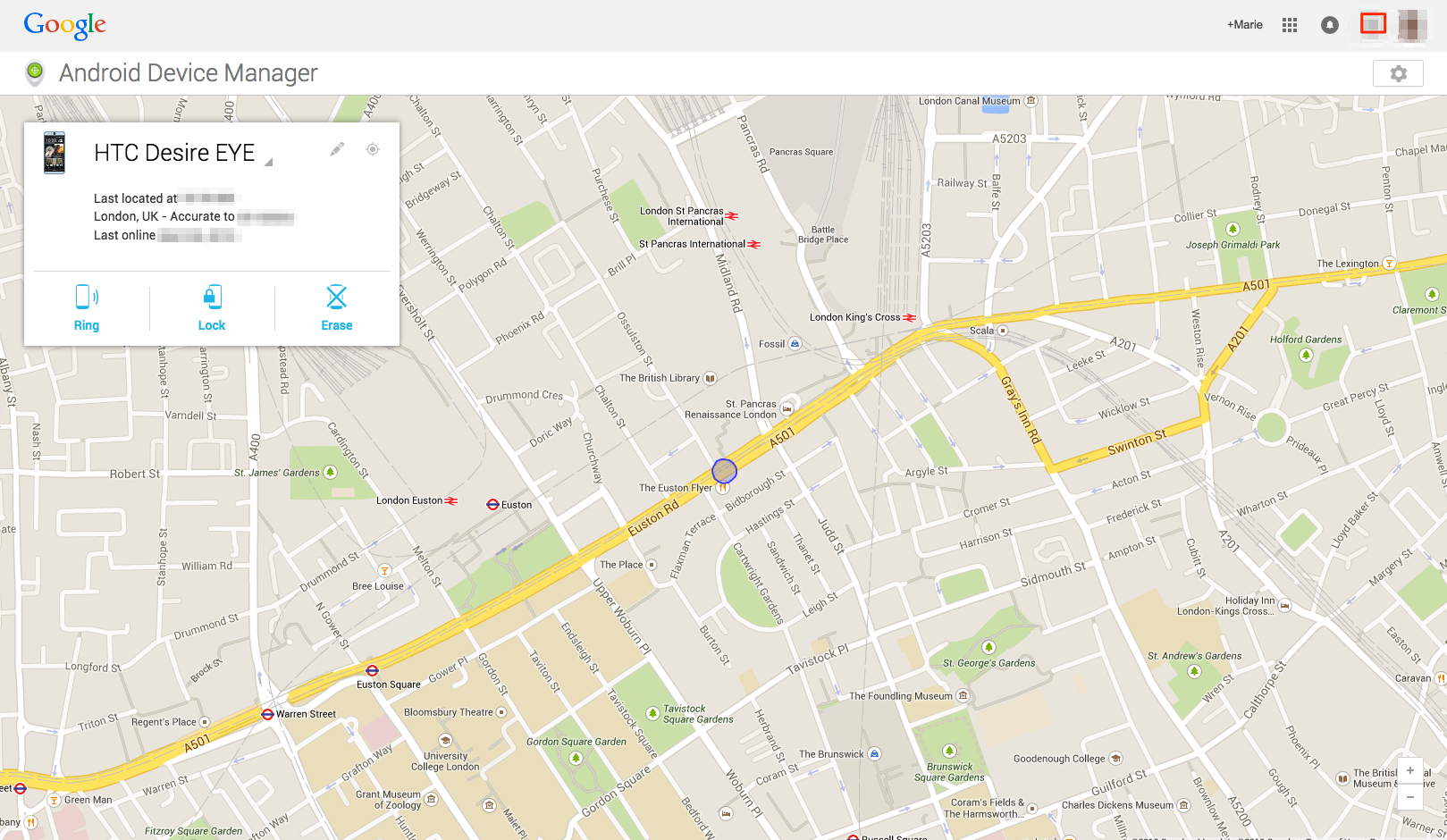 Find & Track Lost Android phone/tablet with Google Maps – Screen Overview
1. Ensure that location history features have been enabled on your phone/tablet before you lose it.
2. It is worth mentioning that the location is not as accurate as Google's Android Device Manager, but you can know your device possibly can be via this way.
Go to Google Maps Location History > Choose today's date > Click Show Timestamps > Click on the latest timestamps to check the last location where the phone was registered.
How to Recover Deleted Data from Android Quickly & Easily
It is likely that some important files like photos, videos, contacts, etc. on your lost or stolen phone/tablet may lose due to various reasons. If you have encountered the situation when get back your lost phone/tablet, there's no need to panic, those lost files can be easily recovered with PhoneRescue – Android Data Recovery.
PhoneRescue is a professional iOS & Android data recovery tool that recommended by lots of users who have successfully retrieve lost data with it. It allows you to recover all lost data in a very short time and it works well on Samsung, LG, Sony Xperia, Huawei, HTC, etc. So, if you prefer one method to recover the contents more quickly and successfully, then PhoneRescue is your best choice.
Recover Deleted Files on Android Phone/Tablet with PhoneRescue – Screen Overview
The Bottom Line
Hope you can find your Android phone/tablet quickly with above two methods. If you need to recover the lost data, give PhoneRescue a try, and it will help you finish the task in minutes.