How to Fix Custom Keyboard Keep Switching to Default on iPhone/iPad
Summary
How to stop custom keyboard from switching to the default randomly? You can read this guide to get the method to fix this annoying problem.
This professional iPhone/iPad/iPod data transfer tool can let you have a full control of your important data. You can download AnyTrans to have a try after reading this guide.
"After switching to SwiftKey, my keyboard keeps changing to default randomly. Any ideas what could be happening? Is this a known issue?"
A user from Reddit
Many people like to use the third-party keyboard like SwiftKey or Gboard instead of the default Apple keyboard. But you may also find that your new custom keyboard keeps switching back to the default one now and then just like the above user. You need to go back to your custom keyboard with the globe icon every time, which is kind of annoying. So there is a way that can stop such thing happening? Yes, there is. You can read the next part to get that method.
Also Read: Why is iTunes So Slow and How to Speed up It >
How to Fix Custom Keyboard Keep Switching to Default on iPhone/iPad
Step 1. Go to Settings > Tap on General > Tap on Keyboard.
Step 2. Choose Keyboards > Tap Edit button.
Step 3. Tap Delete icon next your default keyboard > Tap Delete > Tap Done.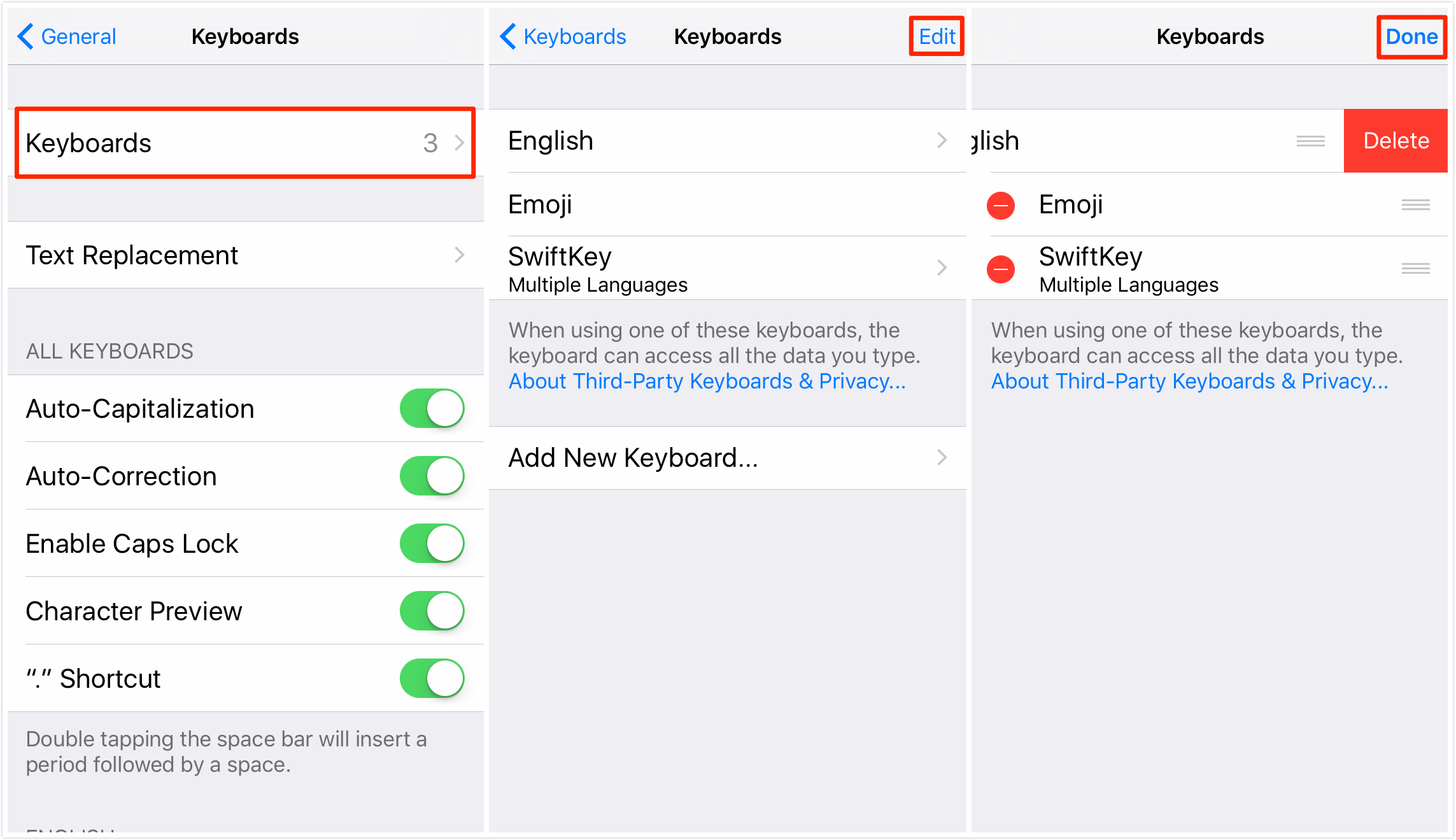 Fix Custom Keyboard Keep Switching to Default
Note:
The third-party keyboards do not work in password fields, so when you are entering password it will go back to the default one.
If you want to add it back, you can go to Settings > General > Keyboard > Keyboards > Add New Keyboard… > Choose the suggested keyboards or any language you prefer.
Bonus Tip: How to Share iDevice Contents Freely
For iPhone, iPad or iPod users, sometimes you may feel difficult to share contents with other people. You can use Family Sharing feature to share what's important with members of your family. However, how to share some lovely music with your friends?
Actually things couldn't be simpler with one easy-to-use iOS data transfer tool – AnyTrans. It can easily let you share music, photos, videos and many other things to another iDevice freely. Or you can also easily transfer your selected files from iDevice to iTunes, computer or external hard drive without any data loss.
Download AnyTrans to Have a Trial
How to Share iPhone Contents Freely
The Bottom Line
Hope this guide can help you stop custom keyboard from changing to default randomly. If you are interested in AnyTrans, just click here to have a 7-day free trial to explore more!
More Related Articles You May Like
Share Your Thoughts With Us