How to Fix a Frozen Mac
Summary
This post offers you some simple tips to quickly fix your frozen MacBook, iMac or Mac mini/Pro. Let's check all of these methods.
Download MacClean to your MacBook or iMac to clean up Mac junk files and speed up your Mac. Supports Mac OS from 10.7 to 10.10.
Have you ever met a frozen Mac or a frozen Mac program after update, login, restart or sleep? And do you know how to fix a frozen Mac and Mac frozen apps? This tutorial tells you some basic tips to solve this Mac problem.
How to Fix a Frozen Mac
If your mac freezes and you can do nothing with your Mac, you can simply restart your computer by holding down "Power" button on Mac for some seconds, or press "Control" + "Command" and then "Power". And if the above two methods can't quit the frozen screen, just pull the plug directly.
How to Fix a Frozen Application on Mac
There are many methods to fix your frozen app on your Mac.
1.Use Force Quit Window. You can press Command + Option + Esc or click Apple Logo > "Force Quit" to open this window. Then find the frozen app and click "Force Quit" button.
Force Quit Window - Fix Frozen Mac App
2.Use Dock bar. If the frozen app appearing on your Mac Dock, you can right-click it and then force quit it.
Force Quit on Dock - Fix Frozen Mac App
3.Use Activity Monitor. Just search this App using Spotlight and then find the frozen process. You can double-click the process and quit it.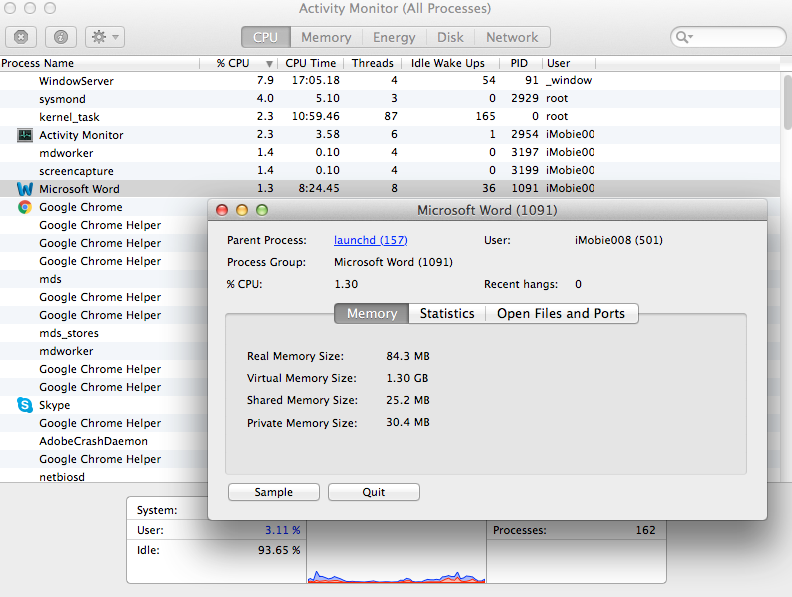 Active Monitor - Fix Frozen Mac App
The Bottom Line
Actually some Mac users may have got a problem of frozen Keyboard, mouse and trackpad after sleep mode. For this issue, there is no completely valid way that can fix it. And some users believe that it's a hardware problem that can be solved only by changing another Mac.
More Related Articles You May Like
Share Your Thoughts With Us