How to Fix iPhone X/8/7/6s/6 Attempting Data Recovery on iOS 11.2/11.1/11/10
During iOS 11.2/11.1/11/10 updating, encounter the iPhone iPad issue of "Attempting data recovery"? Want to know how to fix it? Read this tip for the answer.
By
iMobie
|
Posted on: Dec. 26, 2017,
Last Updated: Nov. 06, 2018
Not sure what happened. I was talking on my new iPhone 7 and it turned off and restarted. Now it is saying "attempting data recovery". I was upgrading to iOS 10.01 from iOS 10.0. – from Apple Discussion
Guess lots of iPhone iPad users are used to updating new iOS versions via iTunes. Compared to OTA way, it does has its advantages. However, since iOS 10, more and more users have complained about the Attempting data recovery screen when iTunes updating, just like the user above.
Because Attempting data recovery issue is new to many users, they would worry about: Will my data be lost? What would happen after this Attempting data recovery finishes? In fact, you don't need to so panic. This Attempting data recovery only happens when iOS updating via iTunes, according to user's feedback. Besides, it is a process for iPhone iPad data recovery automatically after iOS updating. Normally it will finish after a period.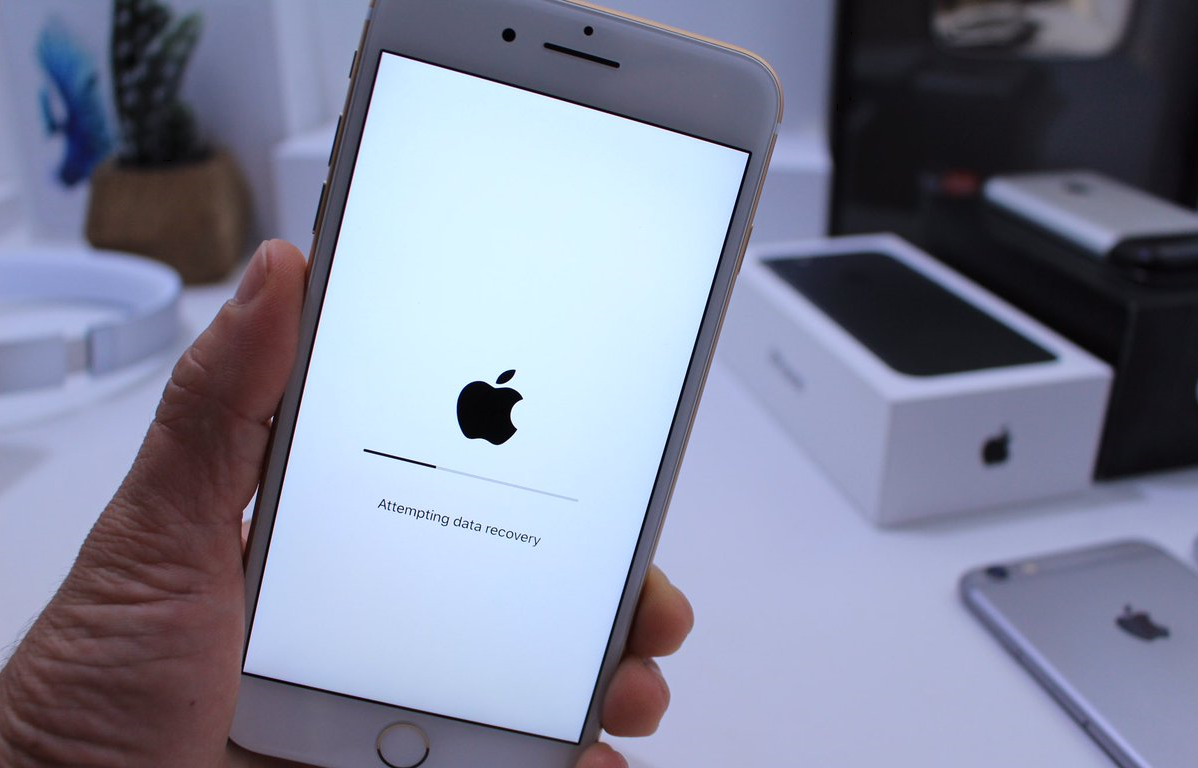 iPhone Attempting Data Recovery
However, in some situations, iPhone iPad will continuously be stuck on the Attempting data recovery screen. Or after its completing, iPhone iPad has not really been recovered. It will lead to some iOS data, or even all data disappearing. So if such situations happen, what can you do to fix this Attempting data recovery issue? Here are the fixes below.
How to Fix iPhone X/8/7/6s/6 Attempting Data Recovery on iOS 11.2/11.1/11/10
If your iPhone is stuck on the page, you can try force restarting your iPhone to get the Attempting data recovery issue done.
On iPhone 6/6s (Plus): Hold down the Home button as well as the power button > Keep both buttons held until the Apple logo appears > Now let go of the buttons and wait while your device complete its start sequence.
On iPhone 7 (Plus): Press the power/lock key on the right side of the phone > At the same time press and holding the volume down key on the left > Wait for the Apple logo to appear (you may see the Slide to Power Off slider, but keep holding the side buttons while the iPhone skips this step), the phone will then go through its startup sequence.
On iPhone X/8 (Plus): Quickly press and release the volume up button > Quickly press and release the volume down button > Press and hold the Power button (on the other side) until you see the Apple logo.
Force restarting works almost every times. While, if your iPhone completed the Attempting data recovery, but fails to restore, with data loss, your mission becomes how to get back those missing data. If you have backed up your iPhone to iTunes or iCloud, you can restore it from the backups.
But we also know that restoring from iTunes and iCloud will erase all data existed on your iPhone, which is not inadvisable. In fact, the lost data due to Attempting data recovery is not really gone forever. They will be stored in phone memory till other new data overwrites it. It means as long as it has not been overwriting, we can get them back. But how? By yourself, it seems not enough. You need to get help from some third professional iOS data recovery applications.
And PhoneRescue for iOS is just the best one. PhoneRescue for iOS can scan your whole iPhone within 1-3 minutes. It will display every single item on your iPhone, existed and deleted. You can choose whatever you want to recover to iPhone directly or download to the computer. Why not download it now, and follow the steps below to get back your missing data?
PhoneRescue for iOS provides three recovery modes to help you with all kinds of iOS data retrieving, lost due to various occasions, iOS upgrading, jailbreak, mistakenly deleting, attempting data recovery failing, and more.
Free Download
Get it now

How to Recover iPhone Missing Data If Attempting Data Recovery Fails
Step 1Run PhoneRescue for iOS > Connect your iPhone to it > Choose Recover from iOS Device > Click right arrow.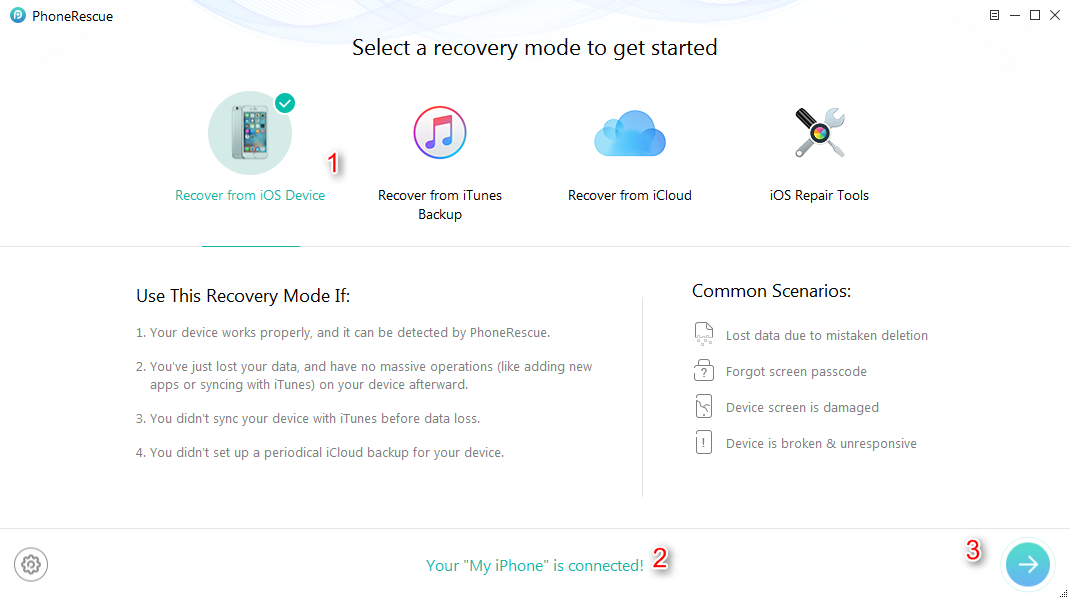 How to Recover iPhone Missing Data If Attempting Data Recovery Fails – Step 1
Step 2It will pop up a screen for you to choose what kind of data you would like it to scan. Here we choose all data > Click on OK .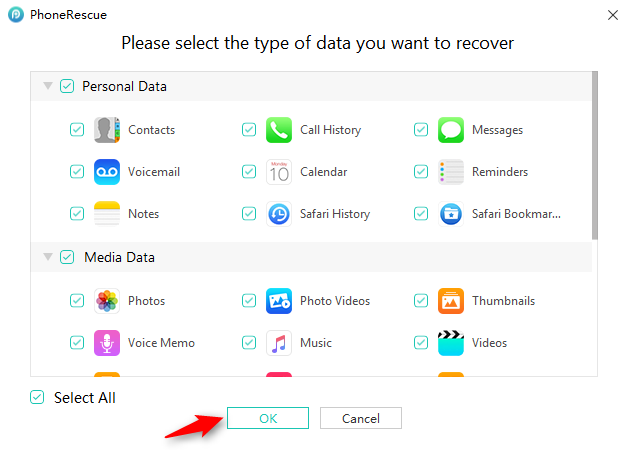 How to Recover iPhone Missing Data If Attempting Data Recovery Fails – Step 2
Step 3After scanning, all data will be displayed. Choose the data you want to recover > Click on To Device button to recover them to iPhone, or To Computer button to save them on your PC/Mac.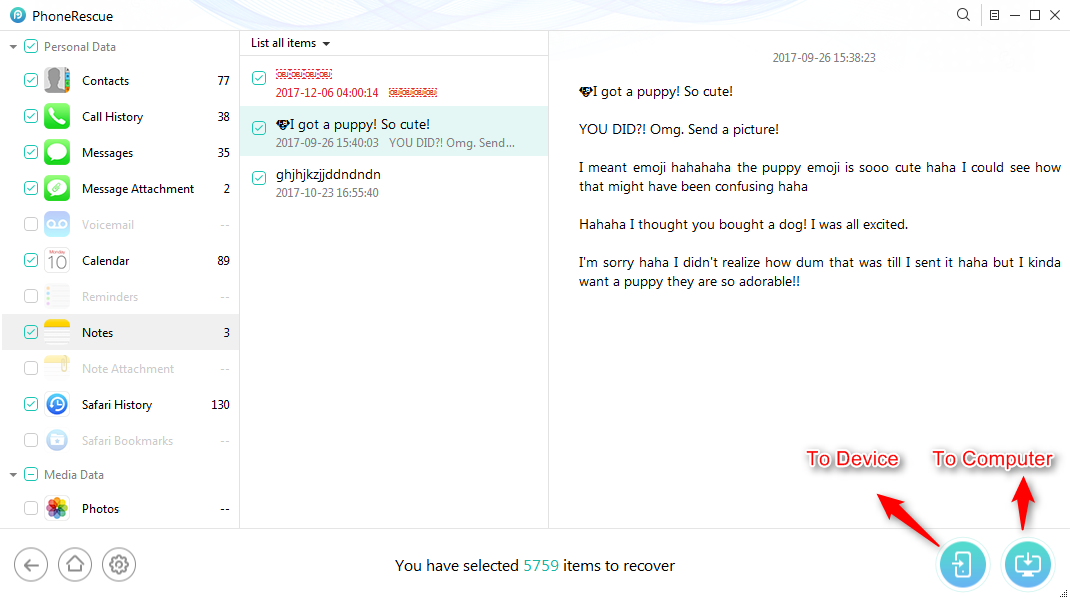 How to Recover iPhone Missing Data If Attempting Data Recovery Fails – Step 3
The Bottom Line
As you can see, there are four different but all practical ways to help you with iPhone freezing after update issue. According to you own situation, choose the best one. If you have any question about these methods, or have some other new ones, please leave your messages in the comments below. Thanks.