Summary
iPhone iPad bookmarks disappeared but don't know how to fix? Here in this post, we will show you three methods to get disappeared iPhone iPad bookmarks back.


Free Download
There are various of reasons why iPhone iPad bookmarks disappeared and one of the most likely reasons is iOS update. No matter how this happened, once you notice that iPhone iPad bookmarks disappeared, please check all other apps and data on your iOS device immediately to make sure your iPhone/iPad works well and no other data disappear.

If you find iPhone data like messages, music, contacts also disappeared after updating to iOS 11, please refer to other posts for help.
While referring to bookmarks, I assume many people mean Safari bookmarks. Here in this post, we will focus on Safari bookmarks and talk about how to fix iPhone iPad bookmarks disappeared issue. Note that if you lost bookmarks due to other mistake operations instead of iOS update, you can also give those methods a try.
Method 1. Fix Safari Bookmarks Disappeared by Resetting the Safari App
When Safari bookmarks disappeared, sometimes they are not really gone from your iPhone/iPad. Resetting the Safari app could be helpful to make disappeared iPhone iPad bookmarks visible.
Step 1. Tap on the home button to bring up all apps that are running, slide upward to close Safari.
Step 2. Tap on Safari and restart it.
Method 2. Fix iPhone iPad Safari Bookmarks Disappeared by Hard Reset
A hard reset may also work to solve iPhone iPad Safari bookmarks disappeared issue. Here is how to do hard reset.
Hold the Power and Volume Down button (for iPhone 7) or Power and Home button simultaneously until the Apple logo appears. After hard reset, please go to Safari app to check if all bookmarks are back.
Method 3. The Ultimate Way to Fix iPhone iPad Safari Bookmarks Disappeared
If neither methods above work for you, here comes the ultimate way to fix iPhone iPad Safari bookmarks disappeared.
The secret is PhoneRescue for iOS. PhoneRescue is developed to recover lost data serving both iOS and Android users, and PhoneRescue for iOS aims at providing iOS users 3 ways to recover lost data like Safari bookmarks, they are recovering from iOS devices, iTunes backup and iCloud respectively.
When PhoneRescue for iOS is used to recover bookmarks, it can help you scan and find lost bookmarks on iPhone iPad directly then restore bookmarks to your iPhone iPad or download them to computer. If you have already backed up your iPhone/iPad with iTunes or iCloud, PhoneResue – iOS data recovery is capable of scan iCloud or iTunes backups, then help you restore needed bookmarks to iPhone without restoring iOS device.
Since many users may don't have any backups, so here in this post, we will show you how to recover disappeared Safari bookmarks directly from iPhone iPad. If you have backed your iPhone/iPad with iTunes or iCloud, please refer to: How to Recover Disappeared iPhone iPad Safari Bookmarks from iTunes Backups or How to Recover Disappeared iPhone iPad Safari Bookmarks from iCloud.
How to Restore Disappeared Safari Bookmarks on iPhone iPad without Backups
Step 1. Download PhoneRescue for iOS (choose Download for iOS) and then launch it. Connect your iPhone iPad to computer via USB cable. Select Recover from iOS Device. Click the Arrow button to continue.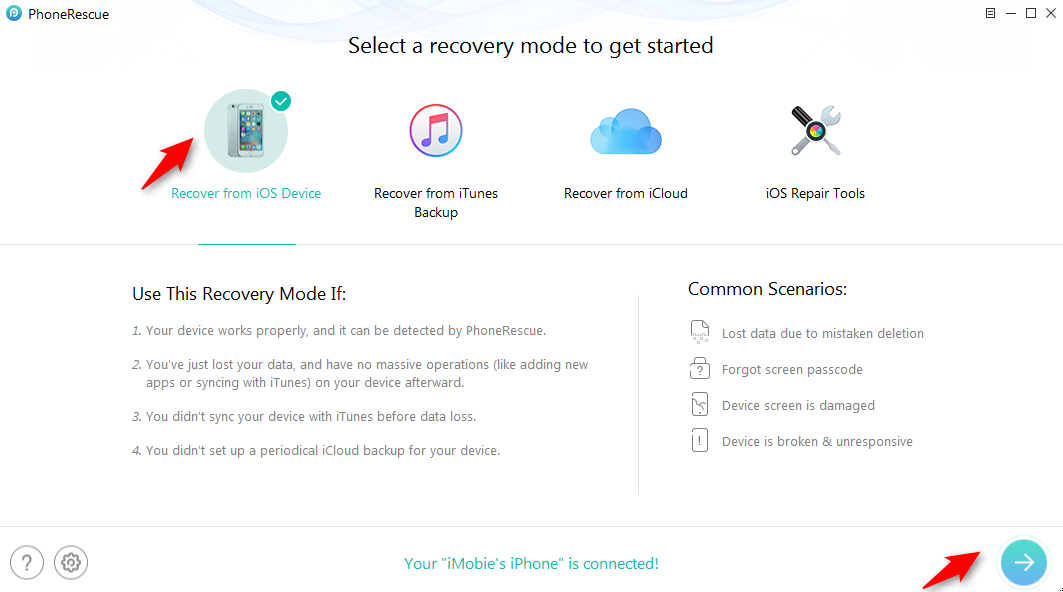 Step 2. Select Safari Bookmarks then hit OK, PhoneRescue for iOS would start to scan Safari bookmarks data on your iPhone iPad.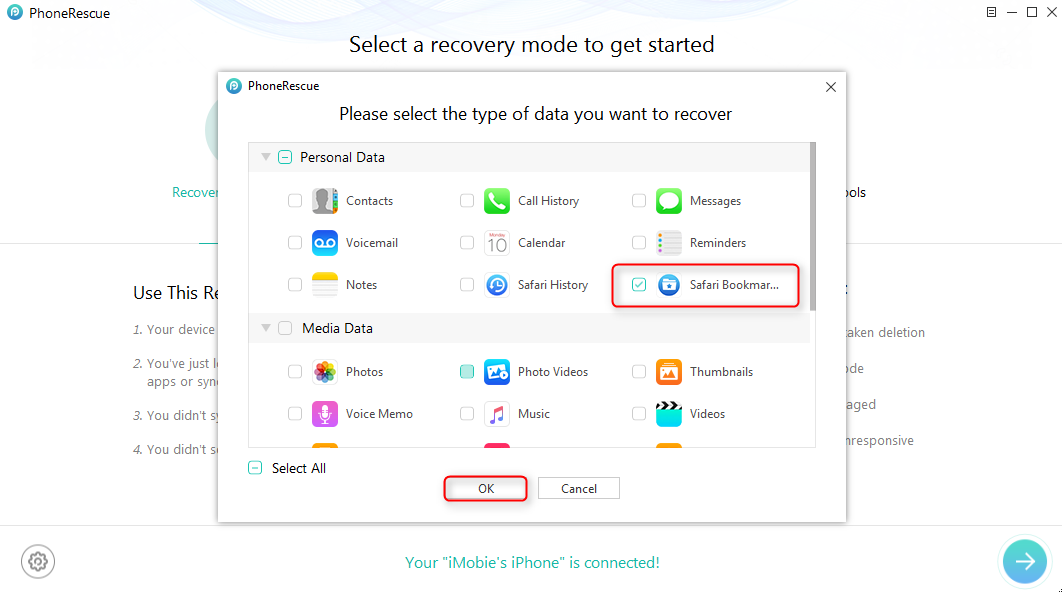 Step 3. After scan, all Safari bookmarks would be displayed, including the disappeared one. Select the Safari bookmarks you want to recover then tap "Recover" buttons to recover disappeared bookmarks to iOS device or computer.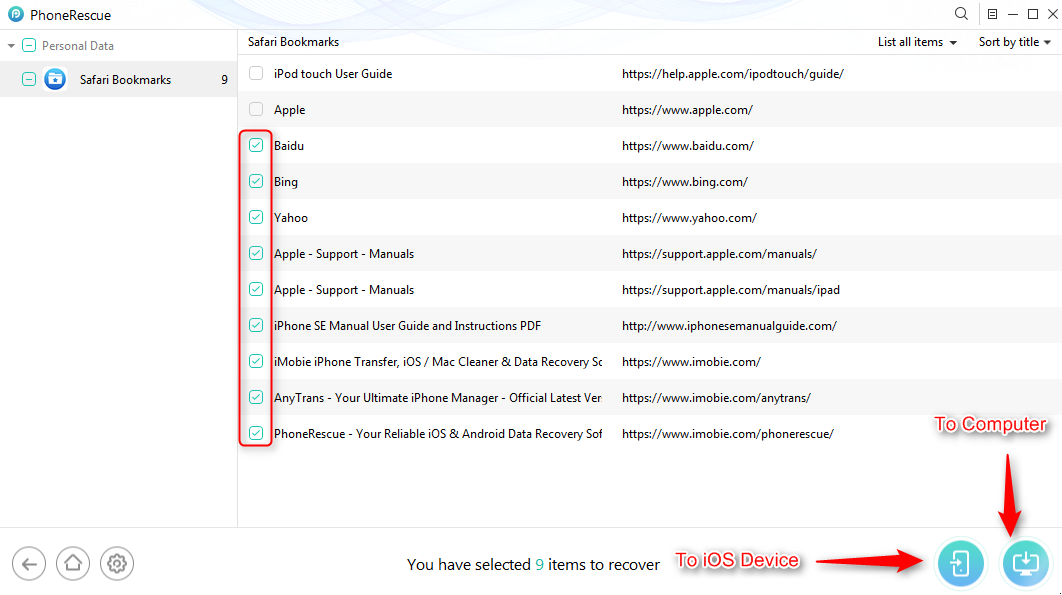 The Bottom Line
That's all for how to recover disappeared Bookmarks on iPhone iPad. Hopefully now you have already gotten your disappeared Safari Bookmarks back. If you have any questions about this guide, please feel free to let us know by leaving comments below. By the way, PhoneRescue for iOS can also recover other disappeared data like photos, notes, iBooks after iOS update, why don't you download it and have a try?
Join the Discussion on Recovering Disappeared Bookmarks on iPhone
3 Ways to Recover Disappeared iPhone iPad Bookmarks