Summary
iPad/iPhone not saving photos? This guide will help you fix this issue step by step, applied to iPhone 7/6s/5s in iOS 11/10/9.

AnyTrans – Best iPhone Data Transfer
This easy-to-use tool lets you transfer photos between iPhone and computer. Remember to give it a try after you have fixed the iOS 11 not saving photos issue.

Free Download
We can always take good photos with iPhone, and in the new iOS 11, the new professional-quality filters take the camera on iPhone to another level. However, recently you just find that your iPhone not saving photos: you can't view the photos taken via the Camera app, or even worse you can't send photos over iMessage. Don't worry, this problem is not that difficult to fix, just follow this guide step by step to fix the iPad/iPhone not saving photos issue. Applied to iPhone 7/6s/6/5s and iPad Pro/Air/mini.
1. Basic Solution to Fix iPhone Not Saving Photos
Step 1. Restart your iPhone or iPad.
Step 2. Open the Camera app, choose PHOTO mode and take a photo > Tap the thumbnail to view the photo you just took.
Step 3. Tap the Share button and send the picture to a contact via iMessage.
Step 4. Restart your iPhone/iPad again. The iPhone not saving pictures issue will be fixed then and you can save new photos to the camera roll. If lucky, you may also find the pictures that were not saved previously.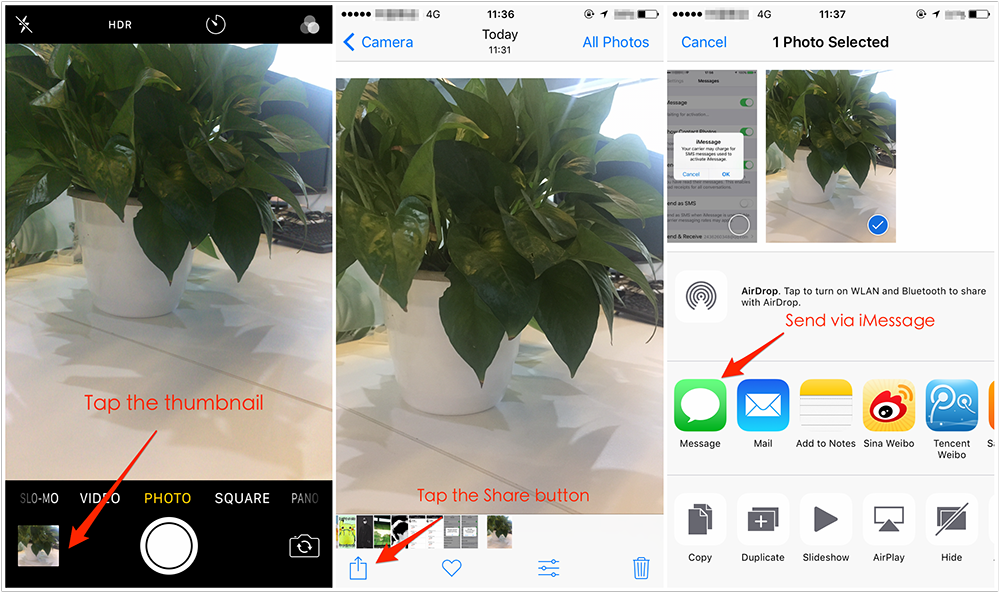 2. Other Suggestions to Fix iPhone Not Saving Photos
1 > Free up your iPhone/iPad space. There may not enough space to store the pictures, you can delete useless apps, delete photos, songs, old messages. More info: How to Free Up Space on iPhone/iPad in iOS 11 >
2 > Reboot your device. Press and hold the Home button and the power button together until the Apple logo appears on screen. For iPhone 7 users, please press the Home button and the volume down button.
3 > If all the above methods cannot fix the iOS 11 not saving photos problem, you have no choice but to restore your iPhone as new. Remember to backup your iPhone in advance.

The Bottom Line
That's all for how to fix iPhone not saving photos in iOS 11. If you also meet other iPhone iPad related problem, this guide can help you: The Most Common iOS 11 Problems and Solutions >
More iOS 11 Upgrade Related Articles:
Join the Discussion on iPhone Not Saving Photos