Summary
iPhone showing wrong time? iPhone automatic time is wrong? Read this guide to find the solutions. Applied to iPhone 5s/6/6s/7 and new iPhone 8/X.

by iMobie Follow @iMobie_Inc
AnyTrans – Best iOS Data Transfer
This all-sided iOS data transfer tool can help you transfer data between iPhone/iPad and computer/iTunes. Remember to give it a try after you have fixed the iPhone time wrong issue.

Free Download
The wrong time on iPhone or iPad can causes quite a few troubles, like can't open apps, can't send messages or make calls, and even worse you miss an important meeting if you have set a timer. You definitely want to fix the iPhone time wrong issue as soon as possible, and luckily you've come to the right page. Here we tell you why your iPhone showing wrong time and also the basic methods to fix it.
Why iPad/iPhone Showing Wrong Time
Why your iPhone/iPad displaying wrong time? Generally, there are two causes that may lead to wrong time or wrong date.
1. If you let your iPhone set the time zone automatically, then it will change the time automatically when you enter into a different time zone. However, if your device pinpoints your location incorrectly, your device may throw you into a different time zone and you see the wrong date or time.
2. Or there is something wrong in iOS system, or files missing after a jailbreak can also lead to iPhone wrong time.
How to Fix iPad/iPhone Showing Wrong Time
Here in this part will tell you several quick methods to fix the iPad/iPhone showing wrong time problem. Applied to iPhone X/8/7/6s/5s/5c and iPad mini/Air Pro.
Tip 1. Set Date and Time Automatically/Manually
1 > Set Time Automatically
If you used to set the time by yourself, probably your device has not been maintained through daylight saving time changes. Just change it to automatically. Go to Settings > General > Date & Time > Turn on Set Automatically.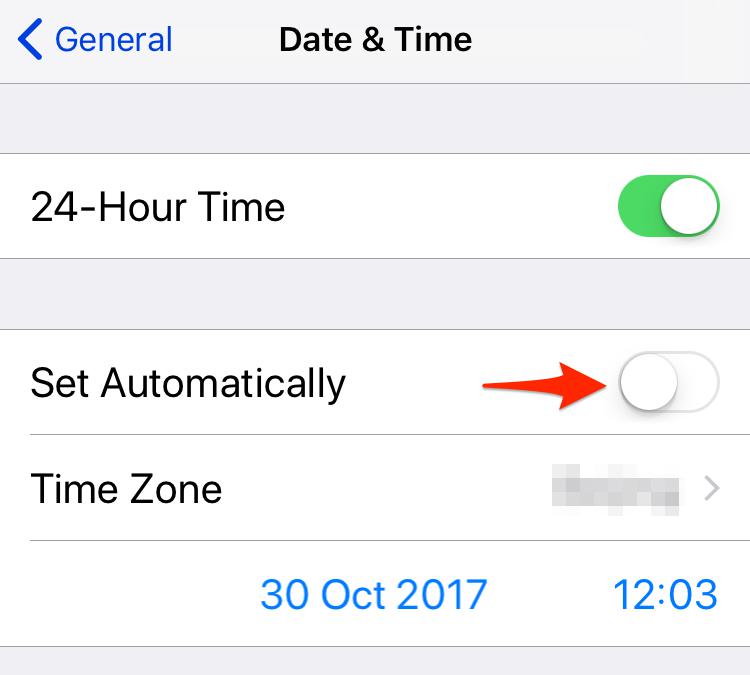 Fix iPhone Time Wrong
Also check the Location Services. Settings > Privacy > Location Services > System Services > Turn on Setting Time Zone.
2 > Set Time Manually
If you have set time automatically, just change it to manually. It's a good choose if your device going to be on the internet infrequently, because the automatic time and location services need the internet to keep update. Go to Settings > General > Data & Time > Turn off Set Automatically > Set the time.
Tip 2. Check Your Computer Time
If your computer has the incorrect time settings, then these settings can be transferred to your iPhone or iPad after sync. So please make sure your computer display the correct time and date.
Tip 3. Update iOS Version
New iOS version always contains bug fix, now you can install iOS 11 on your iPhone or iPad. It's a method worth to try to fix the iPhone showing wrong time issue.
Tip 4. Reset Your iPhone/iPad
If all the above methods cannot help you fix the iPhone time wrong problem, then you can restore your device to factory settings. By the way, it's recommended to restore your iPhone via iTunes. Remember to backup your iPhone firstly. Released post: How to Backup/Restore iPhone vie iTunes >
The Bottom Line
Hope this guide can help you fix the iPhone showing wrong time problem. If you have any other method, please share it with us in the comment solution to help others.