iTunes Error
How to Fix iTunes Error 4005 with 8 Methods
Summary
Searching for solutions to fix iTunes error 4005 when failed to update or restore your iPhone/iPad/iPod via iTunes? This tip offers 8 top solutions to help you fix this issue.
This well-rounded iOS data recovery tool, PhoneRescue – iOS data recovery can help you resolve iPhone stuck in recovery mode issue, black screen, Apple logo, etc. Download it to have a try.
Recently, many iOS users come across an annoying trouble – iTunes error 4005 when trying to update their iDevice to the latest iOS 10.3.1 version via iTunes. If you also met the same problem and your iPhone, iPad and iPod failed to update, keep reading you'll find solution here.
Also Read: 2017 Best 3 iTunes Alternatives Review >
What is iTunes Error 4005
iTunes Error 4005 is a very common fault of iPhone, iPad and iPod, which usually occurs when updating or restoring your iDevice via iTunes. Lots of different possible reasons may cause this error, for instance, the iOS system problem on your iDevice, the version of iTunes, the USB connection condition and USB port of your computer, some virus infection and so on.
How to Fix iTunes Error 4005
In order to help you solve this annoying problem, this article sums up 8 probable solutions that usually use to heal the error 4005 in iTunes. Hope that one of these solutions below would be useful to you.
Solution 1. Restart iTunes
Sometimes, the simplest way can fix problem without effort. Like some registry and file management errors in iTunes can be solved via restarting. Sometimes, it turns out that restarting iTunes when iTunes error 4005 occurs often works.
Solution 2. Restart computer
If restarting iTunes hasn't solved the issue, then you can try to restart computer to clean up the registry and resolve any issues with iTunes and device connectivity.
Solution 3. Check the USB cable & USB port
Sometimes iTunes error 4005 may occurs with problem of the USB cable or the USB port of computer. So, it is necessary to try another cable or change an USB port.
Solution 4. Force restart device
To fix iTunes error 4005, you can try to force restart your iPhone, iPad and iPod. Sometimes, this method maybe works.
Solution 5. Check the battery
When the battery of your iOS device is in low state, the lack of power may cause this iTunes error 4005. So, make sure your iOS device has enough power.
Solution 6. Update iTunes to the latest version
Older versions of iTunes are prone to leads conflict between hardware and software handling; hence update iTunes to the latest version is without doubt.
Solution 7. Update your computer
If your computer is not up to date that also may cusses this error, therefore, you should check for updates to your Mac or PC.
Solution 8. Restore iOS device in DFU mode
Sometimes, put your iOS device into the recovery mode may get everything going again when you failed to install or upgrade your device. If not, you can also have a try on DFU mode. A Default Firmware Update will rebuild the structure of the software running on your iOS device, you'll take a risk of losing everything because when you carry out a DFU restore absolutely everything is deleted. But it's exactly a possible solution to fix iTunes error 4005.
Bonus Tip: Introduce an iOS Data Recovery Tool
PhoneRescue is designed to help both iOS and Android users to recover any lost data, and PhoneRescue – iOS data recoverycould help you recover any deleted data from iOS devices, iTunes backup and iCloud backup. Besides recovering lost iOS data, PhoneRescue – iOS data recovery has amazing iOS repair tools that can fix iOS device stuck in recovery mode, stuck on black screen and white Apple logo, etc. If you unlucky encounter such cases, why not download PhoneRescue – iOS data recovery to have a try.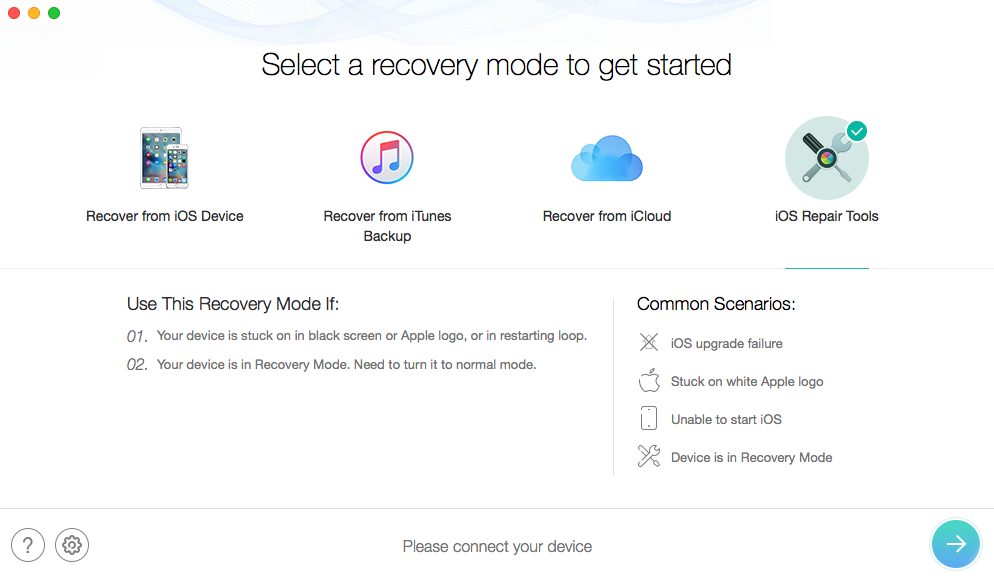 PhoneRescue for Mac Screenshot
The Bottom Line
That's all for how to fix iTunes error 4005, hope there is one of them can get your problem solved. At last, do not forget to have a try on PhoneRescue – iOS data recovery.
More Related Articles You May Like
Share Your Thoughts With Us