Summary
This article is aim to help you fix iTunes store won't load problem when you failed to download music or other things from iTunes store completely.

AnyTrans - Best iOS Content Transfer
This amazing iOS data transfer tool can help you transfer almost all kinds of iPhone iPad iPod data in an easy and simple way. After fixing your iTunes store not loading issue, you can download it to have a try.

Free Download
Q: I can't figure out why iTunes Store won't load in my iTunes. I never had a problem with it until now. How do I fix the problem? Message was edited by: iTunes Store not loading. Is there anything I can do for it?
——A user from Apple Communities
As for iOS users, you may also meet some problems about iTunes store, such as con't connect to iTunes store, iTunes store not working, or iTunes store will not load, etc. You may eager to figure out this issue as soon as possible for many reasons such as you still left lots of money on your account, or you just want to get one latest popular music from some singer like Taloy Swift. Fortunately, this article will list some quick solutions to help you fix iTunes store not loading problem.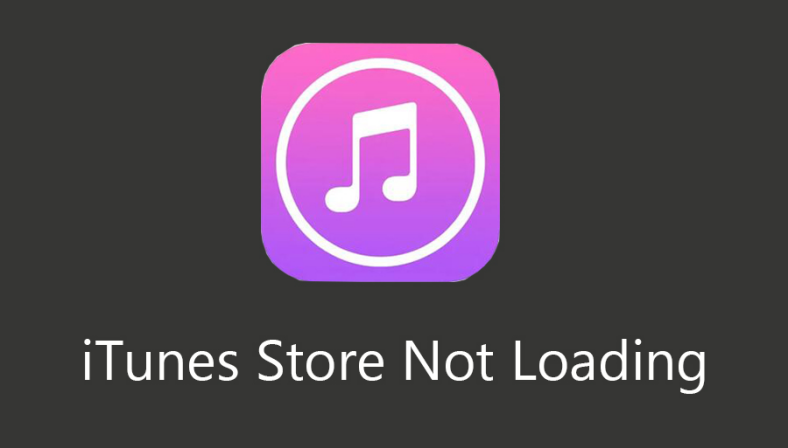 Also Read: How to Completely Remove and Reinstall iTunes on Computer >
Part 1. How to Fix iTunes Store Not Loading on Computer
1. What you need to check first is the Internet connection. Please ensure that the network is working properly.
2. If Internet connection is working normally, then you can try to restart your computer to see if it works for you.
3. Sometimes, more and more caches may causes iTunes store stuck on loading. So you can reset the store cache to see if it works. You can finish it by opening iTunes, and click iTunes (on Mac) or Edit (on Windows) > Preferences > Advanced. Then scroll to the Reset iTunes Store cache option and click on Reset cache.
4. Sometimes, the problem of iTunes store not loading can be solved simply by signing out and sign in again with your Apple ID.
5. Uninstall and reinstall iTunes store. And for PC users, there is one more thing you need to do before reinstalling. Go to Start > Programs > Accessories > Right Click On Command Prompt and run as Administrator > Type in "netsh winsock reset" > Hit Enter > Restart your PC. Then, you can check if iTunes store is loading now.
Part 2. How to Fix iTunes Store Won't Load on iPhone/iPad/iPod
If the iTunes store will not load anything on your iPhone iPad or iPod, you can try out following solutions to have a try.
1. Simply close the iTunes store app and open it again, sometimes, it will works.
2. Ensure that your iOS device is connected to an available network or Cellular Data.
3. If your iDevice is stucking on iTunes store loading display, you can force restart you device. Then turn on again to see if it works.
4. Have a try to restore your iOS device. First of all, back up your iPhone iPad or iPod, and then restore your iPhone iPad or iPod by iTunes. Finally, restore your data from backup.
5. Also, have a try on signing out, and power off your device and turn on again, then sign in with your Apple ID.
Don't Miss: How to Fix "iTunes Store Not Working" >
Bonius Tip: Transfer Everthing from Computer to iOS Device Without iTunes
Most iOS users will use iTunes to sync kinds of data from computer to their iPhone, iPad or iPod. But you know that using iTunes to sync data will erase existing media files on your iOS device. So, is there a better option to go? Yes, this part is going to show you an amazing iOS data transfer tool – AnyTrans, which can help you sync data like photos, music, videos and more from computer to iOS device without iTunes, and the vice versa.
AnyTrans is a one-click iOS data transfer, which enables you to transfer iOS data without limitation, like photos, messages, notes, music, movies, videos, iBooks, ringtones, playlists and so on. What's more amazing is that it allows you to transfer data in multi-direction, for instance, you can transfer data from computer to device/iCloud; from iDevice to computer, iTunes, iCloud and even external hard drive; from iTunes to iDevice without wiping data, and even from one iDevice to another iDevice; from one iCloud account to another iCloud account, etc. No matter what you want to transfer and where you want to transfer to, it can make it for you easily and quickly.
Following is a screenshot of AnyTrans on Mac, it also applying for Windows, and supports all iPhones, iPads, and iPods.
The Bottom Line
That's all for how to fix iTunes store not loading problem, hope you have solved your problem after trying out the methods mentioned above. By the way, if you want to transfer iOS content in an easy way, why not download AnyTrans to give it a try?