What If I Forgot iPhone Restrictions Password
Summary
What to do if you forgot restriction passcode on your iPhone? Now read this post to get some quick tips to restore restriction code.
Download AnyTrans and use it to easily manage, backup and transfer data on your iPhone, iPad or iPod. Supports iOS 9/8/7/6/5.
"I plan to follow AirDrop tutorial to transfer some pictures from one iPhone to another, but I couldn't find where is my AirDrop? After going through some forums, found I have to go to Settings > General > Restrictions to allow AirDrop to run on my device. But when I tried to, it required me to enter Restrictions Passcode. I don't know what's the restrictions passcode. I am confused. Maybe I knew it before but forgot it."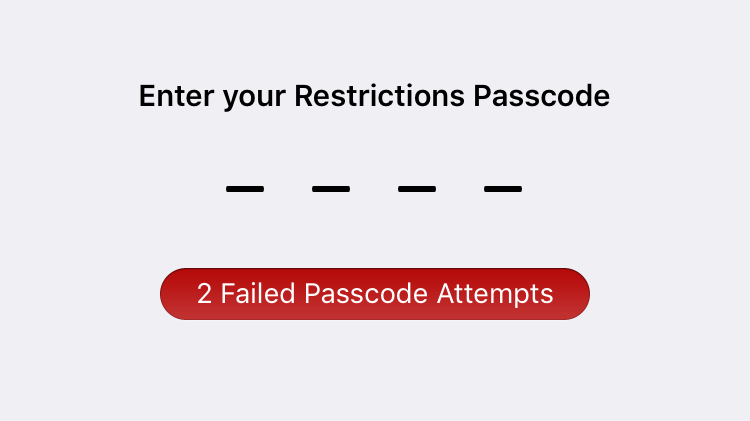 Forgot Restrictions Passcode on iPhone
If you enable the Restrictions on your iPhone, every time you go to Restrictions, you are required to enter Restrictions passcode. Restriction is mostly used to restrict activities on your iPhone. It is especially useful for parents to take control their kid's activities on iPhone. But it's rarely used by most of people. Therefore, it's easy for us to forget the restrictions passcode.
So what can we do if we accidentally forgot restrictions code? And can we reset restrictions passcode for iPhone iPad or iPod touch? Below are some basic tips that could be helpful.
Use Default iPhone Restrictions Passcode
The default password is said to be "1234". So you can try this password. Many people said it's useful by using this default code, and they can enter Restrictions to manage activities again.
Remove Restrictions Code
Actually, there is no available way to get back forgotten Restrictions Passcode. But you can remove Restrictions passcode by erasing your iPhone and set it as a new device, which means you may lose some data on your iPhone for a new Restrictions code. Of course, you can backup and save some important data on your iPhone before erasing your device.
Don't Miss:
Note: Restore with an iCloud/iTunes Backup won't remove iPhone Restrictions passcode, because Restrictions passcode will be restored with the backup to your device.
More Related Articles You May Like
Share Your Thoughts With Us