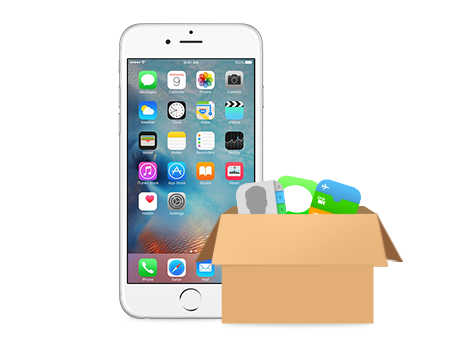 How to Clear Space on iPhone iPad iPod After Updating to iOS 9/9.3.1/9.3.2/9.3.3
[Last Updated: Sep. 13, 2016]
If you are working with an iPhone (like iPhone 5s/5c/6/6s/7), an iPad Air 2/iPad mini 2 latter or iPod touch 6, you also can upgrade it to the latest iOS 11. Absolutely, before performing the upgrade, you should create more storage for downloading and installing iOS 11.
Upgrading to a new version of iOS isn't an easy task if you've got a device with 16GB storage or less. In 2014, many Apple users were caught off guard by the over 4GB free space for iOS 8 upgrade. Apple revealed at WWDC last year that iOS 9 would only be about 1.3GB in size, so space might not be a big factor for downloading iOS 9.
You May Like: Should I Update My iPhone/iPad to iOS 11 >
However, your iPhone or iPad space sooner or later reduces after you updating to new iOS 9 or coming iOS update, such as iOS 9.3.3. Moreover, iOS 9 comes with a bunch of new features including some default apps like News, iCloud Drive, Find My iPhone and Find My friends, which might waste some space especially for 16/8 GB users. The tiniest amount of memory is still memory wasted - as a user complained Apple Watch app in Apple Support Communities.
Don't Miss: Top 10 iOS 11 New & 5 Hidden Features You Worth Having
It can be tough for many iPhone/iPad users to free up space on iOS 9/9.3.2/9.3.3 for better experience, especially if they're not syncing to iTunes or iCloud to manage storage manually. We are here to help. This article provides you several simple & effective tips to clear space for your devices in iOS 9/9.3.1/9.3.2/9.3.3.
Check Your Usage on iOS 9 Devices
First thing you do is to check out what's taking up the most space on your iOS 9 device. Go to the Settings app > General > Usage > Manage Storage. You should see the size of used storage and how much is available. Below, there's a list of your apps ranked by how much space they're taking.
Delete Unneeded Apps to Free up Space on iOS 9 Devices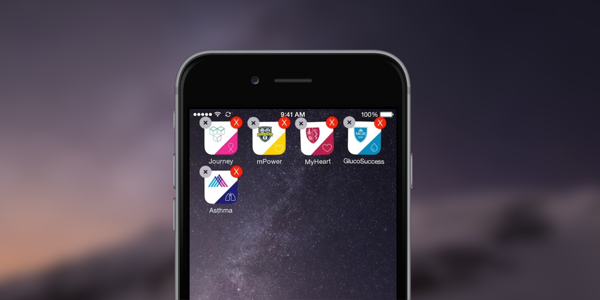 How to Clear Storage on iOS 9 – Delete Apps from iOS 9 Devices
This is absolutely first thing to do. Deleting app from your iPhone or iPad is obvious the simplest and quickest way to make room on iOS 9, and you can eaily free up as much as 1GB with little effort.
Delete an app directly: tap and hold the app icon and waiting for it to wiggle. Then tap the "X" that appears in the upper right corner.
Delete an app in Settings: Go to settings > General > Usage > Manage Storage. Choose the app you want to delete, and tap its name, then tap the "Delete App" button on the next screen.
Disable Photo Stream to Make More Room on iOS 9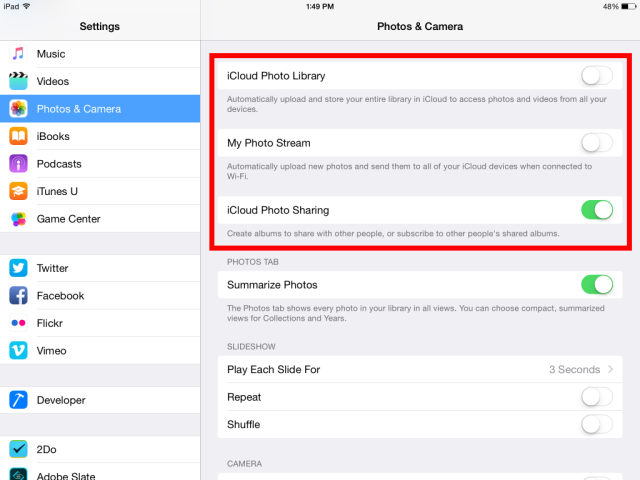 How to Make More Room on iOS 9 Devices – Turn off Photo Stream
The Photo Stream on iPhone automatically syncs your last 1,000 photos across your iOS devices. This means that you will see photos you have taken with your iPhone, iPad or those you upload to your Mac from camera. So stop using Photo Stream unless you need to share your photos across all your iDevices all the time.
Go to Settings > Photos & Camera and deselect My Photo Stream. This will disable Photo Stream and remove photos in it from your iPhone. Bear in mind that means your iPhone photos are no longer uploaded to your Photo Stream on your other devices.
Also Read: How Transfer Photos from iPhone to iPad in Three Ways >
Delete Photos & Videos & Music to Free up Space on iOS 9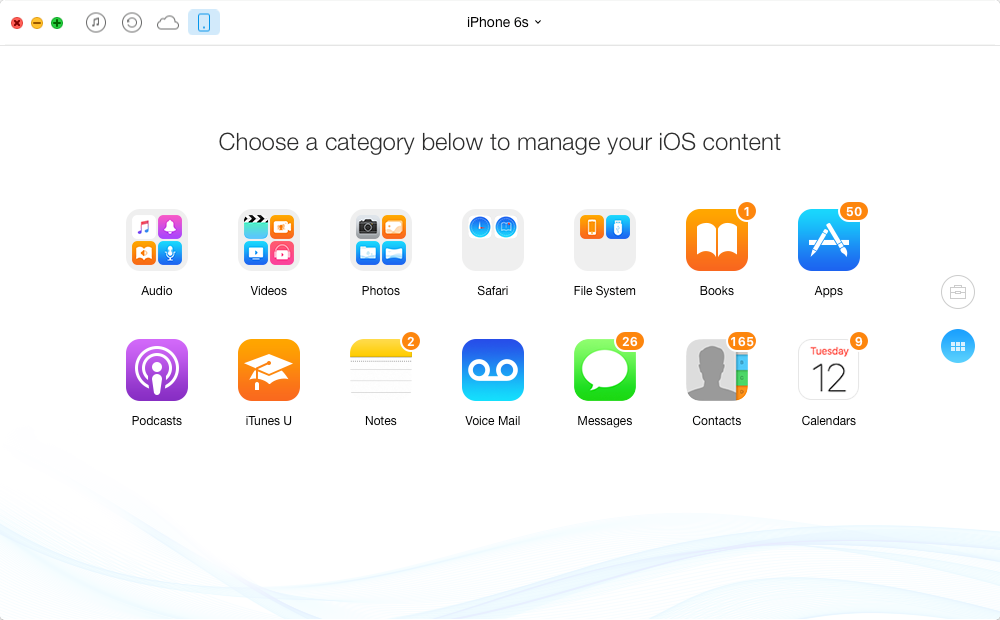 How to Free up Space on iOS 9 Devices - Delete Photos & Videos & Music
It is not surprising that photos, videos and music are taking most of usages on your iOS 9 devices when you check the usage in Settings. No one would like to delete all these precious photos, videos or songs from iPhone/iPad, so the best way is to backup them to computer or a external hard drive, and then delete them. Neither iTunes nor iCloud allows you to directly transfer all photos, videos, and music to your computer or a hard drive as backup, so you can try an easy-to-use iOS data transfer named AnyTrans to achieve that.
AnyTrans can be said as the best iTunes alternative for it can do much more than iTunes on iOS files management. It helps transfer photos, such as transfer photos from iPhone 6 to computer,  videos, songs, messages, notes, contacts, books, voice mails, voice memos, and more to computer directly, and all in a viewable format. Better still, transferring data among all iOS devices should be as simple as ABC with AnyTrans.
Related Reading:
How to Transfer Data to New iPhone 6/6s >
Top 10 Best Apps for iPhone 6s/6s Plus >
After backing up these pictures, videos, and songs to computer, you can easily delete them from Settings > General > Usage > Manage Storage to clear much space for iOS devices.
Clean out Text Messages/iMessages to Free up Space on iOS 9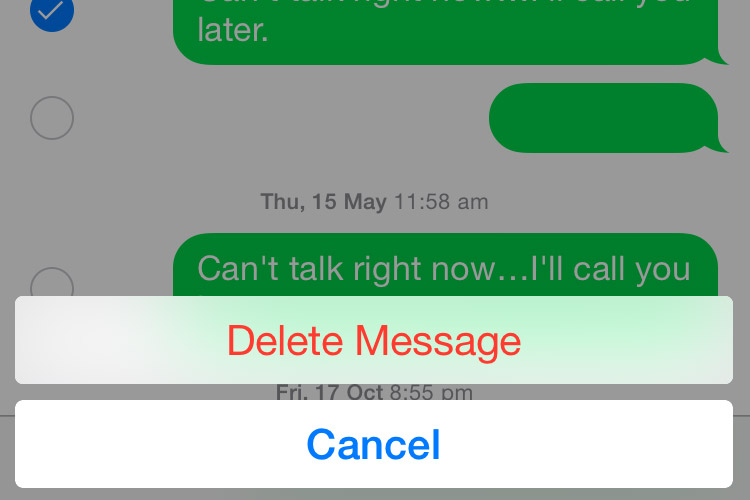 How to Clear Space on iOS 9 Devices – Delete Texte/iMessages
Normally, the messages history can take up gigabytes of space for most of us are not used to delete useless messages immediately after reading them. In addition, iMessage is very convenient and popular among Apple users, and you can claim quite a lot of space on your iOS 9 devices by deleting iMessage conversations.
Another option is to set your messages to auto delete. To enable this: go to Settings > Messages > Under "Keep Messages" > Set it to 30 days or 1 Year.
You can also delete entire threads individually: open the Messages app > Swipe left on a thread > Tap Delete. If you accidentally remove some important messages, you can read this How to Recover Deleted Messages on iPhone guide to get them back.
Can't Miss: How to Delete All Messages on iPhone 6 >
Remove the Other Files from iOS 9 Devices to Free up Space
Have you noticed that the Other category on your iOS 9 devices on iTunes occupies a helluva lot of space. Have you wondered what is the Other on your storage and how to remove it? When you take a peak at general space usage in Settings, it is not hard to find that even a small app takes a large space. These data includes browser history, caches, cookies, logs, as well as database files stored by apps.

How to Make More Room on iOS 9 Devices – Remove the Other Files
The easiest way to clear this out is to delete & reinstall the app on your iOS 9 devices. Keep in mind that it may cause local data loss for your saved games or certain app specific data and files. So if these data is important for you, you will not want to do this.
You can also delete the browsing history of Safari to remove caches and cookie data: Open Settings > Safari > Tap on "Clear Cookies, Data, History".
Another option is to restore your iOS 9 devices from iTunes or iCloud. This may replace your existed data on iPhone iPad, so you'd better make backups before you do it.
Removing junk files from iOS 9 devices manually is not an easy job, so an alternative way is to using an iOS-cleaning tool like PhoneClean to find & delete the Other files from iOS 9. It helps safely remove browsing history, Safari cookies/caches, webmail caches, and more from your iPhone or iPad.
If iOS 9 running slow on your old iPhone or iPad, you can speed up your devices by referring to How to Speed up iOS 9 Devices get some useful tips. Moreover, upgrading to new iOS is never out of risk, so you may meet various types of iOS 9 update problems, please be sure that you have been well prepared for iOS 9 upgrade.
Join the Discussion on iOS 9 Upgrade