How to Get iPhone Messages on Your Mac
Summary
You may want to get iPhone text messages on Mac so that you can backup or print these messages easily. Now read this post to make it.
Get AnyTrans to help you quickly transfer messages, contacts, photos and music from iPhone to your computer, no matter Mac or PC.
Question: "Can I get all of my text messages on my MacBook Pro from an iPhone? I want to get them out and print them on my Mac by using printer, iPhone 6, iOS 9.2"
To send text messages from an iPhone to Mac, you can use the default service of Mac and iPhone. Apple enables you to send and receive iPhone messages on Mac with iPhone Text Messages Forwarding feature. But if you want to transfer all of messages directly to your Mac and print them, the above solution is not suitable. So in this tutorial, we tell you one method to quickly get multiple or all iPhone messages on Mac.
Don't Miss: How to Print Text Messages on iPhone
Tools We'll Use to Get iPhone Messages
Below are some tools and devices you need:
AnyTrans - iPhone to computer transfer Tool for you to move messages, contacts, music, and other types of files from iPhone to your computer, suitable for any Mac and Windows computer.
Your iPhone and MacBook.
USB cable for your iPhone, you need connect iPhone to computer in the process of transferring iPhone messages.
How to Get iPhone Messages on Mac with AnyTrans
It's very easy to save all messages from iPhone to your Mac with AnyTrans. Just download AnyTrans and install it on computer and follow the steps below to transfer.
Step 1. Set up exported file format. Run AnyTrans and connect your iPhone to Mac with the USB cable. Click Setting icon at the upper-top corner > Export Setting > messages, select the format you want it be and save the setting.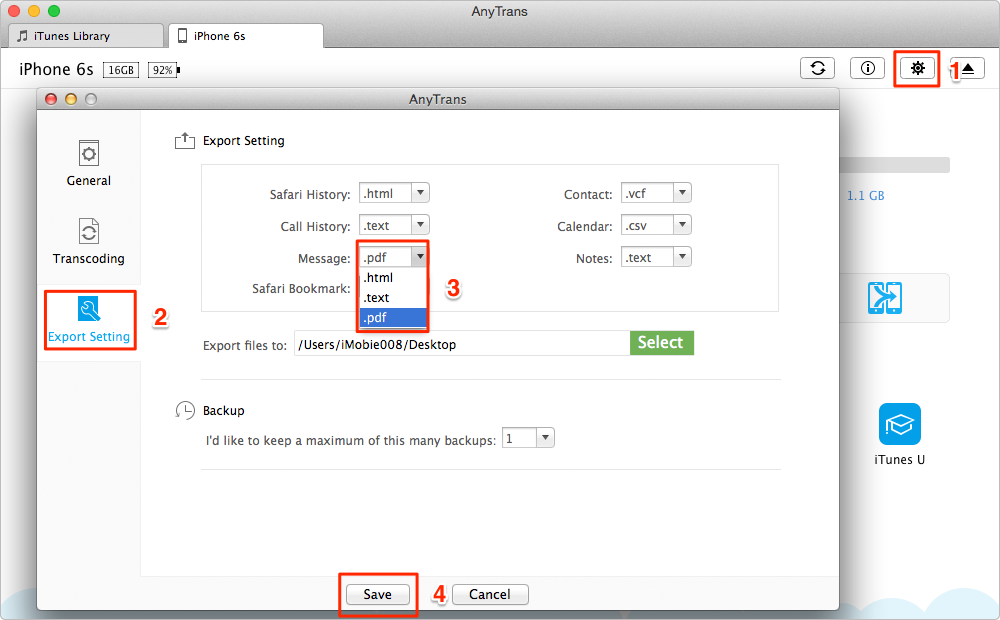 How to Get iPhone Messages on Mac – Step 1
Step 2. Click Message category.
How to Get iPhone Messages on Mac – Step 2
Step 3. Select messages and click "To Computer" button to save them on your Mac.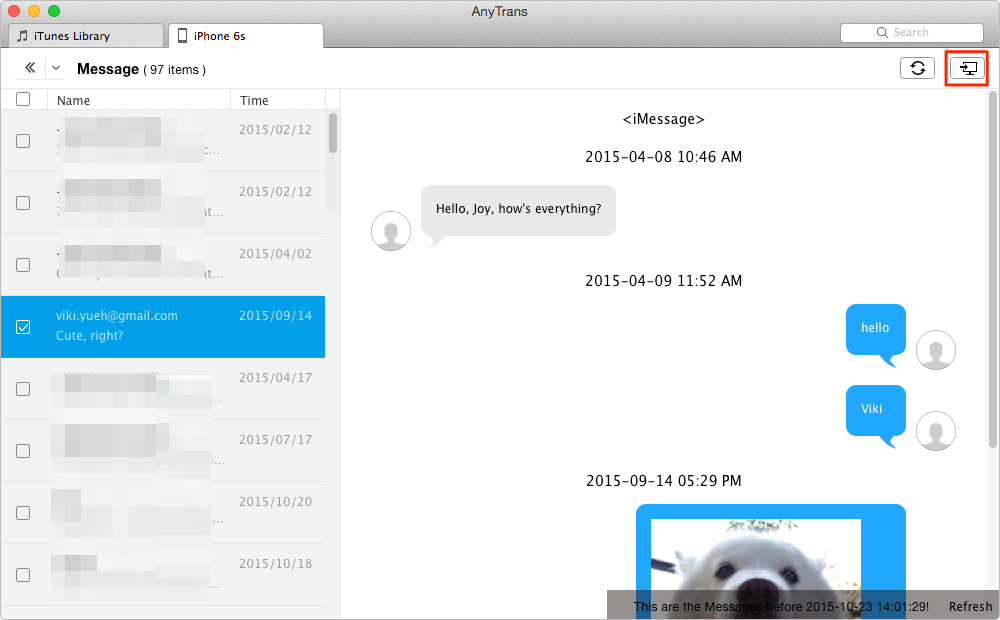 How to Get iPhone Messages on Mac – Step 3
The Bottom Line
All of the formats AnyTrans offers for you to save your iPhone messages are available for printing. So after getting iPhone messages on Mac, you can easily print them by using one printer.
More Related Articles You May Like
Share Your Thoughts With Us