How to Get Music off iPod touch
Summary
After reading this tutorial, you will find a solution to get music off iPod touch. Since iTunes cannot help you with this, we recommend you an outstanding iPod transfer - AnyTrans.
Download this award-winning application so that you can make use of it after reading this How to Get Music off iPod touch guide.
Previously we have made a post about how to download music from iPod to computer. But if you are using an iPod touch, you may notice it does not have a "Disk Mode" option. Then if you need to get music off iPod touch for backing up or recovering, you can follow below tutorial to work it out.
The Tools You'll Need
An iPod touch and a USB cable
There are many iPod transfer software out there. Some are trial version and some are problematical. To save you the work, we recommend you AnyTrans, a pro-level iOS device music manager solution.
Why Choose AnyTrans
As an all-in-one iOS data manager, AnyTrans allows you to move iPod touch music to iTunes, computer and iDevice without effort. The other supported file types include movies, TV shows, photos, and so on.
From anywhere in the house, you can tap a button on this iOS data transfer and get all you want to send to your devices without having to get out of the chair.
How to Copy Music off iPod touch
Preparation: free download AnyTrans. After a brief installation, you can check its main interface.
Step 1: Plug in your iPod touch, and give it a second to load up detailed iTouch information. AnyTrans supports all models of iPod touch from 1st generation to the 5th.
Step 2. On the homepage > Click on "Audio" > Choose "Music".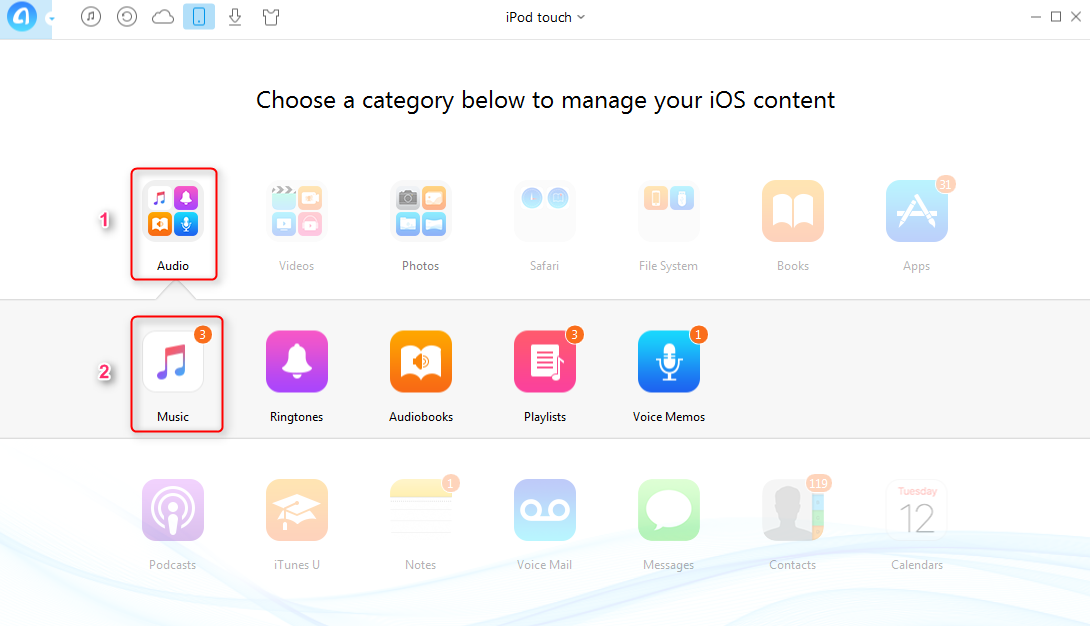 How to Get Music off iPod touch - Step 2
Step 3: Pick up the songs you want to get off from iPod touch and click To PC (transfer iPod music to computer), To iTunes or To Device.
How to Get Music off iPod touch - Step 3
The Bottom Line
For the other models of iPods, say iPod classic, iPod shuffle and iPod nano (very adorable), it also has great chance that these iPods are the only place where you can get back lost music. The current AnyTrans supports all iOS devices including iPhone, iPod and iPad.
More Related Articles You May Like
Share Your Thoughts With Us